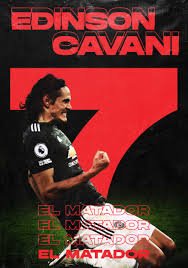 Image
Manchester United should no longer be looking for a new striker for the upcoming season. On the club's official Twitter profile, one could read on Monday night that Manchester United and Uruguayan Edinson Cavani have agreed to extend the agreement so that it now expires in the summer of 2022.
34-year-old Edinson Cavani joined Manchester United in October after the striker's contract with Paris Saint-Germain expired this summer. Here, "El Matador" has contributed positively with 15 goals in 35 matches, most recently in the Europa League semi-finals against Roma, where Edinson Cavani was on the spot a total of four times in the two matches.
Edinson is one of the last to leave the training grounds and he sets a good example for the younger players with his professional attitude, which has every single day, Ole Gunnar Solskjær told Manchester United's own channels the other day.
In several media, including Sky Sport, it has been speculated whether the 34-year-old striker would return to South America, where Boca Juniors has reportedly stood ready with open arms. The arms now have to wait a bit for a hot embrace with Edinson Cavani, who came to Europe in 2007 when he was bought by Palermo.
Manchester United have been linked with both Harry Kane and Erling Haaland, but this contract extension makes it unlikely that the Red Devils will try to pick up one of the very expensive boys. The extension with Edinson Cavani can just be seen in a larger economic perspective, where the Corona crisis has meant that the powerful European clubs do not currently have unimaginable amounts to put in the transfer budget.