Introduction
With the essence of Steem-engine, we have been able to see the development of tribe culture on the top of Steem blockchain. The tribe culture is a kind of macro defined use of a particular tribe and also a kind of new home for the different kind of bloggers that suit to a particular tribe. But do you think it is just about engaging in particular tribe to earn rewards from social engagement? Well I was also of the same opinion, but the reality is that Steem-engine is equally an opportunity to make money as it is a decentralized market in Steem infrastructure. So the various infrastructure tokens are swinging wildly from highs to lows and vice versa.

SPORTS tribe has already given you 4x return
In a broad sense, the Steem is really in a prolonged down trend. We do not really know when it will start rising and when it can regain that lost glory of early 2018. But its infrastructure tokens are not that bad and in my opinion it is really an opportunity for people to make some money. So thanks to Steem-engine for creating and offering a platform for this opportunity.
Many tribes have refreshed the lows over last couple of weeks and some of the tribes also survived the downtrend. But those tribes which have refreshed their lows may not be that bad and may be an opportunity to make some quick money. Say for example, in last 2 weeks the price of SPORTS tribe was at 0.00040 but recently it has recovered and gone as high as 0.00160. So that's 4x return for those who invested in SPORTS at 0.00040. I missed that opportunity. Just imagine had i invested 100 STEEM only(roughly 16 usd), then I would have easily made 400 STEEM(64 usd).
But in order to ascertain whether the tribe will rise or not, it is necessary go through its development activities. I am sure the recovery of SPORTS tribe from its low is due to the recent development in sportstalksocial.

Keep an eye on the development activities and announcement
There is a major development in sportstalksocial which can really bring some sort of price stability and/or rise of sports token. They have introduced the addition of advertisement in sportstalksocial page.
But the interesting part is that they have partnered with Steem-engine. The revenue share of sportstalksocial from running advertisement will be used to buy SPORTS token and those SPORTS token will be burnt by sending it to @null. That means to some extent it will be able to curb the inflated supply of SPORTS which is really hurting the price and its stability. So at least we can expect that it can ease off some downward pressure. This is probably the reason why SPORTS has recovered quickly after this development in SPORTS.
It is really a welcome move by @patrickulrich and the effect is already starting to reflect in the price of SPORTS.
(The revenue share of sportstlak social is 85% and that of Steem-engine is 15% for running advertisement in sportstalksocial.)
Now coming to the investment part, the best way to enter is to keep an eye on the development activities of any tribe. So if you can keep an eye on its activities and announcement, then you can really time you entry in these tokens and can make really handsome money.
The other good news about sportstalksocial is that it is already listed in stateofthedapps.com and the rank has also gone up after this recent development in sportstalksocial.
If you look at the recent trading volume of SPORTS then it is really looking good. The last 24 hour volume is around 1800 STEEM. The sell wall is also looking impressive as there is sufficient buy order already put in place. That means it will be able to resists downward pressure and it can really trade good if this sell wall will continue to balance the supply.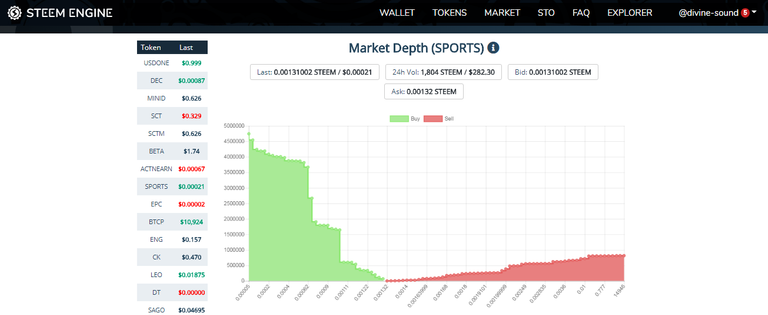 The current price of SPORTS is 0.00131. Looks like price is stabilizing for SPORTS. If everything will precipitate as per the anticipated plan and development activities, then we can sure go back to highs of 0.003.

Summary
To sum it up, I must say that the mainstream job is to engage in sports related topic in sportstalksocial, but if you have some spare money then you can take the opportunity whenever a tribe is damn low. But keep an eye on the announcement and try to relate it rationally how that can affect the price of a token. I am sure at least you can make some amount of money. When STEEM will give you 4x return I dont know, but some of the tribes have already given you that opportunity and SPORTS is one of them. I think I have missed that opportunity but now onward I will wait for the future opportunities to trade in Steem-engine.
---
Disclaimer- It is not a financial advice and it is just mere analysis on a hindsight.
Image Courtesy- Sportstalksocial, Steem-engine