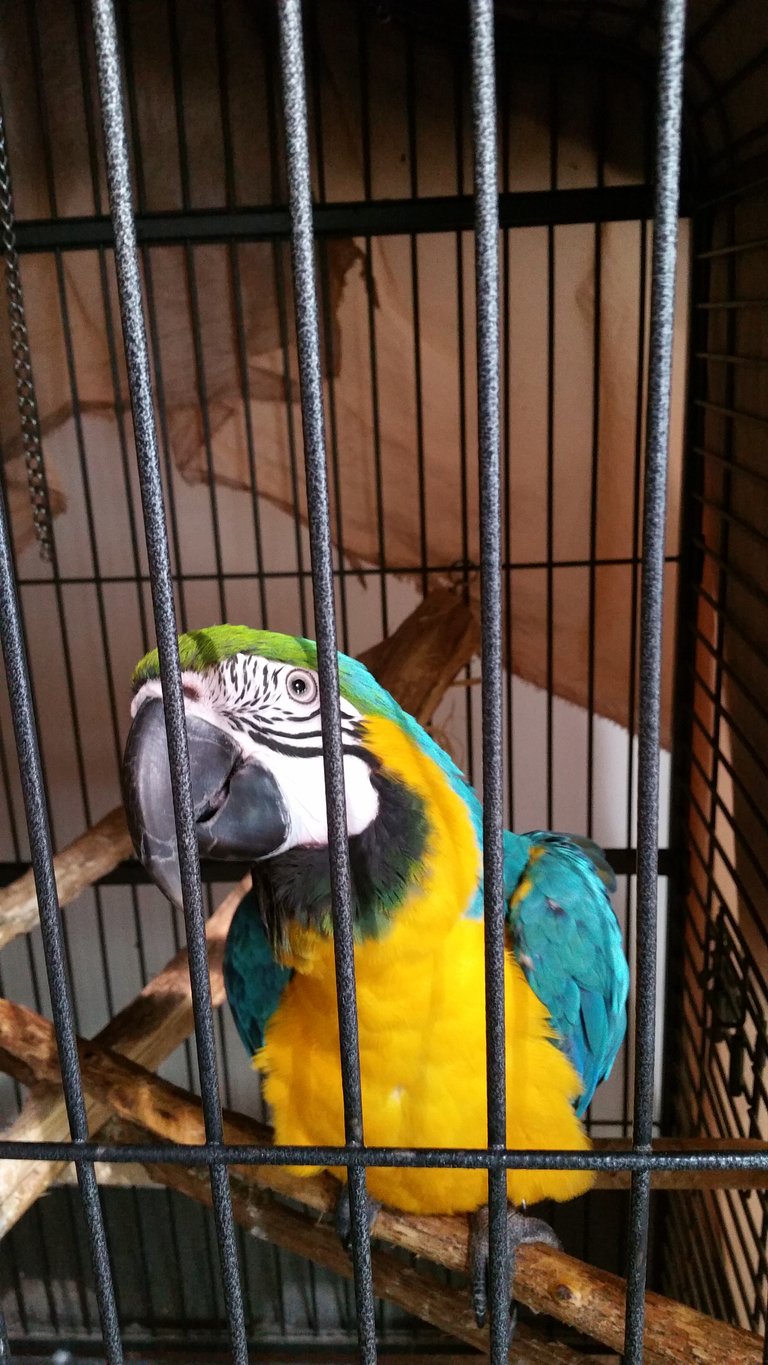 My foul mouthed Macaw Mango.
Most Saturday afternoons if there is decent sport on you will find me watching with my parrots. They just happen to be in my television room where the big television is anyway so no special invites for them. It can get rather noisy with all of us and the television turned up and I have two blankets to keep them quiet when they get too excited. I need to catch them on video when someone scores as they go nuts.
It may sound rather funny, but they are part of the family and fit in rather well. Noisy bastards though and one swears like a trooper and have no idea who taught my macaw such foul language. It can be fairly comical as the African grey blows a referees whistle rather well and tunes into the right tone of the sound from the television. Sometimes you are not sure if it is the bird or the television and it is sometimes followed by WTF from the Macaw.
I use the loudness to upset other members of the family who are watching on streaming in another part of the house and is normally about a minute or two delayed. They know something has happened and them being Manchester United supporters if I am cheering they know someone has scored against their team.The birds have it down pat as the commentator gets excited when a goal has been scored and they go nuts and sometimes have to shut them up by covering them with a blanket.
This tactic confuses the rest of the family as they have no idea what is coming then and have no idea if a goal has been scored. Normally if United score I cover the birds up and leave them uncovered when the other team scores. Between the swearing and the whistles we have fun though and they look forward to the drinks and snacks. The one rule with them is if anyone is eating or drinking in the room you have to give them something otherwise they wont shut up. You have to feed them to keep them quiet. It could be a chicken wing, biltong (like jerky, but better) or roasted nuts and whatever you are drinking you have to put a little in a side dish.
They look forward to sporting days as it is a treat really and they get caught up from the beginning with the national anthems right through to the final whistle. Football season and the Rugby World Cup are around the corner now so they are in for a bumper time, the only difference is we are all streaming now so I wont need to cover them up anymore.