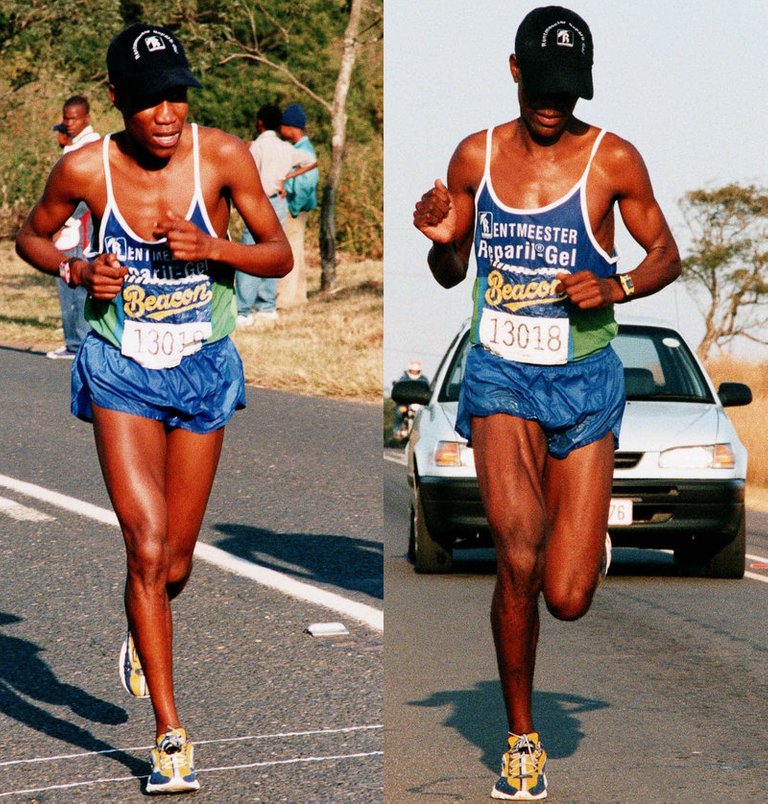 Spot the difference photo contest? Not really, but this is how the cheating twins were caught out. In 1999 the twin brothers entered or should I say one of them entered the Comrades Marathon. The race is run between Durban and Pietermaritzburg in Natal, South Africa. It is run as an uphill and alternatively the following year a downhill which is from Pietermaritzburg to Durban on the coast. This is no ordinary marathon (42 Km) and is classed as an ultra marathon with a distance of 56 Miles or 90 Km.
Every year there is around 22000-23 000 entrants who want to test their bodies. Sounds crazy as you can do a serious injury or kill yourself on this one. The majority of runners do it in 11 to 12 hours and the top runners will do it in around 6 hours or so. We have seen doping and various forms of cheating in other sports, but this one is smart and nearly worked. If they had paid a little more effort to the detail then maybe they would have got away with it.


source
On this particular race Sergio Motsoeneng finished a credible 8th and as it was his first time running this race. Normally the top spots are filled with international athletes from around the world who race for various sponsored teams. A local athlete finishing 8 th was a big deal and he received some press attention. He won a gold medal as he was in the top 10 and $1000. He then quipped that he was giving that to his dad as he needed it more than anyone else.
Nic Bester though was having none of it and is a well known marathon runner in South Africa who also competes in the iron man events. He counted the runners that passed him and said that he never was passed by this chap in the final stretch of the race. He was puzzled as to how this had happened. A reporter picked up on the story and did some investigating. It didn't take long as photographs started being checked and it was a little obvious.
Sergio has a twin brother and what they did was meet up in a portable toilet 45 minutes into the race and changed clothes. His twin brother Fika was now racing in his running gear and Sergio went off in a car ahead of his brother to another portable toilet further up. This was done more than once and no one knows exactly how many times they did this. The twins had basically done an ultra marathon as a relay team and it nearly worked.
The only problem is that they never changed watches. Not only were they different colors, but also on the wrong wrist. Sergio also has a scar on his shin and has more developed muscles. Luckily for the race photographers along the route to be able to pick this up. When confronted with the proof they both admitted to cheating and claimed poverty had made them do this. Always an excuse somewhere and they both received 5 year bans.
Funny thing is their lawyer said that Sergio is a talented runner and doesn't need to cheat and could make a top 5 finish in the future. In 2010 Sergio finished in third place, but low and behold failed a sample test for a banned substance and was stripped of his medal and winnings yet again. Once a cheater , always a cheater.