source
I am entering Ashers sports contest or @abh12345.sports or @referee1 as he is known under so many aliases these days. he has asked us who we have met that is famous or well known in the sporting world. I have so many as have played with so many over my career in rugby and cricket. I have bumped into most of them over the years and don't stay in contact, but always have a quick catch up when we meet.
I know quite a few of the 1995 World Cup Springbok team that beat New Zealand in the final in Johannesburg. I wouldn't know who to really single out in the team as they won this tournament as a team. The last time I saw them was at Twickenham during the 2015 World Cup when I was invited to join them for a closed function at the Chicago Rib Shack. I had no idea at the time that it was a closed function with a few of us plus all the players.No photos were allowed at the time as Getty's images was there taking photographs. I am not paying $250 to post them for possibly winning 50 000 Sports and being downvoted and at risk of getting into trouble by Getty. I have one photo I posted a few months ago on an earlier post or you can Google it and you will see me amongst the photographs.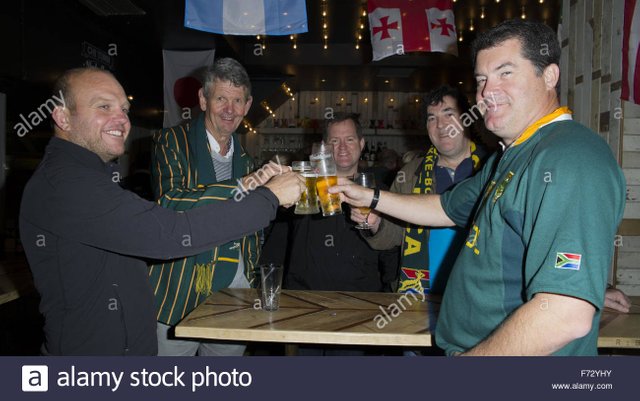 source
It isn't Getty, but Alamy so will take my chances with this one. Morne du Plessis was a Springbok Captain and the manager of the 1995 Springbok Team.
I would probably highlight Joel Stransky who kicked the winning drop goal in extra time. I have known Joel from the under 21 days with Natal Rugby and was there watching me on the night I had my ankle broken in two places by a robust cheating policemen on the opposing team.
When Joel was doing promotional work for Freemans lager I used to join him doing my cigarette promotions and we were normally joined by Pieter Muller who was also a Springbok center at the time. We used to join forces regularly as it was easier combining our promotions.Living in South Africa bumping into "celebrities " is not such a big thing as growing up and playing sport you tend to know loads of them. Communities are smaller than in other countries and you could have top sportsmen as your next door neighbours.
In other sports I played cricket and know and palyed against a list of well known players who are household names with anyone who knows anything about cricket. Malcolm Marshall was a West Indian fast bowler who played for my neighbouring club along with Shaun Pollock and played against him on numerous occasions before he made the South African team. Malcolm was past his prime at the time and was more of a coach and mentor for Shaun during those years.
Collis King another West Indian who I got to know well and have socialised many times with him. He spent Christmas day with us the one year and he was really good fun and showed some good moves on the dance floor. Most of the West Indians have a good rythmn and dancing just comes naturally.
I can go on and on with the list as I don't see them as that famous even though they are I suppose. I used to work for a company that sponsored top sportsmen as they wore our brands and spent weekends doing promotions with them. If you don't watch the Rugby Champiosnship or the Super Rugby tournament then they probably wont be household names to the rest of the world.
Most of my generation has retired now so don't have anyone who is currently playing and in the public eye. I am finding my friends kids playing which doesn't really count as I know their dads. The only current people who are still doing something is Gary Kirsten and Neal Hatley. Gary is an International cricket coach who I know from school days and haven't seen for years so I don't really count that as he would probbaly not even recognise me as my looks have improved year on year. Neal is the current England rugby scrumming coach working along side Eddie Jones. He will recognise me as the last time I saw him was in Nandos at Kingston Upon Thames about 10 years ago.
Neal played rugby in Natal before he moved and played for London Irish. There he set up and ran the youth academy making a name for himself as a top coach. I nearly joined London Irish when I was in England, but decided against it due to strict working conditions and very little leeway with injuries.