in the latest saga of Antonio brown it seems the Bucs have openly came out and said that they will not sign Antonio brown despite heavy links and a chance to strengthen the roster.
Antonio Brown is a big player how wants the ball he wants it for himself and with a already great roster it wouldn't be a best fit especially if a bust up occurred.
Despite Antonio Browns having a brief good relationship with Tom Brady it seems that this move won't happen.
personally i would like to see him back in the NFL but hopefully he knows and will take 100% responsibility for his actions.
a great wide receiver but a bad bad attitude.
what do you think ?
thanks for reading

---
Read more: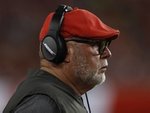 Arians: Bucs not signing free-agent WR Antonio Brown
Before any speculation can arise, Tampa Bay Buccaneers head coach Bruce Arians was compelled to get ahead of it and explain why his team won't mesh with free-agent WR Antonio Brown.
Source:
http://www.nfl.com
---
Share this post:







---
Posted using AltYes browser extension.