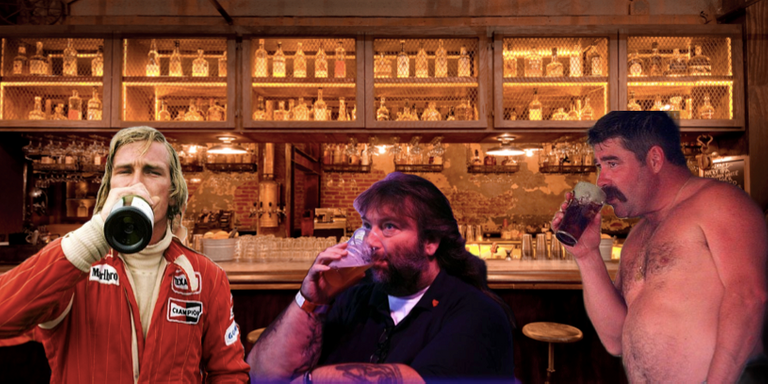 Who doesn't enjoy a beer with their teammates at the end of a match? Not these guys. No instead this group of "athletes" were more prone to going on a drinking binge after the game with some of their alcohol-related achievements better documented than what they did on the pitch.
If you can think of any more big names from sport who enjoyed a drink then comment below and i'll send you a BEER token.
Wade Boggs - Baseball
I'm not a big fan of US sports and the only reason I am aware of this man's truly heroic drinking record is from watching the American comedy Always Sunny in Philadelphia where "the gang" attempt to match Boggs' record of drinking 64 beers on a cross country flight not once but twice.
Of course, we all know that our transatlantic cousins drink beer that we over here in Europe would consider being closer to water. Look at the size of those cans with the term "Light" emblazoned across them. If you're not drinking beer with an alcohol content of 5% or more then you're not drinking at all...
David Boon - Cricket
Continuing with the drinking on a plane theme, Australia's David Boon is rumoured to have sunk 52 beers on the flight over to the UK for the 1989 Ashes. There was a time in the late 19th and early twentieth century where touring sides playing in cricket's greatest bilateral contest would have to take a passenger ship on a cruise that lasted over a month in order to play each other but by the 1960s that had all changed and the Aussie team had decided to keep themselves amused on long-haul flights by introducing a drinking challenge. Up until Boon's 52 can feat the record was set at 44 beers by Rod Marsh and Doug Walters who achieved that number on a flight back from the Caribbean in the 1970s.
After a successful career on the pitch, Boon would go onto become an ICC match referee charged with ensuring that players at the top level behave themselves while on and off the pitch. If that's not a case of poacher turning game-keeper then I don't know what is!
George Best - Football
Arguably the greatest footballer the British Isles have ever produced, Best played in a golden era for the sport and had he have been born in a footballing powerhouse like Brazil or the Netherlands as his peers Pele and Cruyff had then perhaps he'd have been able to grace the world stage as those 2 men did. Alongside the god-given talent on the pitch, Best was known as a womanizer and drinker off it. The joke goes that 70,000 fans who watched him week in and week out at Old Trafford all wanted to buy him a drink and he let them!
There is always something quite compelling about the story of a flawed genius but the reality is that Best was an alcoholic who lived in a time when recognition and treatment of that condition weren't what they might be today. He continued to drink after a liver transplant and died at the age of 59 having lost the battle with his addiction.
Andy Fordham - Darts
Let's be honest you could just add the entire sport of darts onto this list and it's perhaps not surprising that a game that many get into via their local pub also has a strong link to alcohol. Andy Fordham was a fan favourite both on the oche and in the bar. Fordham once admitted that he would sink an entire case of Holsten Pils before a big match while also perpetually sipping brandy from his hip flask throughout the day. Such levels of drunkenness didn't stop him becoming world champion in 2004 but they did require him to have a liver transplant later in life.
In more recent times darts like most sports has cleaned up its act with players like Phil "The Power" Taylor, a man who dominated the sport for over a decade but was rarely to be found in the bar before games leading the way.
James Hunt - F1
Drinking and driving might not seem a very sensible combination but back in the 1970s the term "health and safety" hadn't really reached the world of motor racing. Drivers in the sports premium class, F1, regularly died or otherwise sustained serious injuries so perhaps it's not surprising that they required a bit of Dutch courage before getting behind the wheel. One man who took that kind of philosophy to another level was James Hunt. Hunt already had a reputation as a driver who liked to live life in the fast lane both on and off the track and in 1972 he got his big chance when 22-year-old millionaire Alex Hesketh launched his own F1 racing team. The young maverick Hunt was a perfect fit for a team that was designed to shake up the status quo of the sport and he enjoyed the celebrity lifestyle that the opportunity afforded him.
Big balls as well as a well-documented alcohol and cocaine addiction...
Once again the idea of the flawed genius seems very appealing particularly to Hollywood and Hunt's life off the track and success on it was documented in the 2013 movie Rush.
If you can think of any more big names from sport who enjoyed a drink then comment below and i'll send you a BEER token.