Nací y me crié en el campo con mis padres. Por eso constantemente me vi en la necesidad de recorrer varios kilómetros para ir a comprar la comida, que ellos me pedían, con la particularidad de que tenía que hacerlo corriendo para regresar rápido a la casa donde vivía, ya que mi mama siempre me decía, que debía regresar rápido. Con el tiempo me fui acostumbrando a este tipo de ejercicio, esto fue desarrollando mi resistencia física, y fortaleciendo mis músculos poco a poco. Ese fue mi primer entrenamiento sin darme cuenta.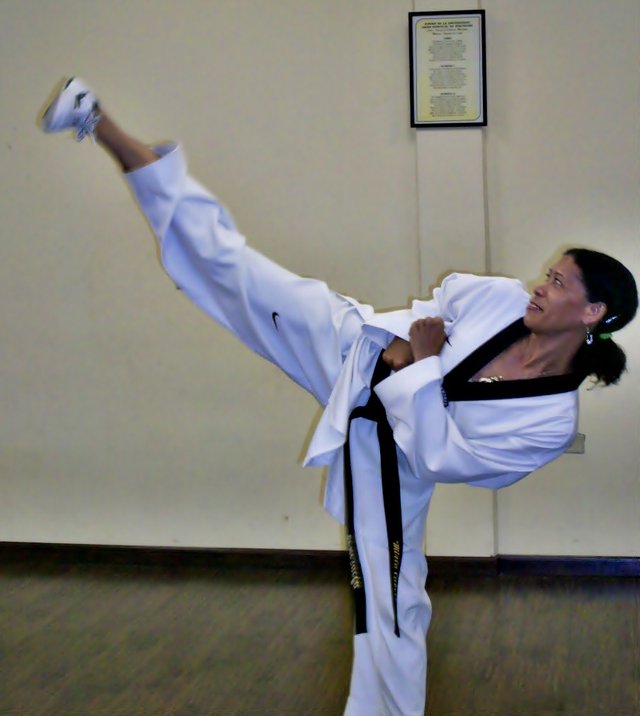 Be sure to click on the image to view full screen!
El tiempo pasó y tuve que mudarme a la ciudad de Cumana. Estado Sucre. Venezuela, donde estaban mis hermanas mayores, para poder estudiar. Allí fue donde tuve mi primera experiencia en el taekwondo, cuando conocí a Yma Benavides, quien fue mi primera entrenadora, ella se dio cuenta de mis condiciones innatas para este deporte, y me propuso practicarlo, cosa a la que accedí inmediatamente ya que me gustaban las artes marciales que veía en las películas donde aparecía Bruce Lee. Realmente me enamoré de esta disciplina que es el taekwondo y lo tome muy en serio.
Cuando esto sucedió ya tenía 21 años de edad es decir había pasado la etapa infantil y juvenil, lo cual no me permitía participar en los eventos juveniles que venían a ser los pasos previos antes de poder tener la oportunidad de representar al país en eventos internacionales, cosa que no interfirió con mi sueño de ser, una atleta destacada.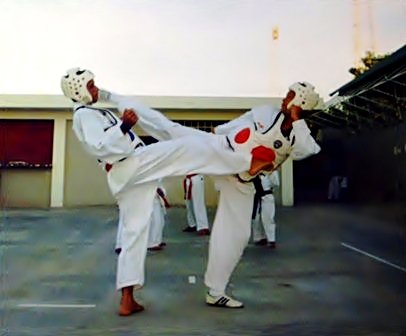 Be sure to click on the image to view full screen!
A los seis meses de haber comenzado a practicar taekwondo, tuve mi primera experiencia en un evento nacional, obtuve medalla de oro, y a los nueve meses tuve mi primera invitación a participar en un Triangular Internacional de Taekwondo donde participaron Puerto Rico, Usa y Venezuela, aunque todavía no tenía experiencia competitiva, logré obtener una medalla de plata, pues nada menos me toco competir con la campeona mundial de Estados Unidos, cosa que yo ignoraba, después de eso, mi entrenadora me instó a prepararme para que tuviera la oportunidad de participar en un evento clasificatorio para integrar el seleccionado nacional, así que comencé a entrenar con ese objetivo y sucedió lo esperado; al año y medio, me convertí en la primera atleta que se tituló en la selección nacional de Taekwondo de Venezuela. Sin pasar por los eventos infantiles y juveniles.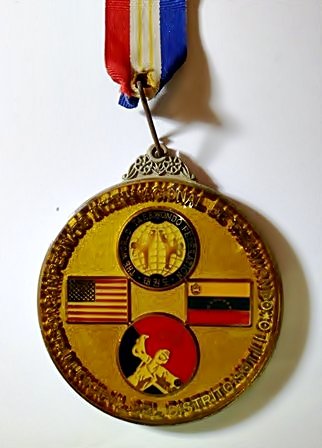 Be sure to click on the image to view full screen!
De esta manera representé a mi país durante 11 años con excelentes resultados, es decir yo no había practicado este deporte antes, comencé a los 21 años y a los veintitrés años entre al seleccionado nacional; cosa que no es nada común en el deporte venezolano y estoy casi segura, que en ningún otro país. Por lo general el atleta se va formando desde niño o de adolescente para poder tener esa opción.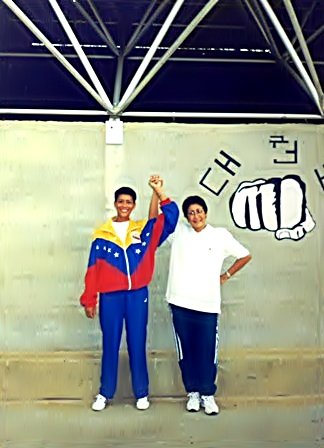 Be sure to click on the image to view full screen!
Así fueron mis inicios en el taekwondo. Próximamente les contare sobre los logros que me permitieron permanecer en la selección nacional de mi país durante largo tiempo.
Gracias por leer esta publicación
Puedes dejar tu comentario, si así lo deseas. Gracias.
---
English
I was born and raised in the fields with my parents. That is why I constantly found myself in the need to travel several kilometers to go buy the food that they asked for, with the particularity that I had to do it running to quickly return to the house where I lived, since my mother always told me, that he should return quickly. Over time I got used to this type of exercise, this was developing my physical resistance, and gradually strengthening my muscles. That was my first training without realizing it.
Time passed and I had to move to the city of Cumana. Sucre state. Venezuela, where my older sisters were, to be able to study. It was there that I had my first experience in taekwondo, when I met Yma Benavides, who was my first coach, she realized my innate conditions for this sport, and proposed to practice it, which I immediately agreed to because I liked them. the martial arts that he saw in the movies where Bruce Lee appeared. I really fell in love with this discipline which is taekwondo and take it very seriously.
When this happened I was already 21 years old, that is, I had passed the childhood and youth stage, which did not allow me to participate in the youth events that came to be the previous steps before I could have the opportunity to represent the country in international events, which did not interfere with my dream of being, an outstanding athlete.
Six months after starting to practice taekwondo, I had my first experience in a national event, I obtained a gold medal, and after nine months I had my first invitation to participate in an International Taekwondo Triangular where Puerto Rico, USA and Venezuela participated, Although I still had no competitive experience, I managed to obtain a silver medal, because I had to compete with the United States world champion, which I did not know, after that, my coach urged me to prepare myself so that I had the opportunity to participate in a qualifying event to integrate the national team, so I started training with that objective and the expected happened; In a year and a half, I became the first athlete to be titled in the Venezuelan Taekwondo national team, without going through the children's and youth events.
In this way I represented my country for 11 years with excellent results, that is to say, I had not practiced this sport before, I started at 21 and at the age of twenty-three entered the national team; something that is not common in Venezuelan sports and I am almost sure, that in no other country. In general, the athlete is trained as a child or adolescent in order to have that option.
This was my beginnings in taekwondo.
Soon I will tell you about the achievements that allowed me to remain in the national team of my country for a long time.

Thanks for reading this post.
You can leave your comment, if you wish. Thank you.

Location: Venezuela
by: @mirla33