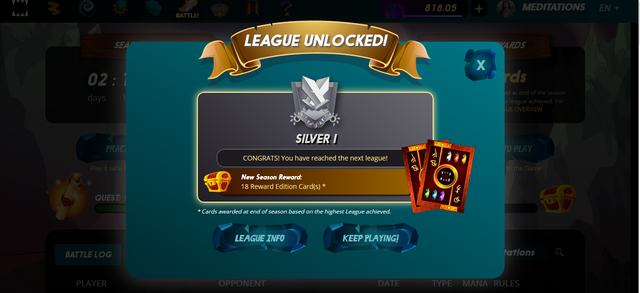 It's been a long fought battle this season. On more then one occasion I found myself only two or three points shy of achieving Silver one only to slip back down in a series of losses. Each one a blow to my upward progress.
Yet....I progressed and fought and learned from those losses. and finally...
I reached SILVER ONE!!!!! A new high level for me. With two days left of the season, I may fall back down into the lower silvers, and if I do so be it. That will just give me more room to run back up the gauntlet.
Maybe I can make a run for Gold next time around.
Full House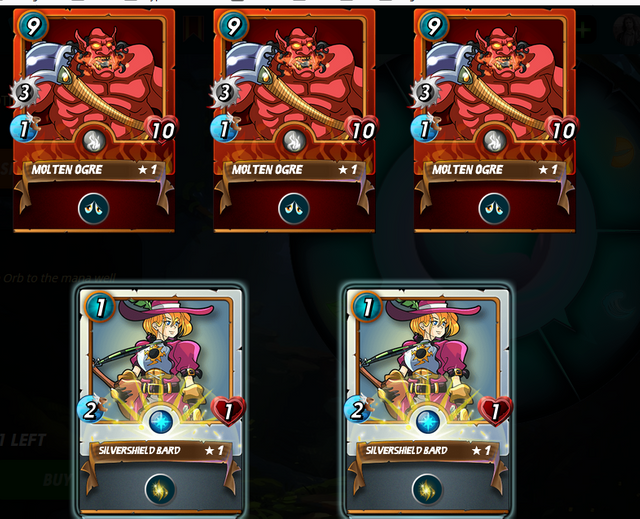 I thought this was an interesting pull. I took a chance and bought a Essence or (Wings of change collection) for the first time. (2000 DEC) I was hoping for some variety, instead I received three Molten Oges and two Silversheld Bard. Not all that bad really. I thought it was funny enough to share here.
New Cards
(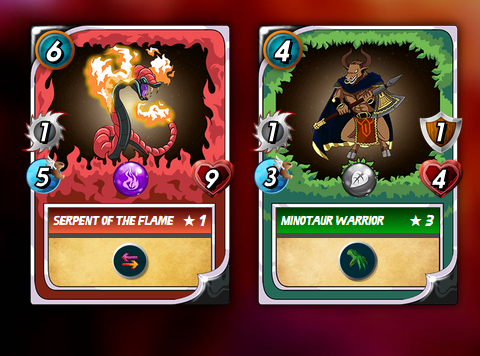 I am adding more Alfa cards to my deck. I want to earn more DEC during each battle. Plus so of these Alfa cards just look good. I pick up these two earlier today and plan on checking out the market for more later on.
I should be careful though. It if far to easy to transfer Steem over and spend it like Monopoly money. :-)
Well that is all I have for today. A simple post to share my #splinterland progress and adventures. I am off to write more and open a few decks.
~meditations~