That is just an image of my playable cards. I have many more that are delegated out. Hard choice to delegate out 3 or 4 level 5 cards. Or have one level 8 card...... not sure what is better.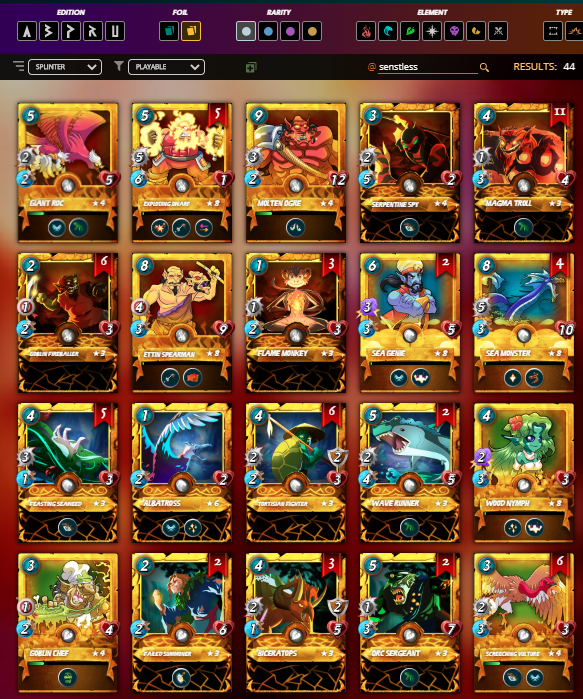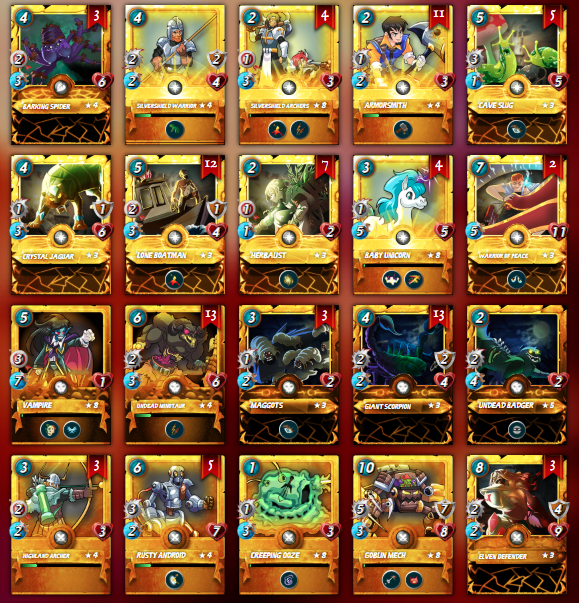 The Upgrade Project
I decided at the start of the year, I wanted to upgrade all my decks to Gold Foil reward cards. My primary deck is running a Gold League level, level 6 summoners. I continue to spend most of my DEC earned on GF upgrades, and sending my old cards off to the rental market to see if I can earn that .001 / per day per card.
No changes in my Epic or Legendary status - this post will continue to focus on the Common and Rare cards I can use most often. Below is on my on going list.
As you can see, I have made decent progress in getting some of these to the max level that, and use them daily. So far I have.
Exploding Dwarf
Ettin Spearman
Sea Monster
Octospider
Creeping Ooze
Goblin Mech
Gremlin Blaster
Furious Chicken (Doubt I will upgrade, although the new game type is making me consider the upgrade for the enrage benefit)
Baby Unicorn - missed last post
Silvershield Archers - missed last post
Wood Nymph - missed last post
Beetle Queen *New
Sea Genie *New
Albatross *New
Vampire * New
Gelatinous Cube *New
While it may not look like a of progress. I actually decided to try to upgrade my 3-4 rental decks to gold at first. So I have many of the new reward and untamed cards at level 5, or multiple level 5 versions delegated to rental decks. Now that my rental service is gone, I am not sure what I will do.
I hope a new rental service steps up or takes on new customers after my cool down, it will be depressing to manually be splitting this stuff, but then again, I guess maybe it will be better for me in the long run.
I am still buying packs, hoping to hit that GFL luck, but so far I haven't had much. I know its a numbers game and I am just not buying enough packs to actually have a chance to hit many.
I will be taking another look at my cards and seeing what cards I will focus on upgrading next, and what I have extras of. Once I get it all updated, I will hit discord and looks for some trades to swap GF and get a win/win out of it.
If you get a Gold Foil card and want to sell it for above DEC burn value, hit me up on Discord, I am always in the market and trying to upgrade as I can. I am also looking for Untamed cards, they will help fill out the Silver decks!
**