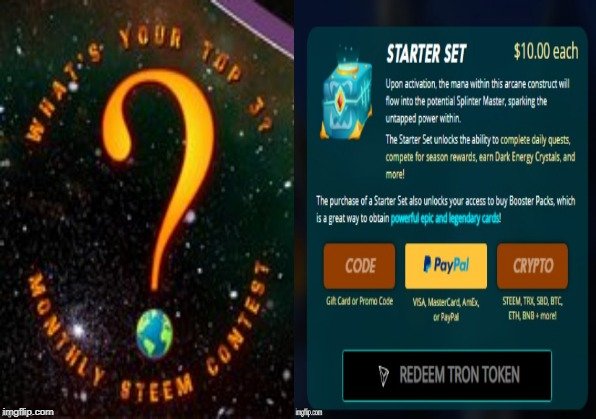 ---
Splinterlands (also known as Steemmonsters) is a digital card game created by @aggroed and @yabapmatt. Early game release has launched and prizes are already up for grabs. You can start investing in or playing Splinterlands by clicking here.
---
What is YourTop3?
@yourtop3 is a monthly contest that has gained in popularity. Each month a new topic is put forward and participants are asked to pick their top 3 of said topic. For example this months (January 2020) participants of #yourtop3 contest are asked to pick three of their favorite authors.
---
How To Enter The Top 3 Contest


1 - Create a blog post with your top 3 nominations along with your reasoning behind them. Entry posts must have:
(A) Minimum of 250 words total and
(B) The #yourtop3 tag MUST be the first tag used
2 - Put a link to your blog post in the official YourTop3 Contest Post.
3 - Set your post payout to 50/50. You keep the SP and then transfer the STEEM and/or SBD (whichever is paid out at the time) to @yourtop3 with a link to your blog post entry in the transfer memo. This is the minimum entry fee, but you can add as much as you like to it! The more you add, the more you can win. There is no maximum entry fee.
For more information about the #yourtop3 challenge such as how prizes are divided click anywhere here on this highlighted area.
---
Free Splinterlands Starter Set
I (@rentmoney) am the current active and defending TOP3 Champion and all you need to do to win a free Splinterlands starter set is dethrone me and rank first in this months TOP3 contest. Sure you might be thinking, no problem we can do that. No way @rentmoney can beat everyone in the TOP3 community.
Well, I @rentmoney laugh at such a thought. Currently I have won 5 TOP3 titles with four of them being consecutive wins and I plan on making January my 5th consecutive win.
But if by some small itsy bitsy minuscule chance one of you are able to dethrone me via winning this months contest, you will be the new proud owner of a Splinterlands Starter pack in which is valued at $10 USD.
This prize is on top of standard winnings offered by the Top3 organizers. If I don't get dethroned the Splinterlands Starter set will roll over into next months competition and so on and so forth until someone other than myself wins the TOP3 Contest thus dethroning me by fluke at which time they will be awarded the Starter Pack.
Good Luck, You'll Need It
Evil laugh .....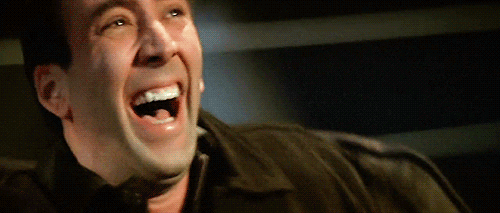 ---
Splinterlands Total Market Cap Report:
$4,748,268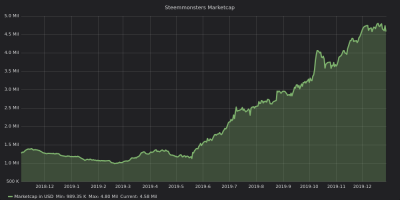 I last reported the Splinterlands total market cap to be at $4,607,598. Today we see that number increase by about $140,000 to $4,748,268. I'm not sure what caused a $140,000 jump in just a 24 hour period but I'm not one to complain about positive growth. Peakmonsters listed price for the Splinterlands market cap has also increased over the past 24 hours from $4.89 Million to $5.1 Million USD.
PeakMonsters Market Cap Numbers

---
Posted via Steemleo | A Decentralized Community for Investors