Hi dear Pals, this season goes with a slow progress for me in the rankings, although I started the league in Gold II I'm still stuck in Gold I with 6 days left.

Anyways I pulled some nice rewards lately, as with the help of my potions I got this nice rewards yesterday.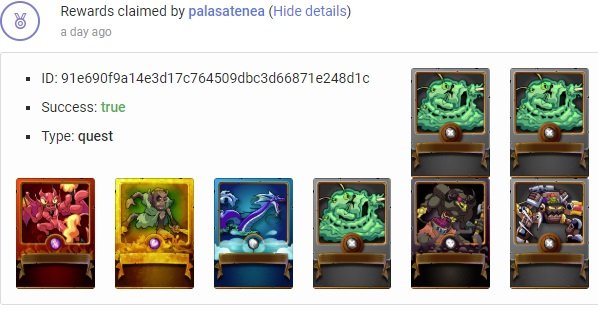 A GF Brownie!, lucky me is one of my favourite cards of the game :).
So those potions seem to be really efective I have to say, the legendary 25% potion gave me two Lord A, a Lord of fire that I sold, a SOF, a Corrupted pegasus and a Hydra, with 22 charges left, so I'm very happy with this one. The alchemy potion has still 303 charges, so it's soon still to judge, but with that GF Brownie is starting to pay for itself.
The issue is that I'm struggling to accumulate DEC, with so many options is too tempting to use it. Anyone else is having this problem XD?, I guess that is a frequent one. Try to keep that DEC in your hands Pals... if you can.