I've opened up the bot to take Alpha and Beta gold cards, which means that it now accept all Splinterlands cards. Here's that pay table again, and now it's for real:
| Rarity | Beta/Reward | Alpha/Promo |
| --- | --- | --- |
| Common | 15.15 | 30.3 |
| Rare | 60.6 | 121.2 |
| Epic | 303 | 606 |
| Legendary | 1515 | 3030 |
| Gold Common | 757.5 | 1515 |
| Gold Rare | 3030 | 6060 |
| Gold Epic | 15150 | 30300 |
| Gold Legendary | 75750 | 151500 |
It's still a bad idea to send it max cards, because it will only pay the BCX value. But you can now gift any Splinterlands card to @ottermaker for 101% of its burn value in DEC, directly to your Steem-Engine account.
It's actually been running for a couple of days without an announcement, I thought it was safe to start it up with about 250k DEC as the season rewards rush was ending, because surely it wasn't going to get sent a bunch of gold legendaries. Then I mentioned it briefly in Discord and the second card sent was a Lightning Dragon.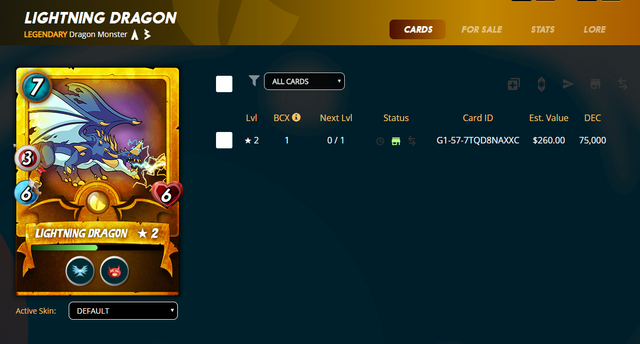 So I've built the DEC back up to 175k now, and hopefully will be able to maintain if you all want to send me strange cards. I'm not too worried about Alpha legendaries because they're all listed way above their DEC price, but one thing the last few weeks have taught me is that people make choices in this game for reasons I don't understand very well.
Once you have those DEC, buy packs with them
Ottermaker still has a whole lot of packs and is selling them for 1600 DEC, which is a pretty nice discount. I realized I should put up a tutorial for sending DEC on Steem-Engine and using BETA tokens, because a lot of people don't know how to do that yet. But if you do, sending DEC will automatically get you 1 BETA for every 1600 DEC.