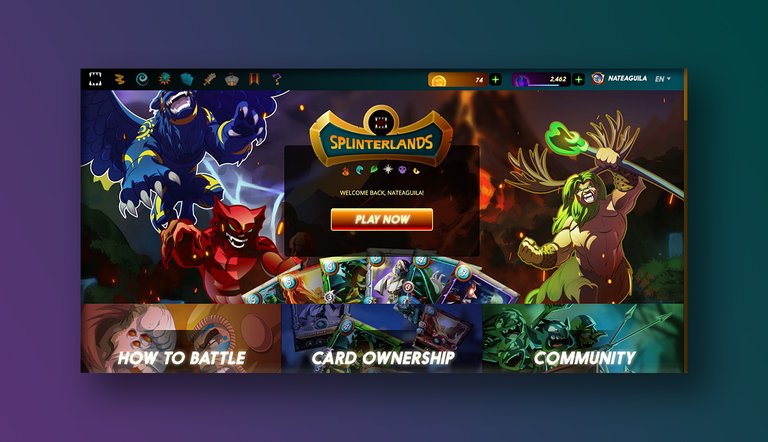 Warning: I'm just rambling, so don't expect any coherent point to this post, haha.
LOOKIT THAT
A couple of months ago, I had designed a slightly different Splinterlands home page experience for when the player is logged in. The idea is to distinguish between marketing and onboarding.
If you're an existing player, the home page would serve a different purpose. Currently, that purpose is oriented towards new players, so it's mostly educational. However, who knows? Maybe in the future, we'll be able to have the home page adapt more and more to the individual player's custom needs.
So I was happy to see that it's mostly live on the site right now (at least, the desktop version...I haven't checked how it looks on mobile). Go check it out!
I might request a couple of minor tweaks, but for the most part, I think it's a great resource to jumpstart our incoming rookies.
SEASON PANIC
AHHHHHhhhhhhhh! It's the last day of the season!!!!!
So I woke up this morning at rank 27. Felt pretty good about it too. Got it in my head that I was invincible. Top 25, here I come!
Yeah. No.
That's not happening. I dropped like a rock, haha. Not sure if I have enough time to play more before the season ends. Guess if I'm in danger of dropping below 50, I might take a stab at it.
If I do, I fully expect you guys to let me win.
BLOCKCHAIN GAMES
Every so often, I'll try to do a bit of market research. It's always good to know what other blockchain games are doing. I'll hit up the dapp ranking sites and go visit a website here or download a new app there.
Now and then, I'l actually be impressed by something. Some cool graphics or animations or something. But unfortunately, for the most part...wow, there's like no other games out there that strike the Splinterlands balance of gameplay, entertainment, blockchain, and earning potential.
Some games look great, but they have no strong economic incentives. Or some are just money grabs. And others are too niche and have no mass appeal. Others have crappy UX.
There's a good reason why Splinterlands is consistently #1 on most Dapp Ranking sites.
Let me know if any of you have come across something good. I'd be very interested in checking it out. Doesn't matter what blockchain. In the meantime, I'll be supporting any game or dapp on Hive. Looking forward to seeing the Exode gameplay. And I think I saw something somewhere regarding BroCity? Hmmm...I think DCity has (or just did) a big update? I dunno. So much to catch up on.
NEVER BORING
It's been fun bouncing around between all the various aspects of what will be upcoming updates to the game. There's too much to even list. Which is so awesome.
There's always something cool in development. There's always something to look forward to. Stuff that adds more and more value to the game and the assets in your collection.
I think for the next couple of weeks, I'll probably be juggling between Guild Wars, Land, and Animations. The best part is that I can't wait to have all this stuff implemented, so I can play with them myself!
WHERE IS IT???!!!
I keep buying Mystery Potions.
Where the HECK is my DRICKEN!!???? I need a Dricken!