The secret of @bji1203, the king of the Splinterlands. :)

Hello Steemians, hello Splinterlands fans, today's post is dedicated to the most successful Steem Monsters player ever, worldwide (yes, I think I can write that without exaggerating), @bji1203.
@bji1203 is clearly outclassing all other players!

Below you see the current ranking list, which shows that the distance between him and the second ranked player is far bigger ('unreal' 656 rating points!) than the distance between the second and the tenth place (287 points):
---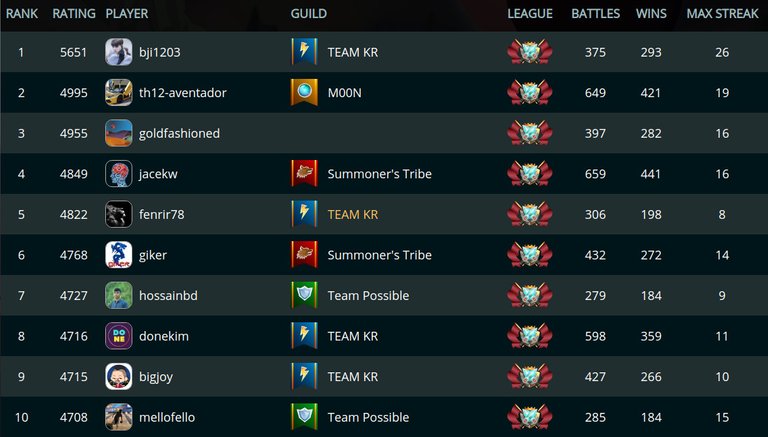 ---
Impressing is also his "max streak" of 26 consecutive games, and especially a winning percentage of 78 % (against the strongest available opponents)!
Always when a new edition of cards is being introduced his advantage is getting even bigger until the other players are able to adapt to the new conditions (and also copy his strategies).
Some said, his success was the result of avoiding certain opponents, playing against own alt accounts or owning Prince Julian ... but come onnn: he is simply by far the best player, and who doesn't accept that has either no idea about our Splinterlands game or is just jealous! :)
Example of his playing style

This battle from a recent Diamond League tournament shows, how naturally he integrates the new Untamed Edition cards into his game play:
---
Start position (unfortunately under a linux operating system the pictures of the summoners are still not shown!):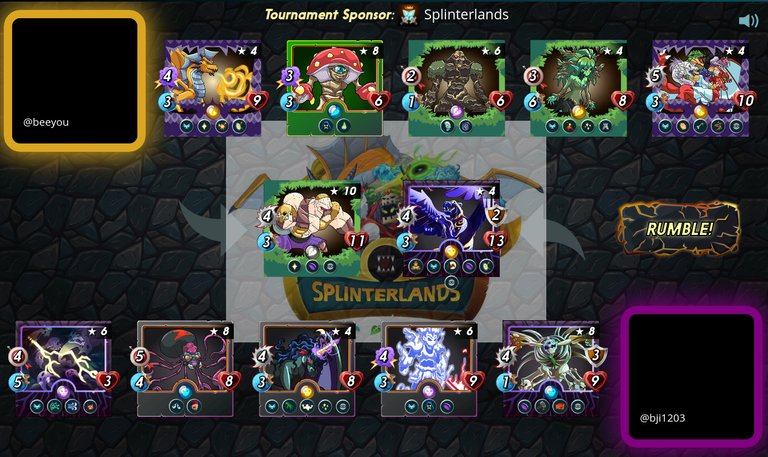 ---
What is/are the reason(s) for his superiority?

Is he simply the fastest and most creative thinker among all Steem Monsters players? Possible, but in my opinion that wouldn't explain such a huge distance between him and the other top players.
Is he using a data base of all played games which suggests him the best teams based on the statistical results of these games? Possible, as well, but many other players are doing that, too, and again I don't think that's the main reason for his success.
I can only speculate (yes, I light-heartedly admit doing just that now), but for me it seems most likely that he has created his own Splinterlands simulation software in which he can play thousands of virtual games within minutes and enter the stats of every new card immediately, so that he has more statistical data available than everybody else, especially much more than the number of real games which have already been played.
As a chess player I know that even in times where certain famous grand masters like Emanuel Lasker, 'Bobby' Fischer or Garry Kasparov dominated the chess scene, the difference between them and their best opponents wasn't as big as the difference between @bji1203 and the rest seems to be in Splinterlands. Only since chess software started to conquer the chess world and overtook the strongest human players, we can observe such huge rating differences in chess: between inferior humans and superior software like AlphaZero ...
What do you think is the main reason for his success?
Would you like to say something yourself, @bji1203?
Anyway, whatever the reason is, his achievements on the battle field deserve my highest respect.
---
---