You can see usage/win rate / DEC reports for any account on the MonsterTools website. It contains:
usage of monsters/summoners
win rate of monsters/summoners
DEC earned
Just put the season and player name in the URL:
https://monstertools.github.io/usage/<season>/<username>
All players are included. Seasons available: 29-32. I will add more in the future.
The report contains only ranked battles, so tournaments are excluded. Bold font has been used for untamed cards.
---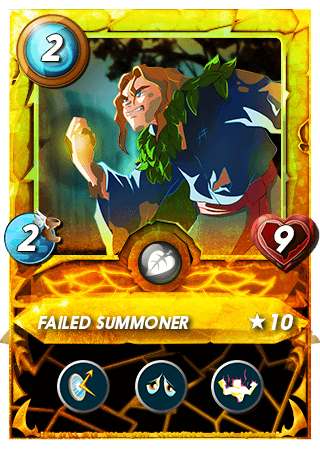 ---
Report for my account (32nd season):
---
| . | . |
| --- | --- |
| Player | jacekw |
| Season | 32 |
| Battles | 737 |
| Wins | 519 |
| Loses | 218 |
| Win rate | 70.42% |
| DEC | 38166 |
---
MONSTERS
| Usage% | Monster | Wins | Loses | Win rate | DEC |
| --- | --- | --- | --- | --- | --- |
| 28.36% | Furious Chicken | 144 | 65 | 68.90% | 10573 |
| 27.68% | Lord Arianthus | 158 | 46 | 77.45% | 11497 |
| 23.74% | Crustacean King | 133 | 42 | 76.00% | 9768 |
| 20.08% | Creeping Ooze | 105 | 43 | 70.95% | 7841 |
| 17.50% | Swamp Thing | 98 | 31 | 75.97% | 7355 |
| 17.10% | Cocatrice | 90 | 36 | 71.43% | 6960 |
| 14.65% | Spirit of the Forest | 83 | 25 | 76.85% | 6101 |
| 12.89% | Mermaid Healer | 72 | 23 | 75.79% | 5058 |
| 12.75% | Prismatic Energy | 74 | 20 | 78.72% | 4704 |
| 11.40% | Ruler of the Seas | 69 | 15 | 82.14% | 4570 |
| 10.58% | Elven Cutthroat | 52 | 26 | 66.67% | 3805 |
| 10.45% | Naga Warrior | 58 | 19 | 75.32% | 4203 |
| 10.04% | Enchanted Pixie | 50 | 24 | 67.57% | 3757 |
| 10.04% | Albatross | 54 | 20 | 72.97% | 4051 |
| 9.91% | Centaur | 53 | 20 | 72.60% | 3967 |
| 9.50% | Sea Genie | 51 | 19 | 72.86% | 3280 |
| 8.82% | Feral Spirit | 43 | 22 | 66.15% | 3273 |
| 8.82% | Electric Eels | 48 | 17 | 73.85% | 3638 |
| 8.55% | Failed Summoner | 44 | 19 | 69.84% | 3456 |
| 8.41% | Earth Elemental | 39 | 23 | 62.90% | 3125 |
| 8.14% | Angel of Light | 43 | 17 | 71.67% | 3251 |
| 7.87% | Silvershield Bard | 43 | 15 | 74.14% | 3604 |
| 7.73% | Undead Priest | 39 | 18 | 68.42% | 2831 |
| 7.60% | Fiendish Harpy | 42 | 14 | 75.00% | 3358 |
| 7.46% | Gold Dragon | 39 | 16 | 70.91% | 3008 |
| 7.19% | Brownie | 41 | 12 | 77.36% | 2853 |
| 7.06% | Darkest Mage | 37 | 15 | 71.15% | 2510 |
| 6.65% | Goblin Shaman | 27 | 22 | 55.10% | 1943 |
| 6.51% | Javelin Thrower | 37 | 11 | 77.08% | 2276 |
| 6.38% | Death Elemental | 31 | 16 | 65.96% | 2165 |
| 5.97% | Raging Impaler | 31 | 13 | 70.45% | 2310 |
| 5.70% | Crystal Werewolf | 22 | 20 | 52.38% | 1833 |
| 5.70% | Peaceful Giant | 32 | 10 | 76.19% | 2313 |
| 5.70% | Medusa | 27 | 15 | 64.29% | 1879 |
| 5.56% | Divine Healer | 27 | 14 | 65.85% | 2315 |
| 5.56% | Pirate Archer | 29 | 12 | 70.73% | 2275 |
| 5.43% | Ice Pixie | 30 | 10 | 75.00% | 2099 |
| 5.29% | Goblin Sorcerer | 26 | 13 | 66.67% | 2327 |
| 5.16% | Cursed Slimeball | 24 | 14 | 63.16% | 1551 |
| 4.75% | Cerberus | 20 | 15 | 57.14% | 1473 |
| 4.75% | Scale Doctor | 29 | 6 | 82.86% | 2366 |
| 4.61% | Serpentine Soldier | 18 | 16 | 52.94% | 1320 |
| 4.61% | Mischievous Mermaid | 26 | 8 | 76.47% | 1784 |
| 4.34% | Silvershield Assassin | 24 | 8 | 75.00% | 1702 |
| 4.34% | Hydra | 20 | 12 | 62.50% | 1388 |
| 4.21% | Exploding Dwarf | 16 | 15 | 51.61% | 1135 |
| 4.21% | Child of the Forest | 20 | 11 | 64.52% | 1435 |
| 4.07% | Armorsmith | 17 | 13 | 56.67% | 1407 |
| 4.07% | Fallen Specter | 23 | 7 | 76.67% | 1551 |
| 3.66% | Goblin Chef | 17 | 10 | 62.96% | 1312 |
| 3.66% | Silvershield Paladin | 21 | 6 | 77.78% | 1669 |
| 3.66% | Corrupted Pegasus | 18 | 9 | 66.67% | 1326 |
| 3.66% | Haunted Spirit | 18 | 9 | 66.67% | 1438 |
| 3.53% | Mitica Headhunter | 22 | 4 | 84.62% | 1228 |
| 3.53% | Wood Nymph | 16 | 10 | 61.54% | 1088 |
| 3.39% | Lord of Darkness | 15 | 10 | 60.00% | 1090 |
| 3.39% | Spirit Miner | 18 | 7 | 72.00% | 1309 |
| 3.26% | Khmer Princess | 15 | 9 | 62.50% | 1172 |
| 3.26% | Silvershield Knight | 18 | 6 | 75.00% | 1776 |
| 3.12% | Mushroom Seer | 16 | 7 | 69.57% | 1068 |
| 3.12% | Flame Imp | 12 | 11 | 52.17% | 783 |
| 3.12% | Cyclops | 14 | 9 | 60.87% | 1089 |
| 3.12% | Stone Golem | 15 | 8 | 65.22% | 1102 |
| 3.12% | Magi of the Forest | 14 | 9 | 60.87% | 1174 |
| 3.12% | Skeletal Warrior | 16 | 7 | 69.57% | 1082 |
| 2.99% | Phantom of the Abyss | 16 | 6 | 72.73% | 1170 |
| 2.85% | Kobold Miner | 16 | 5 | 76.19% | 1147 |
| 2.71% | Serpent of the Flame | 11 | 9 | 55.00% | 776 |
| 2.58% | Shin-Lo | 13 | 6 | 68.42% | 926 |
| 2.58% | Magi Sphinx | 15 | 4 | 78.95% | 956 |
| 2.58% | Undead Archer | 17 | 2 | 89.47% | 1441 |
| 2.44% | Naga Windmaster | 15 | 3 | 83.33% | 1156 |
| 2.44% | Spineback Turtle | 13 | 5 | 72.22% | 954 |
| 2.44% | Chain Golem | 11 | 7 | 61.11% | 773 |
| 2.17% | Dragon Jumper | 12 | 4 | 75.00% | 853 |
| 2.17% | Elemental Phoenix | 10 | 6 | 62.50% | 623 |
| 2.17% | Magnor | 10 | 6 | 62.50% | 662 |
| 2.17% | Defender of Truth | 6 | 10 | 37.50% | 451 |
| 2.04% | Sacred Unicorn | 13 | 2 | 86.67% | 955 |
| 2.04% | Water Elemental | 11 | 4 | 73.33% | 818 |
| 2.04% | Dwarven Wizard | 13 | 2 | 86.67% | 915 |
| 2.04% | Giant Roc | 7 | 8 | 46.67% | 389 |
| 2.04% | Spark Pixies | 7 | 8 | 46.67% | 600 |
| 1.90% | Baby Unicorn | 12 | 2 | 85.71% | 1172 |
| 1.90% | Serpentine Spy | 9 | 5 | 64.29% | 675 |
| 1.76% | Flesh Golem | 10 | 3 | 76.92% | 814 |
| 1.76% | Skeleton Assassin | 9 | 4 | 69.23% | 610 |
| 1.63% | Highland Archer | 9 | 3 | 75.00% | 729 |
| 1.49% | Lightning Dragon | 9 | 2 | 81.82% | 645 |
| 1.49% | Pirate Captain | 6 | 5 | 54.55% | 513 |
| 1.36% | Divine Sorceress | 4 | 6 | 40.00% | 299 |
| 1.22% | Cave Slug | 6 | 3 | 66.67% | 475 |
| 1.22% | Lone Boatman | 8 | 1 | 88.89% | 599 |
| 1.22% | Imp Bowman | 5 | 4 | 55.56% | 353 |
| 1.22% | Manticore | 6 | 3 | 66.67% | 442 |
| 1.22% | Tower Griffin | 8 | 1 | 88.89% | 545 |
| 1.09% | Cornealus | 5 | 3 | 62.50% | 355 |
| 1.09% | Pit Ogre | 6 | 2 | 75.00% | 409 |
| 1.09% | Red Dragon | 6 | 2 | 75.00% | 453 |
| 0.95% | Fire Demon | 6 | 1 | 85.71% | 352 |
| 0.95% | Elven Mystic | 1 | 6 | 14.29% | 120 |
| 0.81% | Beetle Queen | 3 | 3 | 50.00% | 198 |
| 0.68% | Minotaur Warrior | 3 | 2 | 60.00% | 268 |
| 0.68% | Spineback Wolf | 2 | 3 | 40.00% | 154 |
| 0.54% | Flame Monkey | 2 | 2 | 50.00% | 90 |
| 0.54% | Crystal Jaguar | 2 | 2 | 50.00% | 141 |
| 0.54% | Black Dragon | 4 | 0 | 100.00% | 322 |
| 0.54% | Phantom Soldier | 3 | 1 | 75.00% | 165 |
| 0.54% | Serpentine Mystic | 3 | 1 | 75.00% | 265 |
| 0.54% | Frozen Soldier | 2 | 2 | 50.00% | 173 |
| 0.54% | Screeching Vulture | 2 | 2 | 50.00% | 198 |
| 0.41% | Minotaur Warlord | 2 | 1 | 66.67% | 101 |
| 0.41% | Sea Monster | 1 | 2 | 33.33% | 90 |
| 0.41% | Silvershield Warrior | 0 | 3 | 0.00% | 0 |
| 0.41% | Lord of Fire | 0 | 3 | 0.00% | 0 |
| 0.27% | The Kraken | 2 | 0 | 100.00% | 72 |
| 0.27% | Molten Ogre | 2 | 0 | 100.00% | 141 |
| 0.27% | Twisted Jester | 1 | 1 | 50.00% | 52 |
| 0.27% | Haunted Spider | 2 | 0 | 100.00% | 150 |
| 0.27% | Sabre Shark | 2 | 0 | 100.00% | 168 |
| 0.27% | Stonesplitter Orc | 2 | 0 | 100.00% | 153 |
| 0.27% | Fire Beetle | 1 | 1 | 50.00% | 56 |
| 0.27% | Enchanted Defender | 1 | 1 | 50.00% | 106 |
| 0.27% | Parasitic Growth | 1 | 1 | 50.00% | 115 |
| 0.14% | Coral Wraith | 1 | 0 | 100.00% | 27 |
| 0.14% | Silvershield Archers | 1 | 0 | 100.00% | 35 |
| 0.14% | Undead Badger | 1 | 0 | 100.00% | 70 |
| 0.14% | Truthspeaker | 1 | 0 | 100.00% | 76 |
| 0.14% | Frost Giant | 1 | 0 | 100.00% | 101 |
| 0.14% | Peacebringer | 1 | 0 | 100.00% | 95 |
| 0.14% | Animated Corpse | 1 | 0 | 100.00% | 77 |
| 0.14% | Naga Fire Wizard | 0 | 1 | 0.00% | 0 |
| 0.14% | Feasting Seaweed | 0 | 1 | 0.00% | 0 |
---
SUMMONERS
| Usage% | Summoner | Wins | Loses | Win rate | DEC |
| --- | --- | --- | --- | --- | --- |
| 16.42% | Valnamor | 93 | 28 | 76.86% | 6006 |
| 14.93% | Selenia Sky | 76 | 34 | 69.09% | 6089 |
| 12.89% | Prince Rennyn | 73 | 22 | 76.84% | 5307 |
| 8.28% | Tyrus Paladium | 42 | 19 | 68.85% | 3792 |
| 7.46% | The Peakrider | 39 | 16 | 70.91% | 2686 |
| 7.33% | Plado Emberstorm | 31 | 23 | 57.41% | 2086 |
| 6.65% | Crypt Mancer | 33 | 16 | 67.35% | 2303 |
| 4.48% | Xander Foxwood | 22 | 11 | 66.67% | 1517 |
| 4.34% | Xia Seachan | 23 | 9 | 71.88% | 1874 |
| 2.99% | Alric Stormbringer | 15 | 7 | 68.18% | 1210 |
| 2.99% | Lyanna Natura | 14 | 8 | 63.64% | 1162 |
| 2.85% | Jarlax the Undead | 15 | 6 | 71.43% | 1029 |
| 2.31% | Archmage Arius | 15 | 2 | 88.24% | 758 |
| 2.17% | Daria Dragonscale | 9 | 7 | 56.25% | 752 |
| 1.36% | Talia Firestorm | 8 | 2 | 80.00% | 694 |
| 0.81% | Delwyn Dragonscale | 5 | 1 | 83.33% | 495 |
| 0.68% | Zintar Mortalis | 3 | 2 | 60.00% | 147 |
| 0.54% | Malric Inferno | 2 | 2 | 50.00% | 154 |
| 0.54% | Kiara Lightbringer | 1 | 3 | 25.00% | 97 |
Bonus: report top 25 ranked players (32nd season)
| . | . |
| --- | --- |
| Player | top25 |
| Season | 32 |
| Battles analyzed | 13240 |
| Wins | 8488 |
| Loses | 4752 |
| Win rate | 64.11% |
| DEC earned | 625881 |
---
MONSTERS
| Usage% | Monster | W | L | Winratio | DEC |
| --- | --- | --- | --- | --- | --- |
| 33.13% | Furious Chicken | 2811 | 1575 | 64.09% | 199152 |
| 32.13% | Lord Arianthus | 2723 | 1531 | 64.01% | 193155 |
| 21.01% | Crustacean King | 1839 | 943 | 66.10% | 134310 |
| 16.93% | Swamp Thing | 1491 | 751 | 66.50% | 105009 |
| 16.00% | Creeping Ooze | 1406 | 713 | 66.35% | 97238 |
| 14.87% | Earth Elemental | 1255 | 714 | 63.74% | 85207 |
| 14.77% | Spirit of the Forest | 1251 | 705 | 63.96% | 86541 |
| 14.27% | Cocatrice | 1241 | 648 | 65.70% | 88464 |
| 12.92% | Elven Cutthroat | 1043 | 668 | 60.96% | 73361 |
| 10.58% | Feral Spirit | 859 | 542 | 61.31% | 60840 |
| 9.61% | Centaur | 815 | 457 | 64.07% | 53678 |
| 9.49% | Javelin Thrower | 791 | 466 | 62.93% | 52601 |
| 9.40% | Mermaid Healer | 822 | 423 | 66.02% | 60694 |
| 8.77% | Medusa | 761 | 400 | 65.55% | 54549 |
| 8.65% | Pirate Archer | 773 | 372 | 67.51% | 53444 |
| 8.19% | Enchanted Pixie | 701 | 383 | 64.67% | 49229 |
| 8.00% | Gold Dragon | 712 | 347 | 67.23% | 52557 |
| 7.82% | Ruler of the Seas | 686 | 349 | 66.28% | 47088 |
| 7.46% | Electric Eels | 671 | 317 | 67.91% | 47072 |
| 7.39% | Prismatic Energy | 649 | 329 | 66.36% | 47017 |
| 7.39% | Silvershield Paladin | 606 | 372 | 61.96% | 41646 |
| 7.04% | Silvershield Bard | 625 | 307 | 67.06% | 46519 |
| 6.99% | Armorsmith | 592 | 334 | 63.93% | 45835 |
| 6.95% | Spineback Turtle | 614 | 306 | 66.74% | 45053 |
| 6.94% | Brownie | 602 | 317 | 65.51% | 41381 |
| 6.84% | Angel of Light | 573 | 332 | 63.31% | 42849 |
| 6.69% | Cyclops | 532 | 354 | 60.05% | 34720 |
| 6.60% | Crystal Werewolf | 578 | 296 | 66.13% | 41884 |
| 6.37% | Wood Nymph | 512 | 331 | 60.74% | 34038 |
| 5.59% | Divine Healer | 459 | 281 | 62.03% | 31804 |
| 5.56% | Cerberus | 478 | 258 | 64.95% | 31387 |
| 5.47% | Goblin Chef | 459 | 265 | 63.40% | 32930 |
| 5.45% | Corrupted Pegasus | 457 | 265 | 63.30% | 33331 |
| 5.45% | Undead Priest | 465 | 257 | 64.40% | 32324 |
| 5.29% | Sea Genie | 456 | 244 | 65.14% | 30869 |
| 5.23% | Goblin Shaman | 465 | 228 | 67.10% | 31016 |
| 5.06% | Kobold Miner | 422 | 248 | 62.99% | 28934 |
| 5.03% | Mushroom Seer | 413 | 253 | 62.01% | 27385 |
| 4.56% | Hydra | 349 | 255 | 57.78% | 24696 |
| 4.53% | Lord of Darkness | 372 | 228 | 62.00% | 27015 |
| 4.52% | Naga Warrior | 391 | 208 | 65.28% | 29362 |
| 4.49% | Flesh Golem | 340 | 254 | 57.24% | 22898 |
| 4.42% | Serpentine Soldier | 384 | 201 | 65.64% | 26007 |
| 4.31% | Dwarven Wizard | 370 | 201 | 64.80% | 25986 |
| 4.09% | Haunted Spirit | 308 | 233 | 56.93% | 20559 |
| 4.08% | Skeleton Assassin | 330 | 210 | 61.11% | 21759 |
| 4.05% | Fiendish Harpy | 345 | 191 | 64.37% | 26447 |
| 4.05% | Peaceful Giant | 366 | 170 | 68.28% | 25772 |
| 3.99% | Defender of Truth | 345 | 183 | 65.34% | 22867 |
| 3.87% | Peacebringer | 297 | 216 | 57.89% | 19175 |
| 3.82% | Goblin Sorcerer | 336 | 170 | 66.40% | 23875 |
| 3.75% | Highland Archer | 302 | 194 | 60.89% | 19241 |
| 3.58% | Water Elemental | 290 | 184 | 61.18% | 18506 |
| 3.23% | Magi of the Forest | 291 | 137 | 67.99% | 20969 |
| 3.21% | Stone Golem | 273 | 152 | 64.24% | 18629 |
| 3.19% | Undead Archer | 265 | 158 | 62.65% | 19932 |
| 3.18% | Exploding Dwarf | 285 | 136 | 67.70% | 19275 |
| 3.16% | Flame Imp | 278 | 140 | 66.51% | 18541 |
| 3.12% | Silvershield Knight | 278 | 135 | 67.31% | 19807 |
| 3.04% | Mischievous Mermaid | 259 | 143 | 64.43% | 18771 |
| 2.99% | Tower Griffin | 258 | 138 | 65.15% | 22419 |
| 2.97% | Manticore | 243 | 150 | 61.83% | 17728 |
| 2.85% | Haunted Spider | 225 | 152 | 59.68% | 15000 |
| 2.82% | Fire Demon | 246 | 128 | 65.78% | 16028 |
| 2.79% | Lightning Dragon | 231 | 139 | 62.43% | 16484 |
| 2.73% | Pirate Captain | 222 | 140 | 61.33% | 13589 |
| 2.64% | Twisted Jester | 208 | 142 | 59.43% | 14417 |
| 2.48% | Elemental Phoenix | 208 | 120 | 63.41% | 14138 |
| 2.47% | Naga Windmaster | 218 | 109 | 66.67% | 15549 |
| 2.44% | Magi Sphinx | 205 | 118 | 63.47% | 14182 |
| 2.35% | Divine Sorceress | 219 | 92 | 70.42% | 14972 |
| 2.17% | Failed Summoner | 217 | 70 | 75.61% | 21947 |
| 2.14% | Albatross | 178 | 105 | 62.90% | 19563 |
| 2.08% | Khmer Princess | 184 | 91 | 66.91% | 17008 |
| 1.95% | Air Elemental | 147 | 111 | 56.98% | 9300 |
| 1.88% | Enchanted Defender | 154 | 95 | 61.85% | 12263 |
| 1.88% | Skeletal Warrior | 169 | 80 | 67.87% | 11483 |
| 1.87% | Serpent of the Flame | 149 | 99 | 60.08% | 9784 |
| 1.87% | Imp Bowman | 156 | 92 | 62.90% | 9680 |
| 1.85% | Ice Pixie | 164 | 81 | 66.94% | 17144 |
| 1.74% | Sabre Shark | 151 | 80 | 65.37% | 10108 |
| 1.73% | Child of the Forest | 159 | 70 | 69.43% | 15214 |
| 1.69% | Raging Impaler | 134 | 90 | 59.82% | 9063 |
| 1.56% | Silvershield Assassin | 137 | 69 | 66.50% | 11396 |
| 1.55% | Pit Ogre | 141 | 64 | 68.78% | 9466 |
| 1.47% | Giant Roc | 116 | 78 | 59.79% | 7687 |
| 1.44% | Elven Mystic | 141 | 50 | 73.82% | 14165 |
| 1.40% | Spineback Wolf | 96 | 89 | 51.89% | 6585 |
| 1.39% | Phantom Soldier | 107 | 77 | 58.15% | 6783 |
| 1.36% | Silvershield Warrior | 104 | 76 | 57.78% | 7712 |
| 1.35% | Sacred Unicorn | 118 | 61 | 65.92% | 8116 |
| 1.25% | Darkest Mage | 115 | 51 | 69.28% | 8838 |
| 1.22% | Cursed Slimeball | 109 | 52 | 67.70% | 9232 |
| 1.17% | Death Elemental | 98 | 57 | 63.23% | 7322 |
| 1.15% | Frost Giant | 94 | 58 | 61.84% | 6652 |
| 1.03% | Scale Doctor | 103 | 33 | 75.74% | 9754 |
| 1.02% | Fire Beetle | 80 | 55 | 59.26% | 5194 |
| 1.00% | Sea Monster | 78 | 55 | 58.65% | 5661 |
| 0.98% | Cornealus | 87 | 43 | 66.92% | 8665 |
| 0.93% | Minotaur Warrior | 68 | 55 | 55.28% | 4634 |
| 0.89% | Spark Pixies | 81 | 37 | 68.64% | 6956 |
| 0.87% | Chain Golem | 72 | 43 | 62.61% | 6222 |
| 0.86% | Goblin Mech | 59 | 55 | 51.75% | 3864 |
| 0.84% | Frozen Soldier | 69 | 42 | 62.16% | 4500 |
| 0.82% | Shin-Lo | 75 | 34 | 68.81% | 6490 |
| 0.82% | Black Dragon | 75 | 34 | 68.81% | 5420 |
| 0.80% | Screaming Banshee | 63 | 43 | 59.43% | 3946 |
| 0.76% | Mitica Headhunter | 77 | 24 | 76.24% | 7638 |
| 0.73% | Shieldbearer | 68 | 28 | 70.83% | 7020 |
| 0.69% | Stonesplitter Orc | 49 | 42 | 53.85% | 3131 |
| 0.67% | Truthspeaker | 62 | 27 | 69.66% | 6222 |
| 0.67% | Screeching Vulture | 59 | 30 | 66.29% | 5709 |
| 0.64% | Dragon Jumper | 57 | 28 | 67.06% | 4975 |
| 0.61% | Fallen Specter | 58 | 23 | 71.60% | 4484 |
| 0.60% | Lord of Fire | 58 | 22 | 72.50% | 3795 |
| 0.60% | Minotaur Warlord | 46 | 34 | 57.50% | 3414 |
| 0.60% | Animated Corpse | 46 | 33 | 58.23% | 2965 |
| 0.59% | Beetle Queen | 50 | 28 | 64.10% | 3756 |
| 0.58% | Silvershield Archers | 41 | 36 | 53.25% | 2889 |
| 0.55% | Mantoid | 49 | 24 | 67.12% | 4356 |
| 0.52% | Coral Wraith | 44 | 25 | 63.77% | 4029 |
| 0.49% | Serpentine Spy | 42 | 23 | 64.62% | 3610 |
| 0.48% | Parasitic Growth | 43 | 21 | 67.19% | 4115 |
| 0.42% | Grumpy Dwarf | 32 | 23 | 58.18% | 1931 |
| 0.41% | Dark Enchantress | 27 | 27 | 50.00% | 1676 |
| 0.40% | Chromatic Dragon | 29 | 24 | 54.72% | 2139 |
| 0.39% | Hobgoblin | 33 | 18 | 64.71% | 2219 |
| 0.38% | Clay Golem | 24 | 26 | 48.00% | 1437 |
| 0.36% | Naga Fire Wizard | 25 | 23 | 52.08% | 1542 |
| 0.35% | Dark Ha'on | 36 | 11 | 76.60% | 3388 |
| 0.35% | Cave Slug | 34 | 12 | 73.91% | 3607 |
| 0.35% | Fire Elemental | 35 | 11 | 76.09% | 3052 |
| 0.34% | Molten Ogre | 30 | 15 | 66.67% | 1956 |
| 0.33% | Red Dragon | 28 | 16 | 63.64% | 2453 |
| 0.31% | Gelatinous Cube | 24 | 17 | 58.54% | 2293 |
| 0.29% | Vampire | 22 | 17 | 56.41% | 1484 |
| 0.29% | Phantom of the Abyss | 27 | 11 | 71.05% | 3013 |
| 0.29% | The Vigilator | 28 | 10 | 73.68% | 2593 |
| 0.27% | Sporcerer | 30 | 6 | 83.33% | 2995 |
| 0.25% | Undead Badger | 21 | 12 | 63.64% | 1970 |
| 0.24% | Maggots | 22 | 10 | 68.75% | 1997 |
| 0.23% | Tortisian Chief | 19 | 12 | 61.29% | 2200 |
| 0.23% | Unicorn Mustang | 21 | 9 | 70.00% | 1635 |
| 0.21% | Rexxie | 18 | 10 | 64.29% | 1070 |
| 0.21% | Lone Boatman | 20 | 8 | 71.43% | 1645 |
| 0.21% | Feasting Seaweed | 20 | 8 | 71.43% | 1955 |
| 0.19% | Kron the Undying | 15 | 10 | 60.00% | 1351 |
| 0.17% | Fire Spitter | 13 | 10 | 56.52% | 1206 |
| 0.17% | Giant Squid | 14 | 8 | 63.64% | 1479 |
| 0.16% | War Chaang | 15 | 6 | 71.43% | 1682 |
| 0.16% | Living Lava | 15 | 6 | 71.43% | 1510 |
| 0.13% | Magnor | 13 | 4 | 76.47% | 1039 |
| 0.12% | Serpentine Mystic | 10 | 6 | 62.50% | 956 |
| 0.12% | Royal Dragon Archer | 10 | 6 | 62.50% | 1178 |
| 0.12% | Goblin Chariot | 8 | 8 | 50.00% | 805 |
| 0.11% | The Kraken | 12 | 2 | 85.71% | 1770 |
| 0.11% | Azmare Harpoonist | 12 | 2 | 85.71% | 1355 |
| 0.11% | Spirit Miner | 8 | 6 | 57.14% | 815 |
| 0.10% | Rusty Android | 6 | 7 | 46.15% | 303 |
| 0.10% | Horny Toad | 9 | 4 | 69.23% | 1100 |
| 0.10% | Dragonling Bowman | 7 | 6 | 53.85% | 552 |
| 0.09% | Boogeyman | 8 | 4 | 66.67% | 755 |
| 0.08% | Herbalist | 6 | 5 | 54.55% | 511 |
| 0.08% | Soulstorm | 6 | 4 | 60.00% | 569 |
| 0.07% | Luminous Eagle | 6 | 3 | 66.67% | 544 |
| 0.07% | Gloridax Guardian | 3 | 6 | 33.33% | 256 |
| 0.07% | Octopider | 5 | 4 | 55.56% | 429 |
| 0.07% | Goblin Thief | 7 | 2 | 77.78% | 689 |
| 0.06% | Light Elemental | 6 | 2 | 75.00% | 658 |
| 0.06% | Bone Golem | 7 | 1 | 87.50% | 770 |
| 0.06% | Orc Sergeant | 5 | 3 | 62.50% | 584 |
| 0.05% | Magma Troll | 4 | 3 | 57.14% | 352 |
| 0.05% | Baby Unicorn | 4 | 3 | 57.14% | 361 |
| 0.05% | High Priest Darius | 6 | 1 | 85.71% | 552 |
| 0.05% | Crystal Jaguar | 3 | 3 | 50.00% | 273 |
| 0.05% | Pyromaniac | 3 | 3 | 50.00% | 173 |
| 0.05% | Giant Scorpion | 3 | 3 | 50.00% | 319 |
| 0.05% | Elven Defender | 4 | 2 | 66.67% | 411 |
| 0.05% | Goblin Fireballer | 3 | 3 | 50.00% | 280 |
| 0.04% | Dark Astronomer | 4 | 1 | 80.00% | 378 |
| 0.03% | Biceratops | 4 | 0 | 100.00% | 543 |
| 0.02% | Sniping Narwhal | 1 | 2 | 33.33% | 67 |
| 0.02% | Battle Orca | 2 | 1 | 66.67% | 270 |
| 0.02% | Undead Minotaur | 1 | 2 | 33.33% | 76 |
| 0.02% | Gloridax Magus | 2 | 0 | 100.00% | 178 |
| 0.02% | Flame Monkey | 1 | 1 | 50.00% | 93 |
| 0.02% | Thunderbird | 2 | 0 | 100.00% | 208 |
| 0.02% | Kobold Bruiser | 1 | 1 | 50.00% | 82 |
| 0.02% | Tortisian Fighter | 1 | 1 | 50.00% | 124 |
| 0.02% | Ettin Spearman | 1 | 1 | 50.00% | 83 |
| 0.02% | Ferexia General | 1 | 1 | 50.00% | 124 |
| 0.02% | Dragon Whelp | 0 | 2 | 0.00% | 0 |
| 0.01% | Serpent of Eld | 1 | 0 | 100.00% | 114 |
| 0.01% | Gremlin Blaster | 0 | 1 | 0.00% | 0 |
| 0.01% | Zalran Efreet | 0 | 1 | 0.00% | 0 |
---
SUMMONERS
| Usage% | Summoner | W | L | Winratio | DEC |
| --- | --- | --- | --- | --- | --- |
| 14.74% | Prince Rennyn | 1282 | 670 | 65.68% | 89569 |
| 13.53% | Selenia Sky | 1163 | 628 | 64.94% | 83300 |
| 11.37% | Tyrus Paladium | 933 | 573 | 61.95% | 65279 |
| 8.32% | Valnamor | 757 | 345 | 68.69% | 53763 |
| 7.64% | Alric Stormbringer | 633 | 379 | 62.55% | 46481 |
| 6.11% | Plado Emberstorm | 552 | 257 | 68.23% | 38226 |
| 5.51% | The Peakrider | 480 | 250 | 65.75% | 35552 |
| 4.89% | Lyanna Natura | 403 | 245 | 62.19% | 28236 |
| 4.34% | Zintar Mortalis | 352 | 223 | 61.22% | 23486 |
| 4.20% | Crypt Mancer | 349 | 207 | 62.77% | 25062 |
| 3.38% | Xia Seachan | 295 | 153 | 65.85% | 21361 |
| 3.27% | Malric Inferno | 247 | 186 | 57.04% | 15982 |
| 2.42% | Xander Foxwood | 210 | 111 | 65.42% | 15355 |
| 2.33% | Archmage Arius | 210 | 98 | 68.18% | 17933 |
| 2.08% | Daria Dragonscale | 157 | 118 | 57.09% | 11537 |
| 1.84% | Jarlax the Undead | 154 | 90 | 63.11% | 11256 |
| 1.59% | Kiara Lightbringer | 119 | 91 | 56.67% | 8520 |
| 1.02% | Talia Firestorm | 75 | 60 | 55.56% | 5023 |
| 0.94% | Prince Julian | 85 | 39 | 68.55% | 8694 |
| 0.11% | Camila Sungazer | 6 | 9 | 40.00% | 745 |
| 0.11% | Pyre | 7 | 7 | 50.00% | 644 |
| 0.07% | Wizard of Eastwood | 8 | 1 | 88.89% | 824 |
| 0.06% | Contessa L'ament | 3 | 5 | 37.50% | 279 |
| 0.05% | Mother Khala | 5 | 2 | 71.43% | 496 |
| 0.02% | Drake of Arnak | 2 | 1 | 66.67% | 309 |
| 0.02% | Bortus | 1 | 1 | 50.00% | 119 |
| 0.02% | Delwyn Dragonscale | 0 | 2 | 0.00% | 0 |
| 0.01% | Neb Seni | 0 | 1 | 0.00% | 0 |