The above screenshot is a quick mock up of the proposal. Imagine seeing a leaderboard for each league of ranked play in Splinterlands.
Click on Novice, you get the leading novice players, as well as their positions on the Novice league ladder. Click on bronze, gold, or anything else, and you get exactly the same.
A problem with this, however is - how do we deal with players who graduate from one league and find themselves instantly at the bottom of another?
By scaling the rewards in an intriguing manner, and making the thrill of coming last in gold just as good as coming first in silver. To complete a redesign of these mechanics, we'd have to first look at the current reward mechanics.
Warning: This is a long post. I do a lot of analytics, forecasting, and reporting in my day job. I'm trying to keep this as simple as possible, but it may be hard to follow this post if you don't understand some basic analytical principles.
Current Leagues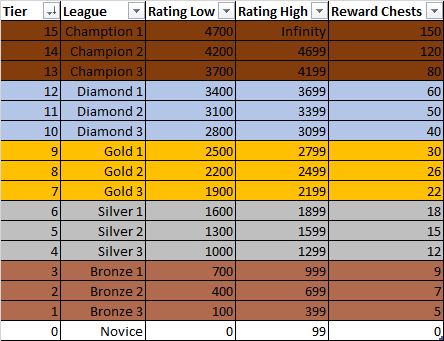 Each tier, and each league has a pretty nice bump in rewards. What's the real difference though?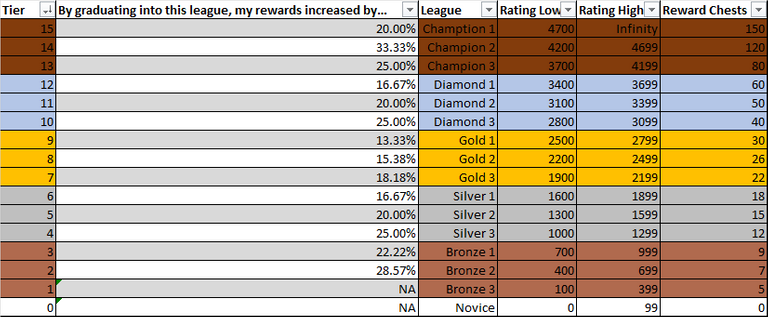 What is a reward chest worth?
I took a sample of 125 reward chests from the PeakMonsters block explorer, or twenty player's reward chests. Someone else could automate this using some SQL, or blockchain data polling / API - I'm not that smart. The formula used to obtain the average DEC value of a single reward chest here is:
( Card Burn Value + Liquid Dec + Legendary Potions (80DEC value assigned) + Alchemy Potions (80 DEC value assigned) DIVIDED BY NUMBER OF REWARD CHESTS)
Using this equation and the below table, given my small sample size, the average DEC value of a Reward Chest is 134.08 DEC

We'll come back to these numbers. First, let's take a look at the current rewards for the highest tiers in the game...
Ladder Rewards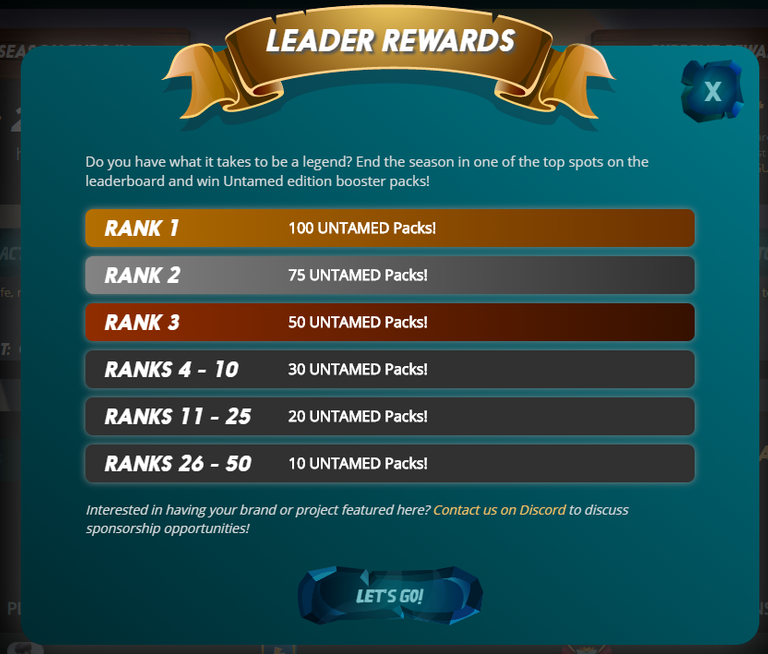 This means, each season, the following total number of booster packs are distributed to the overall top 50:
985 packs, or 1,970,000 DEC equivalent
In order to redistribute this pool of dedicated end of season prizes, we need to look at the distribution of players. Are there >50 players who finish in any given league? (I don't have the data, but probably) - if someone wants to generate a CSV, I can pivot that and do analysis, but if we reward the top 50 in each league, we would need 50 multiplied by 15 prize tiers.
That means we need 750 leader board rewards.
That's not a small number of "leader rewards". Dividing 985 packs into 750 people means there's not a lot of rewards available. But, dividing 1,970,000 DEC means there's a substantial reward for players. This is the approach I'm going to take from a value perspective.
Champion Leagues should get the highest awards
These players are the top end of the competition - and this is where the most powerful cards reside. These prizes should force players to be inspirational and want to join the champion leagues.
How do we then split the reward pool of 1,975,000 DEC fairly? I'm going to follow a typical split of the percentage of the reward pool for any given tournament set up by @splinterlands

This is actually perfect, as there are 16 tiers in my league tables above, so I'll remove the Tier 0 (the 16th, novice one) from the calculation...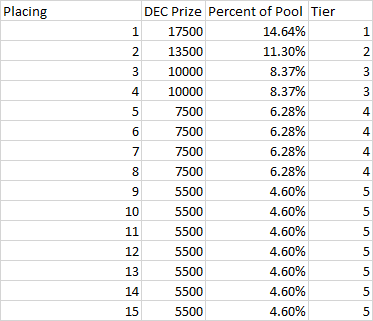 Now if you follow what I'm doing here, the next steps should make sense, and you can skip this paragraphic. If you come first in a tournament you'll get about 15% of the reward pool for that tournament. Come second, its closer to 11%. Third, 8.37%, and so on down the ladder.
The other thing you'll notice is that there are essentially 5 tiers of prizes. For the end of the season rewards, however, there's six. Not too hard to divide this up.
Slicing up the reward pool for the end of season, if it was all average DEC value
Assumptions
1,970,000 DEC reward pool budget
15 prize winning leagues
Rewards to top 50 in each league
Table 1: Splitting the Pool Among the Leagues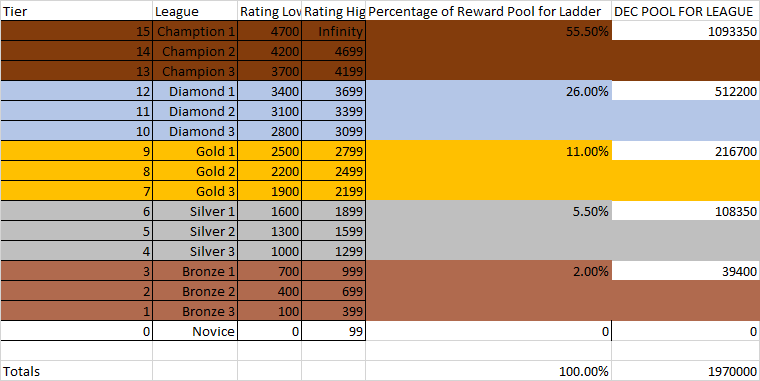 Then, we split the pool even further for each level within the leagues.
Table 2
Splitting the rewards further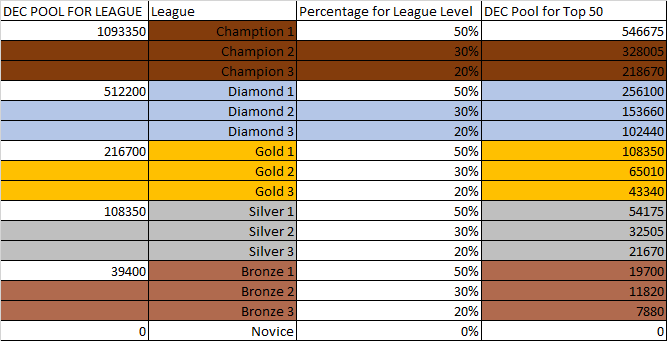 Each level within each league (and each jump - sees a linear increase in rewards. The rewards are more distributed within the player base. This only factors in end of season booster pack values, and not the DEC value of the reward chests granted by entering that league.
We then split the DEC pool for the TOP 50 in such a way that the 50th placed person in Champion 1, gets more reward than the first person placed in champion 2. I will not bother building charts for this, given the length of this post is also absurdly long. \
Table 3
Don't forget about the DEC value of end of season reward chests, using the average DEC per reward chest that I calculated above.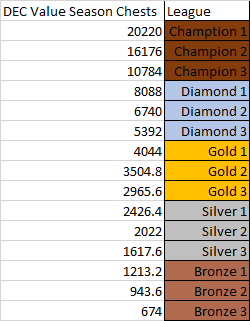 You'll see that the rewards scale in the same way as I propose LADDER rewards could be distributed...
Imagine ascending the top of silver. Pretty good feeling, right?

Then you're at the bottom of gold, and even though you've locked in your reward chests for getting to that league - you want to keep pushing, so even if you lose a few matches, you run the pleasure of trying to crack into the top 50 of that league level to get additional rewards at the end of the season.
This way, we have two schools of players
Those that want to get as high on the ladder as possible.
Those that just want to get to their comfortable league and grind those end of season reward chests.
This is my idea, and my suggestion and I believe it will get more people playing
This mirrors a lot of F2P mobile games and their leader board categories and reward tiers for free shit at the end of promotional or game periods.
You can even add a custom skin, or custom badge that the player earns for achieving a certain rank in a certain league in a certain season. I mean, what are Champion Points for?
This is easy to implement in code, as its a few if statements and a different end of season loop mechanism.
Now, I'm tagging a few @splinterlands team members to see what they think, and I hope they see this post!
@aggroed @yabapmatt @cryptomancer @nateaguila
Thank you all for your time