Hello friends I hope you are well, a few days ago a very interesting promotion started in Splinterlands, the promotion is 10% of the value of the purchase you make in pack untamed and potions, Splinterlands returns to one 10% in porwer up of the total expenditure that Let's realize, you could see this as a 10% discount and it is best that purchases with DEC are accepted, which is why I decided to buy the promotion of 100 pack since apart from 10% of the power up they also give away 10 additional envelopes.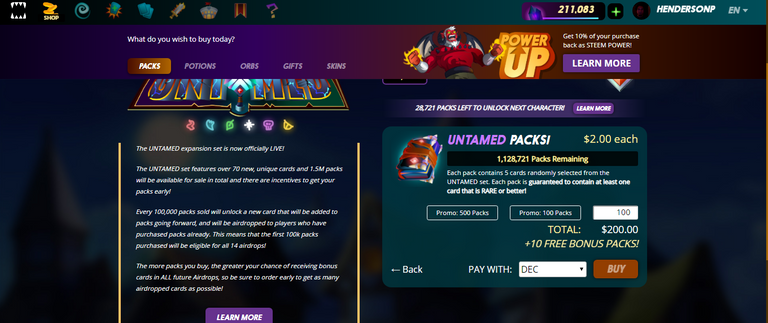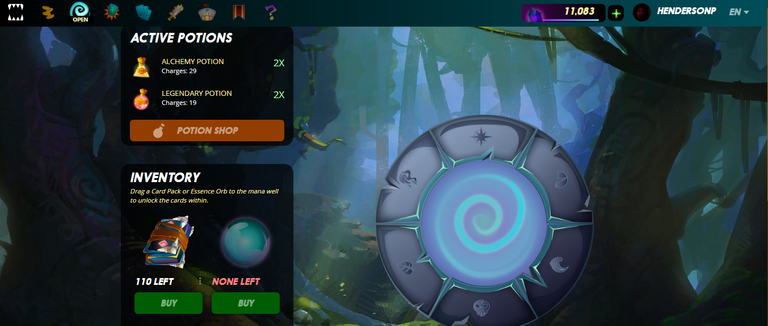 I am still not going to uncover the pack since I am accumulating potions to increase the chances of legendary and gold cards, I will keep all the potions until the end of the February season and there I uncover the packs.
The purchase was for 200,000 DEC and I received 75,872 STEEM POWER from steemmonsters, in total there were 110 packs for 200,000DEC - 75,872 STEEM POWER, at this time the 75,872 STEEM POWER equals 29,000 DEC, that is to say, the 110 packs ended up costing me 171,000 DEC, This is a very good price for that amount of packs, although it is still likely that you will lose when you open the envelopes, buying them at this price increases my chances of winning when you open them.
There is also little to release the next airdrop, buying these envelopes would already have a total of 330 packs purchased and this increases my chances to be awarded in the airdrop, I am really satisfied with this promotion, when I open the packs I tell you how it went for me Now I say goodbye and see you in battle.
If you want to support me in this new stage you can send your donations here
BTC 18oXg7hfBnso6241ACCSkmHMTKZNKZPZqc
ETH 0xde966945355BC8061fFfCD71Af93751d8c699042