SHARE YOUR BATTLE Weekly Challenge! Win Upvotes!

Thousands of years ago really a couple of weeks, water was my main splinter, but I didn't use it in the way that most mortals use the water splinter with Alric and many magical attack monsters, NO! that's too expensive for me, my monsters are much more economical and also efficient. more than anything I concentrated on the melee attack, the healing and many archers, as in the fight that followed.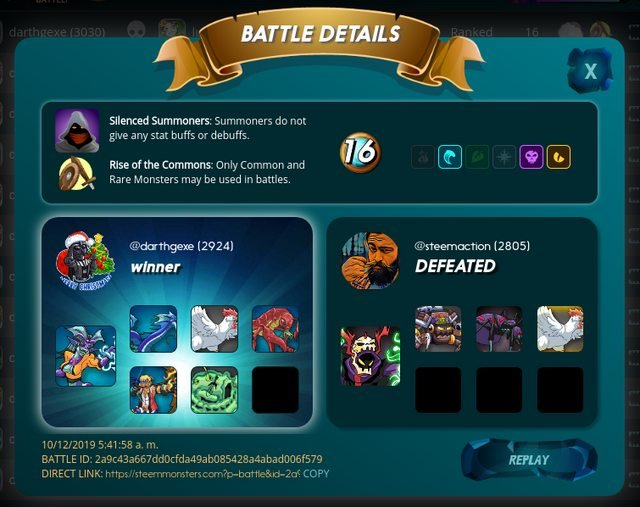 https://steemmonsters.com?p=battle&id=2a9c43a667dd0cfda49ab085428a4abad006f579&ref=darthgexe
Why do I use the water splinter?
I'm currently playing more with dragon, fire, and life but since so much fire and life were not available and was the ruleset of silent summoners I thought it was a good idea to use my old friend Xia.
The line up
The alignment is quite simple, easy to understand and with a lot of sense.
Sea Monster as the tank and main bastion of the team willing to perform and receive a good amount of damage with their skills,
In second position I placed the chicken, who was supposed to protect from one attack to the other characters in case the Sea Monster dead, also could have endured the ability of some possible enemy Ruler of the Seas.
The Crustacean King would curate the tank even more and provide a shield to all the characters while doing one damage point in each turn which is not bad.
The Pirate Captain would contribute some more damage to the team.
And in the last line the Ooze, who would slow down the enemy team and protect the archers from any possible sneak attack.
The strategy work?
This strategy worked for me like a book, and I got a pretty easy victory, this is a strategy that I would use again under the same circumstances.
What did you think of this strategy? Did you use a different equipment?



The images used in this post belong to or are inspired by Splinterlands. a TCG game integrated to the STEEM Blockchain.