Hey guys! This is just an update for the @beta-burner initiative.
If you're not sure what this is about, please have a read of this article!
My apologies it's been a while since my last post, been quite busy recently but I'll endeavor to keep these posts somewhat regular.
Something I urge everyone to do is set up an auto vote
This will ensure every post gets an adequate payment thus keep me motivated to keep these coming.
Summary of Cards Burnt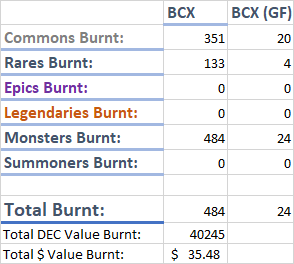 Current in-game Reserves
How to Support Us
Set up an autovote for beta-burner on Hive Vote
Set beta-burner as the beneficiary for your posts (I will power down the Hive once over 10HP)
Send some spare DECs and/or Hive
Sign up to Splinterlands using our affiliate link