If you have not heard of @spinvest-leo before, what we do is accept delegations of LEO power, and pay a weekly passive return with SPI (spinvest) tokens. The return is calculated on 1 SPI per 1000 LEO delegated per week. Any amount over 10 LEO can be delegated, for a weekly payout. The main @spinvest account transfers it's LEO earnings to us for now to assist the growth of this account. The asset base we are building here from surplus earnings above the mining payouts are added to the Spinvest asset base, increasing the value of the tokens you earn.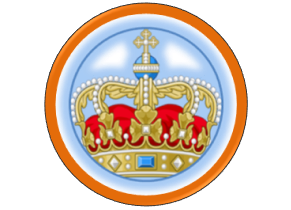 Much improved Income this week.
During the week, I created a post calling for idea's to boost income. Thank you to everyone that contributed to the discussion. However, the week has gone much better, and we have ended up generating a much bigger income than previous weeks.
So what was different?
The week before I changed a couple of the auto-vote settings. The main change that has boosted our income was to set the official LEO accounts (@steem.leo, @leo.syndication, @leo.stats for direct autovotes. We were already voting their posts as part of the trail, but by voting directly, we get in ahead of the trail and have significantly increased our curation income.
I have made another small tweak this week which should help next weeks returns I hope. Basically, one of the trail votes was voting non steemleo content, and so I added a tag-filter as it was draining our voting power without any LEO income.

To the Numbers: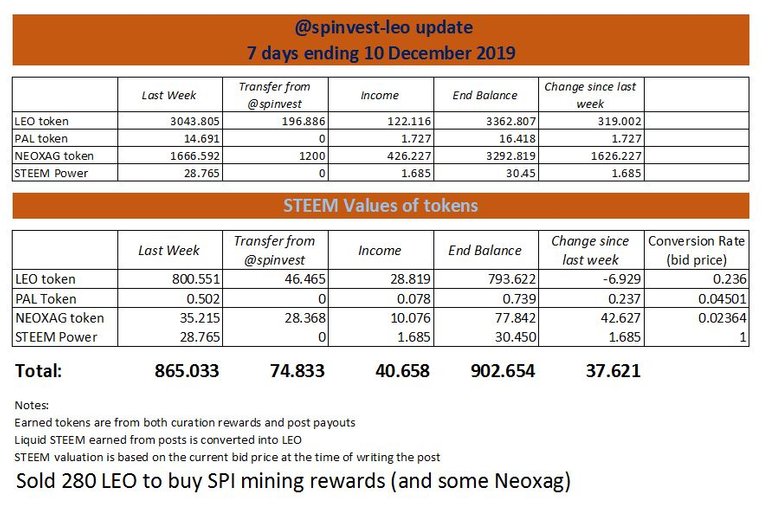 Highlights:
Grants from @spinvest - 196.886 LEO and 1200 NEOXAG
Earnings of 402.116 LEO plus 426.227 NEOXAG (Mostly bought by selling extra LEO)
Sold 280 LEO
Net profit (excluding Spinvest transfer) of 122.116 LEO and 426.227 NEOXAG.
Nearly 54 SPI payed out this week - total to date of 323.65
Moved up to 80th place on the token rich list.
Delegator payouts.
Welcome aboard to new delegator @dera123 - moves us to nearly 54,000 LEO delegation total with 33 different delegators.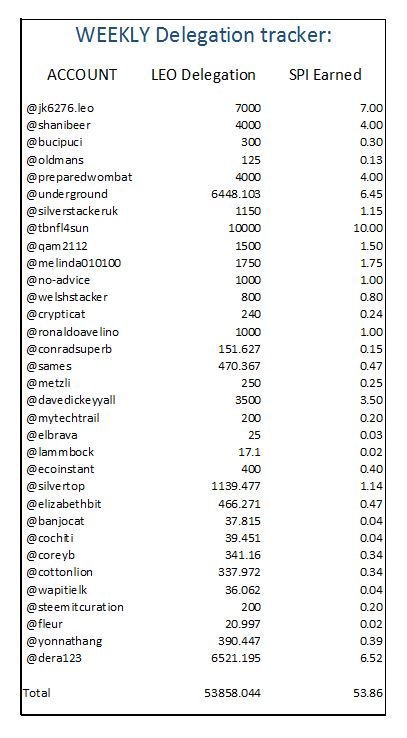 Thanks to everyone supporting this program, especially the delegators: (please check your wallets to ensure the payouts have been made correctly, this is all processed manually and I am human :-)). Don't forget, when making a delegation, please DO NOT put the @ sign in, it causes a ripple in the space-time continuum (or at least the delegation doesn't work).
@jk6276.leo, @shanibeer, @bucipuci, @oldmans, @preparedwombat, @underground, @silverstackeruk, @tbnfl4sun, @qam2112, @melinda010100, @no-advice, @welshstacker, @crypticat, @ronaldoavelino, @conradsuperb, @sames, @metzli, @davedickeyyall, @mytechtrail, @elbrava, @lammbock, @ecoinstant, @silvertop, @elizabethbit, @banjocat, @cochiti, @coreyb, @cottonlion, @wapitielk, @steemitcuration, @fleur, @yonnathang, @dera123.
New delegations, or increased delegations always welcomed. You can delegate any amount, however 10 LEO would be the minimum to receive a weekly payout. If these are you first SPI tokens, feel free to ask any questions and check out @spinvest for more information.
Supporting the following accounts will support the Spinvest tokens growth:
@spinvest - the main account.
@spinvest-leo - this account.
@spinvest-votes - separate account to coordinate club member votes on a regular basis.
@spinvest-neo - new account for NEOXAG delegations.
Cheers,
JK - aka @jk6276, @jk6276.leo and other similarly named accounts :)