On this day of the challenge, I must thank my parents. The truth is that my parents are my roots and the foundation of everything I am today. They were the ones who instilled in me the values and principles that characterize me today. I love them both, but I can't say that I love them equally because according to their personalities, my love is expressed differently.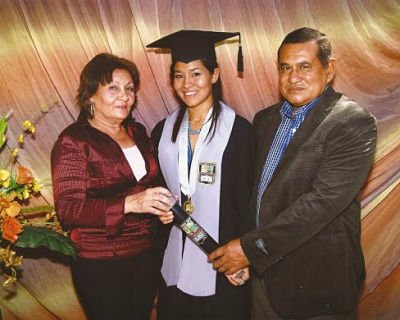 My parents and me, November 2012
With my dad I have a complicity love. Although on the outside, he seems rude, the truth is that he is the most sensitive of all. I feel like we have a strange love. I hate talking to him and being so far away. I can't talk to him without ending up crying. I remember a long time ago I was so dented from work that I had not communicated with them in a long time and he missed my voice. My dad had never learned how to use a cell phone. And among his possibilities, because he doesn't have a phone, he sent me a text message separated by dots because he didn't know where to put the space. The message was short, but powerful: Daughter, I miss you.
After that, I reflected on the value of them in my life and I try as much as possible to constantly communicate with them, despite the fact that the coverage in the area where they live is very limited, which makes everything difficult, but whenever I can, I sent them a message to know how they are.
I love my mother with respect and honor because she, with her strong character, steadfastly forges what I am today. Many times I judged her because I did not understand why she treated me like that, but now that I am a mother, I put myself in her shoes and I can understand that she always did it for my good and that everything she did was trying to do the best she could with the resources she had.
From my father, I not only inherited my small eyes and my curly hair, from him I obtained the responsibility, the sense of belonging, and being hardworking. From my mother, I inherited my brown eyes, my craft skills, and my tireless desire to learn. Thank you both for coming together to give me life, thank you for being there for me when I needed it, thank you simply for being who you are.
And you, why are you grateful today? If you want to see the initiative of the challenge, click here.
Image edited on Canva

En este día del reto corresponde agradecer por mis padres. La verdad es que mis padres son mis raíces y la base de todo lo que soy hoy en día. Ellos fueron quienes me inculcaron los valores y principios que me caracterizan actualmente. A ambos los amo, pero no puedo decir que los amo por igual porque según sus personalidades, mi amor se expresa de forma diferente.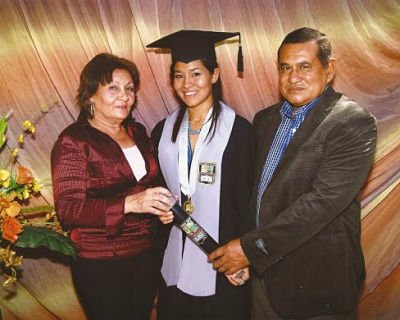 Mis padres y yo, noviembre 2012
Con mi papá tengo un amor de complicidad. Aunque por fuera parezca muy duro, la verdad es que él es el más sensible de todos. Siento que tenemos un amor extraño. Me mata hablar con él y estar tan lejos. No puedo hablar con él sin terminar llorando. Recuerdo hace tiempo estaba tan abollada de trabajo que no me había comunicado con ellos en mucho tiempo y él extrañaba mi voz. Mi papá nunca había aprendido a utilizar un teléfono celular. Y entre sus posibilidades, porque él no tiene teléfono, me mandó un mensaje de texto separado por puntitos porque no sabía dónde se ponía el espacio. El mensaje era corto, pero poderoso: Hija, te extraño.
Después de eso, reflexioné sobre el valor de ellos en mi vida y trato en lo posible de constantemente comunicarme con ellos, a pesar que, la cobertura en el área donde viven es muy limitada, lo que dificulta todo, pero siempre que puedo les envió un mensaje para saber cómo están.
A mi mamá la amo con respeto y honra porque ella, con su carácter fuerte, forjo con tesón lo que soy hoy. Muchas veces la juzgaba porque no comprendía el porque me trataba así, pero ahora que soy madre, me pongo en sus zapatos y puedo comprender que siempre lo hizo por mi bien y que todo lo que hizo lo estaba tratando de hacer lo mejor que podía con los recursos que tenía.
De mi papá no solo heredé mis ojos pequeños y mi cabello rulo, de él obtuve la responsabilidad, el sentido de pertenencia y las ganas incansables de trabajar. De mi madre, heredé mis ojos color café, mis destrezas para las manualidades y mi deseo de incansablemente de aprender. A los dos, gracias por unirse para darme vida, gracias por estar para mí cuando lo necesité, gracias simplemente por ser quienes son.
Y tú, ¿por qué estás agradecido hoy? Sí quieres ver la iniciativa del reto, dale click aquí.