"Es cierto que, en algún momento de la vida: la inocencia se pierde…"
---
"It is true that, at some point in life: innocence is lost..."
---
Saludos amigos. Al pasar los años se abren los caminos de la vida para buscar lo desconocido, pero en esa travesía siempre estará alguien acompañándonos. Así sea real o inanimado, pero está en el lugar y momento preciso. A continuación, el texto para su consideración y comentarios.
---
Friendly greetings. As the years pass, the paths of life open up to seek the unknown, but on that journey there will always be someone accompanying us. Whether it is real or inanimate, but it is in the precise place and time. Below is the text for consideration and comments.
---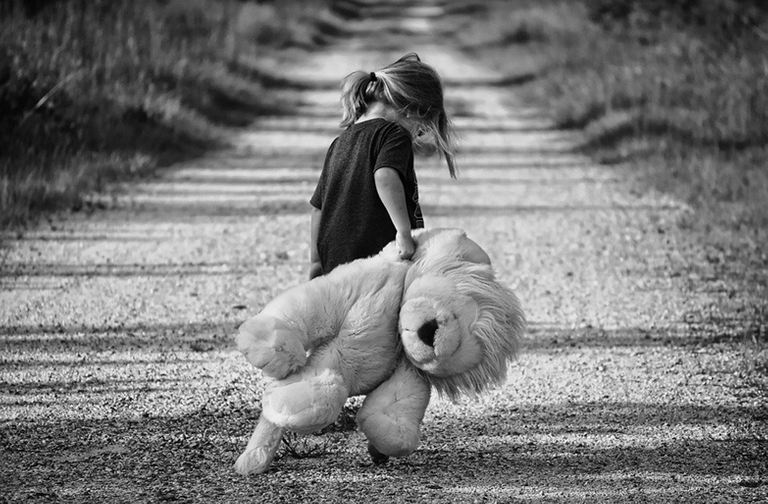 Fuente

---
Es ella,
La que arrastra sus pies
La que ignora mi cuerpo abarrotado de polvo,
Hasta tal punto,
Que mi ceguera es debida
A la cantidad de barro absorbido después de las lluvias.
---
It is she,
The one who drags her feet
Which ignores my dust-soaked body,
To such an extent,
That my blindness is due
To the amount of mud absorbed after the rains.
---
Sus brazos extendidos
Simulan la dirección obligada del camino
Es como estar atado al flujo sanguíneo de sus danzas
Mejor dicho, a su abandono
Sin que nadie lo perciba,
Ocultando sentimiento alguno.
---
His outstretched arms Simulate the obligatory direction of the road It is like being tied to the blood flow of his dances Rather, to his abandonment Without anyone noticing it, Hiding any feeling.
---
Es por eso que contengo mis gritos para no asustarla,
Lo hago solo para satisfacer su ego.
Ella, tan pequeña e inocente
Así la veo.
---

Fuente
---
That's why I keep my screams so as not to scare her, I do it just to satisfy her ego. She, so small and innocent That's how I see her.
---
Tal vez busca a los seres
Que la dejaron olvidada en el peor de los lugares
En los que no tienen nombres
Ni dirección
Solo lagrimas disecadas por la insolación
Que da a lo largo del camino.
---
Perhaps she looks for the beings Who left her forgotten in the worst of places Where they have no names Or address Only tears dissected by the sunstroke She gives along the way.
---
Soy y seré su compañero
Hasta el día que su edad sobrepase la mía
Y más nunca me sentirá igual
Dejando atrás el caminar de los inocentes.
---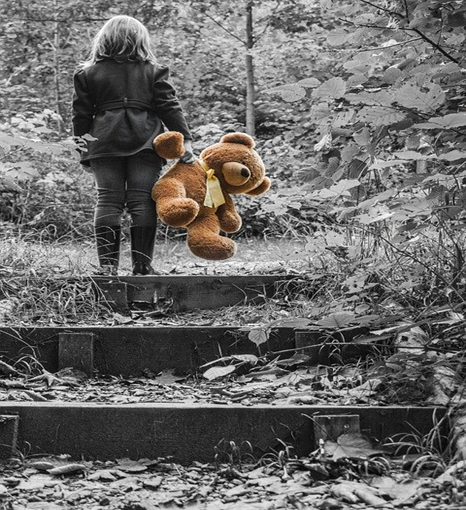 Fuente
I am and will be your companion Until the day your age exceeds mine And more I will never feel the same Leaving behind the walking of the innocent.
---
Como muñeco viviré
Hasta que el tiempo se refleje
En el relleno carcomido por los grillos
Y una hediondez que ella misma no soportaría
Si no fuese por la costumbre de abrazarme.
---
As a doll I will live Until time is reflected In the stuffing eaten by crickets And a stench that she herself would not bear If it weren't for the habit of hugging me.
---
Fui hecho para eso,
Para soportar lágrimas, lamentos,
Risas y ternuras.
Ósea,
"Bum" su oso de peluche, siempre el preferido…
---
I was made for that, To endure tears, wails, Laughter and tenderness. Bone, "Bum" your teddy bear, always the favorite...
---

Fuente
---
---
Gracias por leer. Hasta la próxima.
---