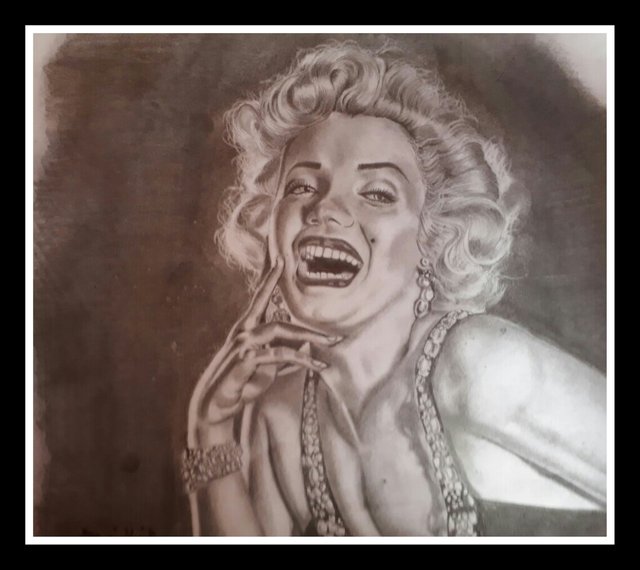 Hola nuevamente a todos, seguimos con la tarea de progresar en la modalidad del realismo, es una meta que me propuse hace un par de meses cuando miré el trabajo de un artista urbano, el cual me dio algunas indicaciones para empezar a realizar este tipo de arte. Les recuerdo que no soy experta en materia artística y es por eso que aún sigo aprendiendo nuevas técnicas. Para la ocasión tomé la imagen de referencia que se muestra a la derecha, Marilyn Monroe.
Hello again everyone, we continue with the task of progressing in the modality of realism, it is a goal that I set a couple of months ago when I looked at the work of an urban artist, who gave me some indications to start doing this kind of art. I remind you that I am not an expert in artistic matters and that is why I am still learning new techniques. For the occasion I took the reference image shown on the right, Marilyn Monroe.

Para este trabajo dediqué un poco de tiempo y paciencia, propuse una hora diaria, ni más ni menos, me tomó dos semanas llegar al resultado final, mi intención fue respetar cada consejo que se me indicó y la paciencia fue uno de ellos. Ciertamente no es muy sencillo realizar estos trabajos o por lo menos para mí, pero cuando ves el resultado final te das cuenta que vale la pena el esfuerzo y la dedicación.
For this work I dedicated a little time and patience, I proposed a daily hour, neither more nor less, it took me two weeks to reach the final result, my intention was to respect every advice that was indicated to me and patience was one of them. Certainly it is not very easy to perform these works or at least for me, but when you see the final result you realize that it is worth the effort and dedication.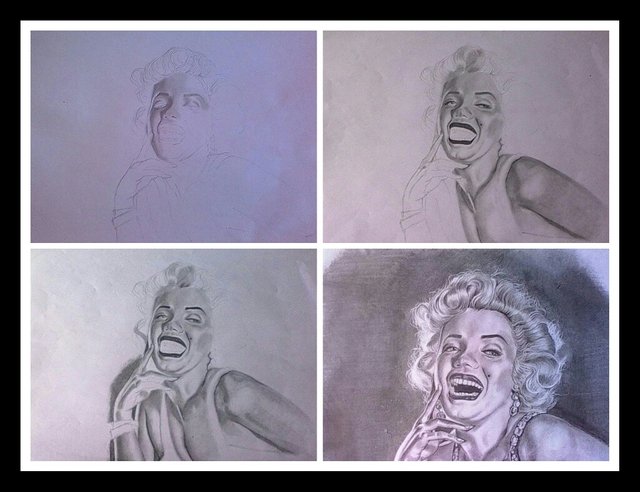 Considero que aún falta afinar algunos detalles, pero también reconozco que he progresado lo suficiente para decir que vamos por buen camino y en eso me concentro.
I believe that some details have yet to be refined, but I also recognize that I have made enough progress to say that we are on the right track and I concentrate on that.
Para el siguiente trabajo usé / For the next job I used:
Lápices 2B 4B / 2B 4B pencils.
Pincel / Brush.
Difumino / Blur
Borrador / Draft.
THANKS FOR YOUR VISIT AND SUPPORT.