Tengo a SteemPeak @steempeak como mi primer cliente para Steem. Los que lo usen sabrán que tiene integrado en su interfaz el balance de tokens SNAX. Como la cantidad de estos tokens aumenta mucho cada día dependiendo de tu actividad social, pensé que podría cambiarlos.
Aunque es el token nativo de su propia cadena de bloques, existen tokens "pegados en valor" en EOS -en ChainRift- y en Steem -en la aberración cuántica Steem Engine-, pero parece que en ChainRift lo quitaron. En Steem Engine ciertamente sigue cambiándose, pero no parece que haya forma de transferirlos para poder venderlos, o por lo menos no aparece en la lista de tokens en la lista desplegable de Depósitos.
No sé porqué, pero se me ha ocurrido ir a mirar en FreedomEx. Oí de este mercado @freedomex en el DTube Forum de Barcelona. A pesar de una oferta de tokens para los asistentes, yo no creé la cuenta, ya que me siento muy bien servido actualmente con los que uso. Al ir a mirar su página, me he encontrado con ésto: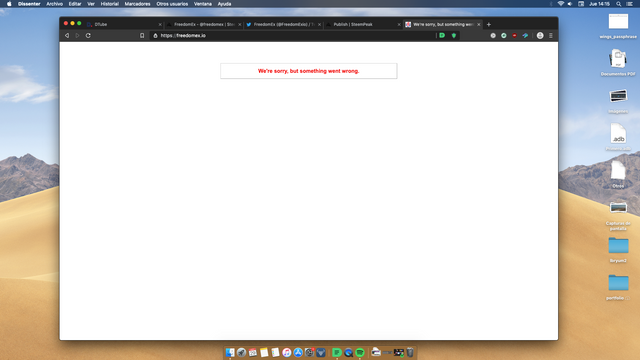 He seguido investigando un poco. Me he encontrado con un perfil en Steem poco activo desde Junio de este año: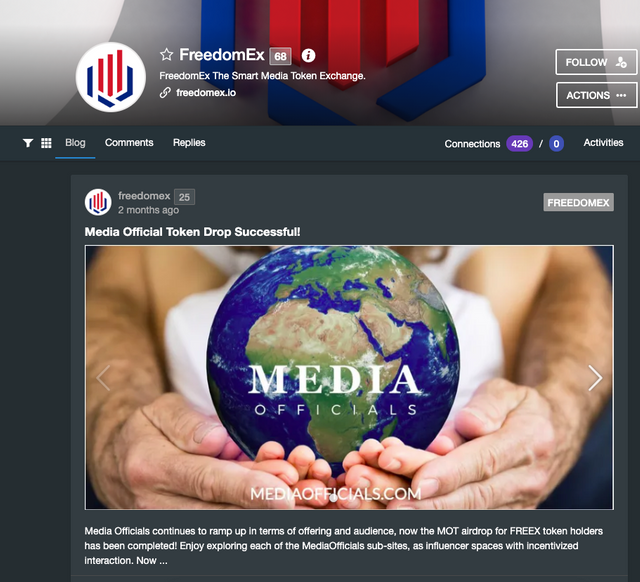 Aunque sí que han votado algunos artículos, la única actividad no automática son unos comentarios a principios de Junio.
En Twitter tenemos lo mismo: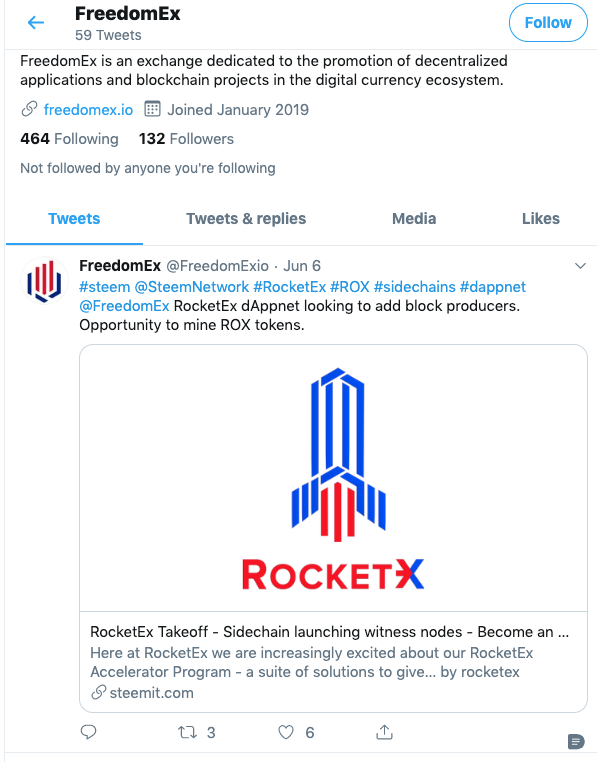 Origen de la captura
Esperaba poder encontrar bien algún "aviso de mantenimiento previsto" o algún usuario preguntando y la correspondiente respuesta del equipo.
Como no uso este exchange, no me preocupa, peor igual es que se me ha escapado algo y han cambiado de nombre. En cualquier caso, desaparecer así tan repentinamente no augura nada bueno y desconfiaría.
---
*Are you a DTube user? Would you please upvote my node as a leader? If you would like to, then browse to the Leaders section and search for "javirid" -I am currently at position 61, but most users listed there are not real nodes- and click the UPVOTE button.
Thank you.*