Funda para celular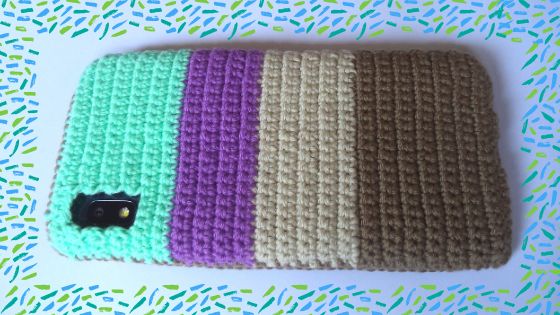 Hola, espero se encuentren bien. Hoy les traigo una funda para celulares. Desde hace días tenía en mente tejerlo, solo que no me decidía con qué punto tejerlo. Al final decidí por los puntos bajos y jugar un poco con los colores.
Este tejido es distinto a los amigurumis. Al ser un accesorio debe ser tejido algo suelto, por ello utilicé un crochet de 2.5mm. Para esto utilicé hilo de algodón, así durará más tiempo.
Hi, I hope you're all right. I brought you a cell phone case today. I've been thinking about knitting it for days, I just couldn't decide which stitch to use. In the end I decided to go for the low stitches and play with the colors a little.
This fabric is different from amigurumis. As it is an accessory it must be woven somewhat loose, so I used a 2.5 millimeter crochet. For this I used cotton thread, so it will last longer.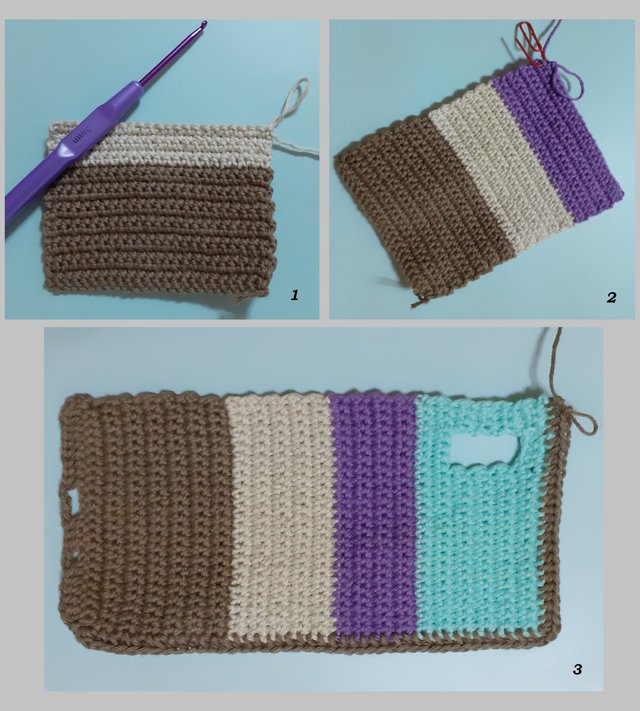 Se comenzó tejiendo cadenetas de acuerdo al largo y alto del celular y seguido de puntos bajos o medios puntos. Para este caso fueron 24 cadenetas y 46 filas (figura 1 y 2). Quedará un tejido recto y plano. Se dejó un pequeño espacio vacío para la cámara (4 espacios por 6 filas).
Se tomó el color inicial y luego se dio un borde con puntos bajos. Una vez ubicados en la parte inferior, se dejó 3 y 2 espacios para las entradas del cargador y los auriculares (figura 3).
We began by weaving chains according to the length and height of the cell phone and followed by low or medium stitches. For this case there were 24 chains and 46 rows (figure 1 and 2). A straight and flat weave was left. A small empty space was left for the chamber (4 spaces by 6 rows).
The initial color was taken and then a low dotted border was given. Once located at the bottom, 3 and 2 spaces were left for the charger and headphone inputs (figure 3).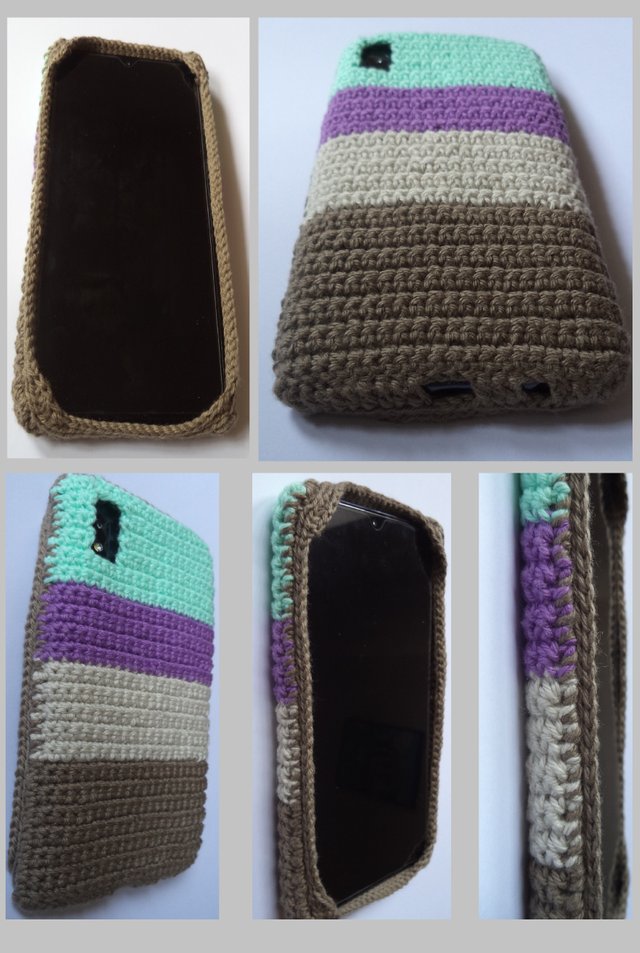 Por último se tejió alrededor con puntos deslizados y se reforzó las esquinas (también con deslizados), esto para que quede más ajustado.
Finally, it was woven around with sliding stitches and the corners were reinforced (also with sliding), this to make it tighter.
¡…Hasta la próxima!
See you next time!
.............................................................................
►Encuéntranos en: