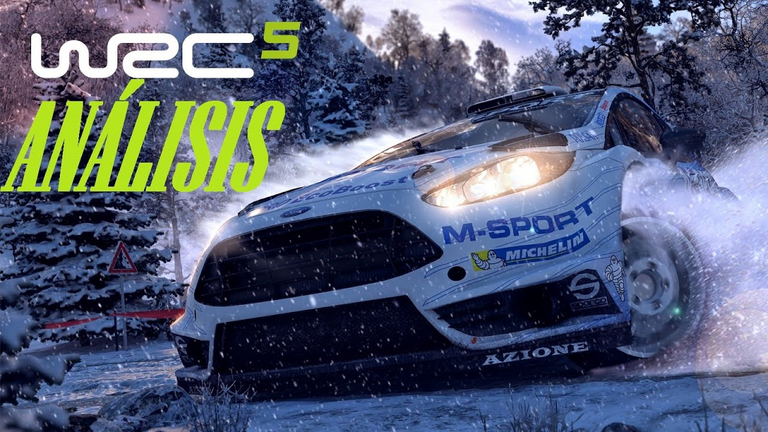 Fuente // Source

Bienvenidos a mi Blog amantes de los vieojuegos y en especial, los del género de las carreras. En esta oportunidad le daré una pequeña reseña y revisión del juego del campeonato Mundial de Rally, WRC 5. Siendo este un videojuego del genero de las carrras, que emula la competición del mundial de rallies del año 2015. El juego fue desarrollado por Kylotonn Games, mientras que su lanzamiento oficial se dio el 9 de octubre de 2015. WRC 5, tiene más de 20 autos, además de tener todos los rallies tanto del campeonato mundial del 2015, y otras categorías antesalas a la principal.
Welcome to my Blog lovers of the vieojuegos and especially, those of the genre of the races. In this opportunity I will give you a small review and revision of the game of the World Rally Championship, WRC 5. Being this a video game of the genre of carts, which emulates the competition of the World Rally 2015. The game was developed by Kylotonn Games, while its official launch took place on October 9, 2015. WRC 5, has more than 20 cars, in addition to having all the rallies of both the 2015 world championship, and other categories before the main one.
Los Modos de juegos que contiene el videojuego, son un modo de Escuela de rally, modos Rally rápido y Etapa rápida, modo campeonato y finalmente el modo Online (Multijugador). El primero, que es el modo escuela consiste en donde debemos hacer algunas pruebas en el juego, con la finalidad de que los usuarios se familiaricen con las diferentes opciones que tenemos en WRC 5. El Modo de Rally Rápido, es aquel en el que los jugadores deben recorrer un evento completo, compitiendo en cada una de las etapas, que componen el rally , en donde los jugadores tienen la oportunidad de elegir un equipo y un auto en específico, además de configurar las opciones básicas del juego, como son los controles, la dificultad ( Control de tracción, control de estabilidad, ayudas en frenado, caja de cambio, entre otras), además de seleccionar las condiciones climáticas y la agresividad o no de la Inteligencia Artificial. El modo Etapa Rápida, es igual a lo descrito anteriormente, pero con la diferencia, que acá solo se compite en un tramo del evento.
The game modes contained in the videogame are a Rally School mode, Fast Rally and Fast Stage modes, Championship mode and finally the Online (Multiplayer) mode*. The first, which is the school mode consists of where we must make some tests in the game, in order for users to become familiar with the different options we have in WRC 5. The Fast Rally Mode, is one in which players must go through a complete event, competing in each of the stages that make up the rally, where players have the opportunity to choose a team and a specific car, in addition to configuring the basic options of the game, such as controls, difficulty (traction control, stability control, braking aids, gearbox, among others), as well as selecting the weather conditions and the aggressiveness or not of Artificial Intelligence. The Fast Stage mode is the same as described above, but with the difference that here only competes in one stretch of the event.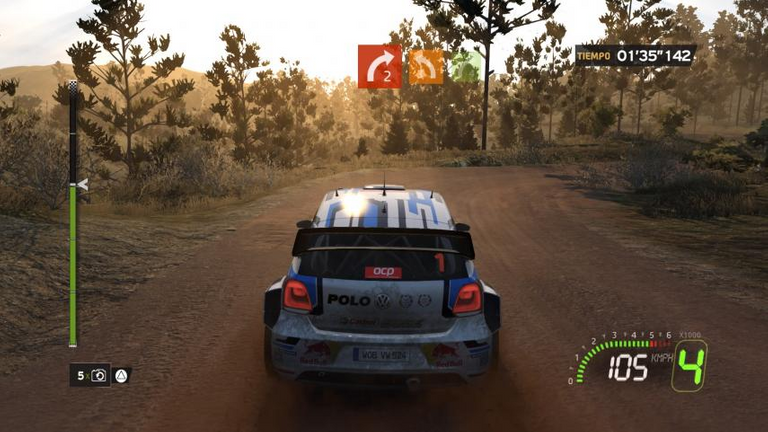 Fuente // Source
El modo Campeonato es el más interesante del todo WRC 5, ya que él podemos recorrer cada una de los rallies que componen el Campeonato Mundial de Rally 2013, en donde el usuario debe acumular la mayor de cantidad de puntos posibles, en cada uno de competiciones, para alzarse con el campeonato de pilotos y de equipos. Uno de los modos que siempre es esperado, es el online, en donde nosotros los jugadores podemos competir contra otros usuarios del mundo o hasta incluso nuestros amigos. Lo malo de este modo, es que no es tan realista como podríamos desear, pero sin embargo y al ser el primer año del desarrollador Kylotonn, quien obtuvo la licencia oficial por parte de la FIA, para ser el creador oficial del juego en el año 2013.
The Championship mode is the most interesting of all WRC 5, since we can go through each of the rallies that make up the World Rally Championship 2013, where the user must accumulate as many points as possible, in each of competitions, to win the championship of pilots and teams. One of the ways that is always expected, is the online, where we players can compete against other users of the world or even our friends. The bad thing about this way is that it is not as realistic as we could wish, but nevertheless and being the first year of the developer Kylotonn, who obtained the official license from the FIA, to be the official creator of the game in 2013.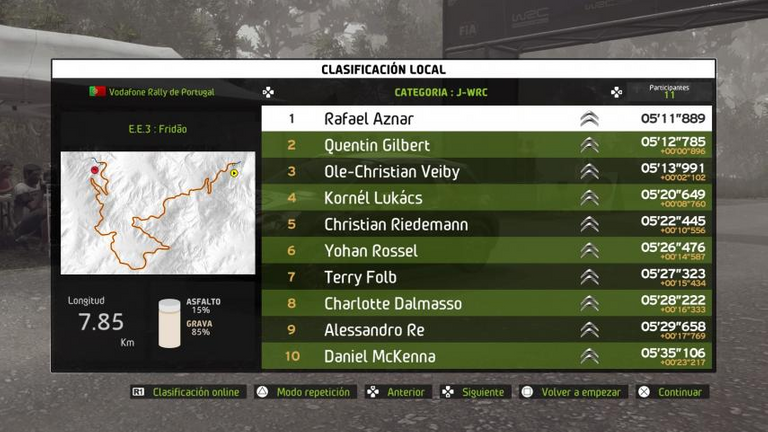 Fuente // Source
En lo que respecta al apartado gráfico, se puede decir que el juego está bien realizado. El juego dispone de buenos aspectos visuales, como son las texturas de los coches y de los pilotos, con excelente iluminación y reflexión, en las diferentes condiciones, ya sean que el rally se dispute en el amanecer, mediodía, atardecer y noche. Otra de las cosas que hay que destacar son las condiciones climáticas, ya sea de un clima soleado, nublado, lluvioso o nevoso. Una de las cosas que se pueden criticar, es que a veces se pueden observar pequeñas nubes de polvo en el suelo que no tendrían que ver, pero a pesar de esto el aspecto gráfico no deja de ver muy bueno.
As far as the graphic section is concerned, it can be said that the game is well done. The game has good visual aspects, such as the textures of cars and drivers, with excellent lighting and reflection, in different conditions, whether the rally takes place at dawn, noon, dusk and night. Another thing to note is the weather conditions, whether it's sunny, cloudy, rainy or snowy. One of the things that can be criticized, is that sometimes you can see small clouds of dust on the ground that would not have to see, but despite this the graphical aspect does not fail to see very good.
Como siempre el Sonido es una de las mejores cosas de WRC 5, con muy buenos efectos de sonidos como los son del rígido del motor y el efecto que se escuchan a las hora del auto derrapar para tomar las curvas, ya sean tanto en el asfalto, como en la tierra o incluso hasta en la nieve. Otra de las cosas que muy importante, es la parte del sonido del navegante que nos indica, todo lo que debemos hacer durante el recorridos de las etapas de los rally, ya sea la velocidad con que debemos tomar las curvas, cuando debemos frenar o no, cuando hay un carro accidenta o lo mejor es que nos indica el ritmo que tenemos en la carrera.
As always the Sound is one of the best things in WRC 5, with very good sound effects such as the stiffness of the engine and the effect that are heard when auto-skidding to take curves, whether on the asphalt, on the ground or even in the snow. Another thing that is very important, is the part of the sound of the navigator that tells us, everything we must do during the stages of the rally, either the speed with which we must take the curves, when we must brake or not, when there is a car accident or the best thing is that it tells us the rhythm we have in the race.
En conclusión, WRC 5 es un muy buen juego, que tiene disponible más de 20 autos y todo los rallies de la temporada 2015 del Campeonato Mundial de Rally. Además, tiene un aceptable apartado gráficas y unos excelentes aciertos, como las texturas de los autos y de las localizaciones donde se disputan las competiciones, pero sin embargo tiene algunos errores, como la polvaredas que dejan los autos, pero estos a veces se muestran en unos momentos que no deben ser así. También el juego dispone de unos excelentes efectos de sonidos que a mi criterio es lo mejor de esta secuela del videojuego.
In conclusion, WRC 5 is a very good game, which has available more than 20 cars and all the rallies of the 2015 season of the World Rally Championship. In addition, it has an acceptable graphical section and excellent successes, such as the textures of the cars and the locations where the competitions are disputed, but nevertheless it has some errors, such as the dust that leave the cars, but these sometimes show up at a time that should not be so. Also the game has excellent sound effects that in my opinion is the best of this sequel to the video game.
Por todo lo descrito anteriormente, en mi opinión personal califico a este juego con un puntaje de 9.5 de 10.
For all of the above, in my personal opinion I rate this game with a score of 9.5 out of 10.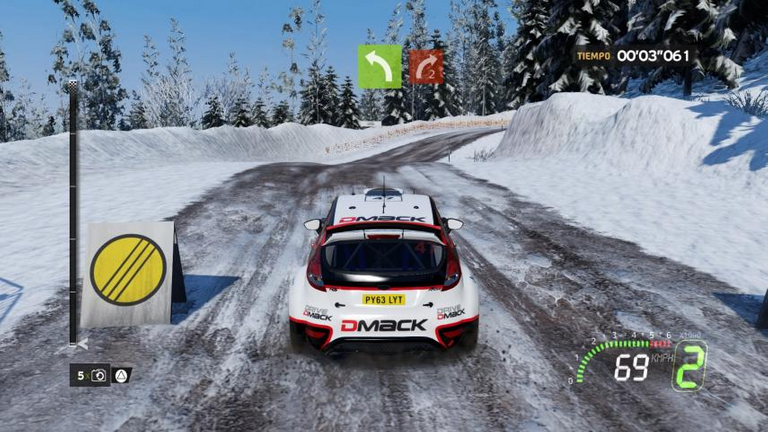 Fuente // Source

FICHA TÉCNICA // TECHNICAL DATA SHEET
Nombre // First name: WRC 5
Fecha de lanzamiento // Launch date:
Plataforma // Platform: PC, PS4, XOne, PS3 y X360 Vita.
Género // Tender: Conducción, Rally / Cross
Desarrollador // Developer: Kylotonn
Distribuidor // Distributor:: BigBen Interactive
Idioma // Language: Español // Spanish
Requisitos de Sistema // System Requirements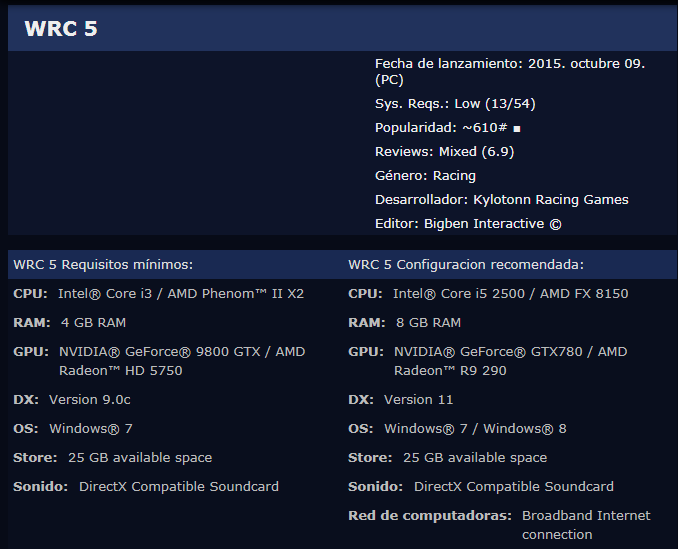 Fuente // Source

HASTA UNA PRÓXIMA OPORTUNIDAD//UNTIL THE NEXT OPPORTUNITY
Sin más que decir, se despide de ustedes su cordial servidor // Without further ado, your cordial servant bids you farewell.