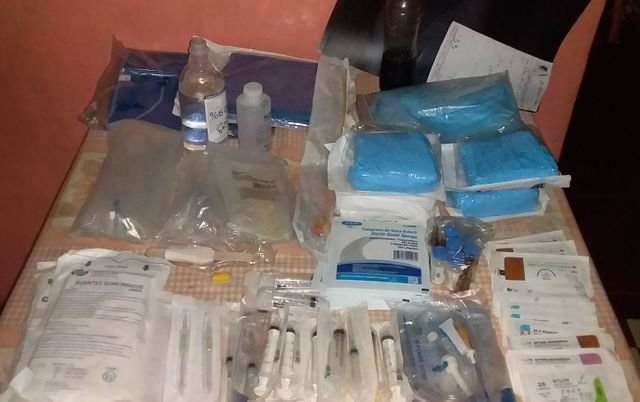 As you can see, this is almost all the material that will be used to perform my operation, you may wonder why? if I am going to pay for a private one.
The agreement I made to make the operation cheaper is that I will give you the material I have and so we both help each other.
Most of this material was also donated by friends here in my city and a help that gave me the government which only reached me for some things.
I only need $300 for this operation, which I thank very much for the support of the Appics community, Hive blog, Eos and Remotask partners with which I could raise $400.
I hope to get out of this soon and tell the good news. Without further ado I say goodbye with much love and wish you all a thousand blessings.

Como pueden ver, este es casi todo el material que se va a utilizar para realizarme mi operación, se preguntaran por qué? si yo voy a pagar una privada.
El convenio que hice para que me saliera más económica la operación es que le entregara el material que yo tengo y asi ambos nos ayudabamos.
La mayoria de este material tambien fueron donados por amistades de acá de mi ciudad y una ayuda que me dio el gobierno la cual solo me alcanzo para algunas cosas.
Solo me hace falta 300$ para dicha operación, la cual le doy muchas gracias por el apoyo de la comunidad de Appics, Hive blog, la de Eos y compañeros de Remotask con la cual he podido recaudar 400$.
Espero que pronto salir de esto y contar las buenas nuevas. Sin mas que decir me despido con mucho cariño y les deseo mil bendiciones a todos.