El cielo es un gran lienzo
Heaven is a great canvas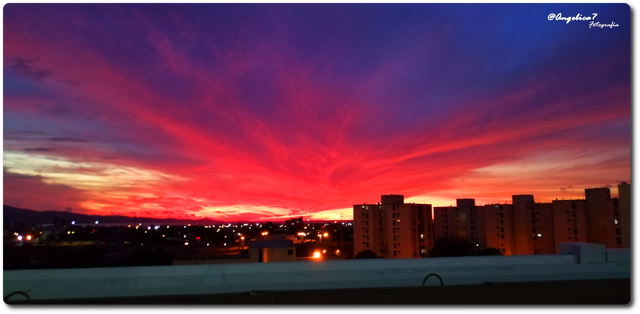 ---
La paciencia es una actitud que permite esperar en calma por algo que se desea, por una acción o cualquier evento que este por suceder. Para esta publicación deseo mostrarles que el saber esperar puede traerte lindas sorpresas como el grandioso espectáculo que este cielo de la cuidad de Cumaná me regaló, parecía un gran lienzo en donde una mano divina pincelaba con hermosos colores cada minuto que pasaba, poco a poco ante nosotros se develaba esta obra natural entre claros y oscuros que permitió disfrutar de una tarde diferente.
Por ello esperar con paciencia puede ser una buena práctica cuando se requiere y aprender a cultivarlas requiere de aprender a respirar y controlar estados de ansiedad, con este dato puedes empezar a poner en practica tu paciencia, es importante entender que tener paciencia no significa ser conformista, sino aprender a espera de manera inteligente por alcanzar una meta u objetivo.
Con todo mi cariño para ti: @angelica7
---
English
Patience is an attitude that allows you to wait calmly for something you want, for an action or any event that is about to happen. For this publication I want to show you that knowing how to wait can bring you beautiful surprises like the great show that this city sky of Cumaná gave me, it looked like a large canvas where a divine hand was brushing with beautiful colors every minute that passed, little by little before We unveiled this natural work between light and dark that allowed to enjoy a different afternoon. So waiting with patience can be a good practice when required and learning to cultivate it requires learning to breathe and controlling anxiety states, with this data you can start putting your patience into practice, it is important to understand that having patience does not It means being conformist, but learning to wait intelligently to reach a goal or objective. With all my love to you: @ angelica7 .
---
Hermoso lienzo natural
Beautiful natural canvas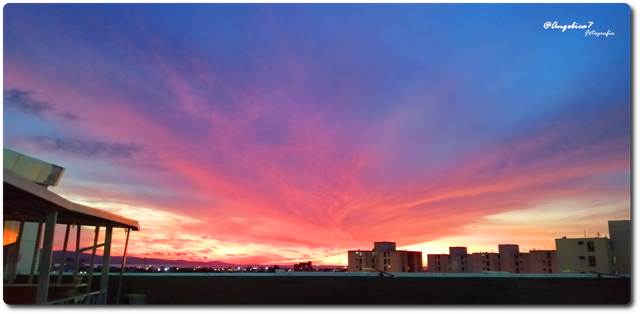 ---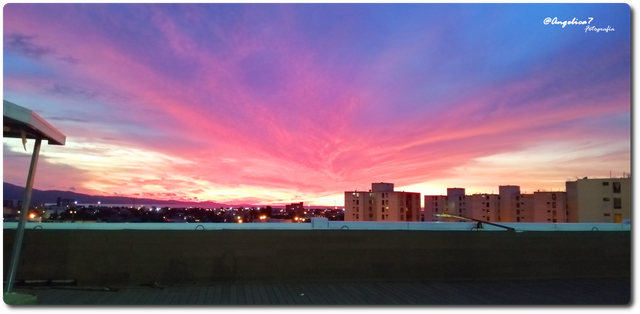 ---
---
---
Fotografía y edición: @angelica7, Cámara: teléfono Huawei
---
Me encantaría conocer tu opinión y descubrir un poco más de ti, espero tus comentarios.
Que nadie apague tu luz interior

El mejor labial de una mujer, es su bella sonrisa

Te invito a conocer a:
Canales del Discord : @votovzlaPAL-net @rutablochain

---
Con todo mi cariño @angelica7