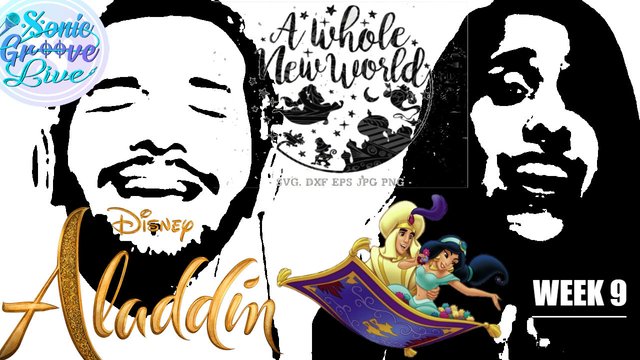 En esta oportunidad, nos contagiamos con la magia de Disney y decidimos cantar esta hermosa canción conocida por el mundo entero. Es la primera vez que colaboro con una persona de la blockchain y me emociona que fuese con
@eugelys
, es una joven tan talentosa y llena de carisma. Muy conocida en la comunidad hispana de Steemit por su dulce voz y ganadora de cientos de concursos de canto. Por supuesto que aproveche su maravillosa voz de princesa y grabamos nuestra versión de "Un mundo ideal" de la película Aladdin de Disney.
A pesar de encontrarnos en países diferentes, gracias a las ventajas del internet, hoy grabamos este cover, que tuvo sus dificultades técnicas, claro que si; una intermitente conexión de internet, problemas con la energía eléctrica, fallas en la comunicación... Peeeero lo logramos, aquí estamos, dispuestos a posicionarnos esta semana en el concurso de
@sonicgroovelive
.
Acá les dejo el enlace de Youtube y la letra de esta canción versionada al español. Nada, disfruten...


ALADDIN
Yo te quiero enseñar
este mundo espléndido,
ven princesa y deja a tu corazón soñar.
Yo te puedo mostrar
cosas maravillosas,
con la magia de mi alfombra
vamos a volar...

Un mundo ideal, será fantástico encontrar,
nadie que diga no, o a donde ir,
a aquellos que se aman.

JASMIN
Un mundo ideal,
tan deslumbrante y nuevo,
donde ya vi al subir, con claridad,
que ahora en un mundo ideal estoy...

ALADDIN
Ahora en un mundo ideal estoy...

JASMIN
Fabulosa visión, sentimiento divino,
baja y sube y vuela hacia celestial región...
Un mundo ideal...

ALADDIN
Mira bien lo que hay...

JASMIN
Allí mil cosas voy a ver...

ALADDIN
Conteniendo el aliento...

JASMIN
Soy como azul estrella que se va
y nunca será igual ya otra vez...

ALADDIN
Un mundo ideal...

JASMIN
Cada vuelta es sorpresa...

ALADDIN
Un horizonte nuevo abrir...

JASMIN
Cada instante un relato...

ALADDIN & JASMIN
Hay que seguir sin fin, hasta el confín,
juntos en un mundo ideal tu y yo...

ALADDIN
Un mundo ideal...

JASMIN
Un mundo ideal...

ALADDIN
Que compartir...

JASMIN
Que compartir...

ALADDIN
Que alcanzar...

JASMIN
Que contemplar...

ALADDIN & JASMIN
Tu junto a mí....

¿Que si la semana que viene hacemos otra colaboración? Puede ser... Nos vemos, en otro vídeo señores, apoyanos con tu voto, un abrazo.

@exoelias

This time, we decided to sing this beautiful song known to the whole world. It is the first time that I collaborate with a person from the blockchain and I am excited that it was with

@eugelys

, she is such a talented young woman and full of charisma. Well known in the Hispanic community of Steemit for her sweet voice and winner of hundreds of singing competitions. Of course take advantage of her wonderful princess voice and we recorded our version of "A whole new world" from the Disney movie Aladdin.




Despite being in different countries, thanks to the advantages of the internet, today we recorded this cover, which had its technical difficulties, of course; an intermittent internet connection, problems with electricity, communication failures ... Buuuuuut did it, here we are, willing to position ourselves this week in the

@sonicgroovelive

contest.


Youtube link and Lyrics:
I can show you the world
Shining, shimmering, splendid
Tell me, princess
Now when did you last let your heart decide?
I can open your eyes
Take you wonder by wonder
Over, sideways, and under
On a magic carpet ride
A whole new world
A new fantastic point of view
No one to tell us no
Or where to go
Or say we're only dreaming
A whole new world
A dazzling place i never knew
But now from way up here
It's crystal clear
That now i'm in a whole new world with you
Unbelievable sights
Indescribable feeling
Soaring, tumbling, freewheeling
Through an endless diamond sky
A whole new world (Don't you dare close your eyes)
A hundred thousand things to see (Hold your breath, it gets better)
I'm like a shooting star
I've come so far
I can't go back to where I used to be
A whole new world (Every turn a surprise)
With new horizons to pursue (Every moment red letter)
I'll chase them anywhere
There's time to spare
Let me share this whole new world with you
A whole new world (A whole new world)
That's where we'll be (That's where we will be)
A thrilling chase (A wondrous place)
For you and me...
What if we make another collaboration next week? Maybe ... See you, in another video, gentlemen, support us with your vote, a hug.
@exoelias