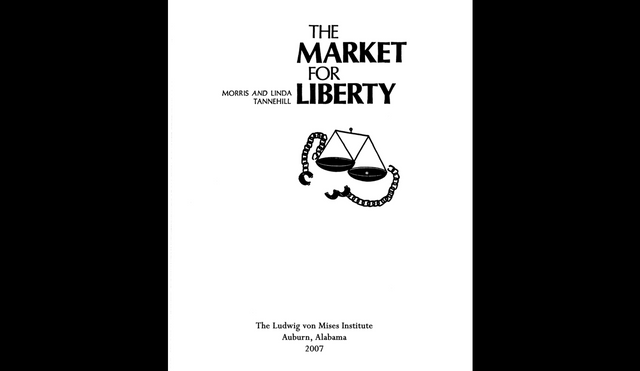 Some great books are the product of a lifetime of research, reflection, and laboured discipline. But other classics are written in a white heat during the moment of discovery, with prose that shines forth like the sun pouring into the window of a time when a new understanding brings in the world into focus for the first time.
The Market for Liberty is that second type of classic, and what a treasure it is. Written by two authorsMorris and Linda Tannehilljust following a period of intense study of the writings of both Ayn Rand and Murray Rothbard, it has the pace, energy, and rigor you would expect from an evening's discussion with either of these two giants.
More than that, these authors put pen to paper at precisely the right time in their intellectual development, that period rhapsodic freshness when a great truth had been revealed, and they had to share it with the world. Clearly, the authors fell in love with liberty and the free market, and wrote an engaging, book-length sonnet to these ideas.
This book is very radical in the true sense of that term: it gets to the root of the problem of government and provides a rethinking of the whole organisation of society. They start at the beginning with the idea of the individual and his rights, work their way through exchange and the market, expose government as the great enemy of mankind, and then there is the great surprise they offer, a dramatic expansion of market logic into areas of security and defence provision.
source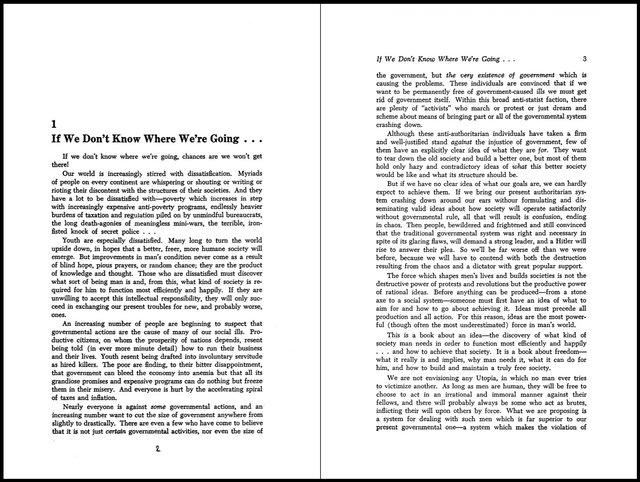 I seriously love this book!
For me it is the answer to a question. The solution to a problem.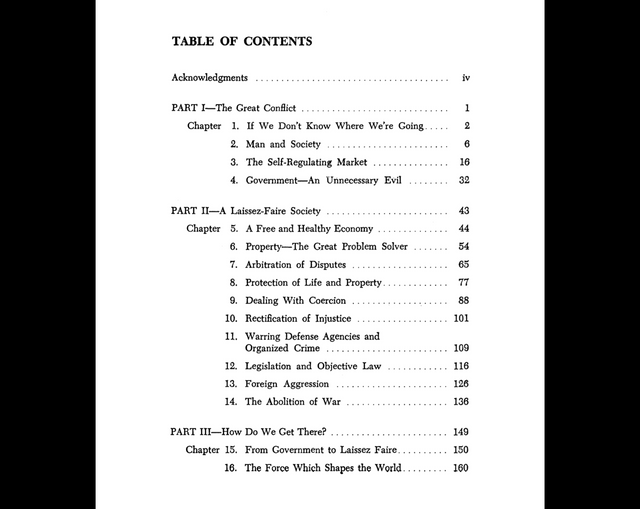 The basic premise here:
If man is to live a productive and happy life and realise his full potential as a human being he must be free from coercion from other men.
They propose a re-working of a 17th century idea, the laissez-fair society:
Laissez-fair means "let people do as they please", meaning, let everyone leave others alone to do as they choose. A laissez-fair society is a society of non-interference, a mind-your-own-business, live-and-let-live society. It means freedom for each individual to manage his own affairs in any way he pleases... not just in the realm of economics but in every area of his life.
They go into the important question of why most of us don't believe this kind of society is possible and also address another essential question:
Why have laissez-fair societies not worked in the past?
Essentially good people have prevented it by their unwitting support of slavery. The majority of people throughout history have accepted the idea that it is both proper and necessary for some men to coercively rule over others. Most of these people weren't basically bad, and probably only a few of them had a lust for power. But they have held a terribly wrong idea which has caused them to support a social system which institutionalises slavery and violence. It is this idea - that it is proper and/or necessary for some men to coercively govern others, which is the idea of government - that has prevented the establishment of a laissez-faire society and which has been responsible for incalculable human suffering and waste in the form of political and religious persecutions, taxes, regulations, conscription, slavery, wars etc. To achieve a laissez-fair society it is only necessary to enable enough people to change this idea in their minds. All that is required for the defeat of evil is that good men stop their unwitting support of it.
How can you download this book?
Set up an account with LBRY here if you don't already have one.
(this way you will earn LBC every time you view my content)
Please be sure to save on your device, preferably something small, portable and easily chargeable, like a tablet or decent sized smart phone.
THE NEED FOR SOLAR
If we are going to ensure that we have always have access to these books & films (no matter what is happening in the world) we must have a solar charger for our device.
It is for this reason that I ask you to save them on your device rather than assuming they will always be available to you through my LBRY account.
Fortune favours the prepared.
The JouleStick
I have seen many solar products in my time and this I can confidently say is one of the best because it is practical, functional, durable & inexpensive. It can be a torch or a lamp and most importantly, it can charge your device.
When enough of you indicate to me you are interested I will buy a box of these JouleSticks and sell them on to you for the equivalent of around $50 (plus postage), payable in fiat or crypto.
I want to mention also that the JouleStick is compatible with the JouleBox, should you ever decide to expand on your kit.
The JouleBox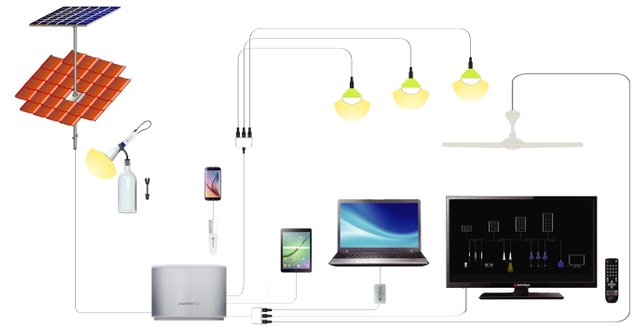 By the way, I made both of the above films and even took the JouleBox for a test run on an off grid island in Indonesia. My product review can be seen here. Bottom line: I seriously love these products!