SMTs are the "merchandise" most anticipated by STEEM users and some outside the ecosystem, since its launch was announced a positive atmosphere has been created around these Tokens, generating great expectation in users, whether due to the impact positive that is expected to cause the price of STEEM or the functionality and use that the tokens will have.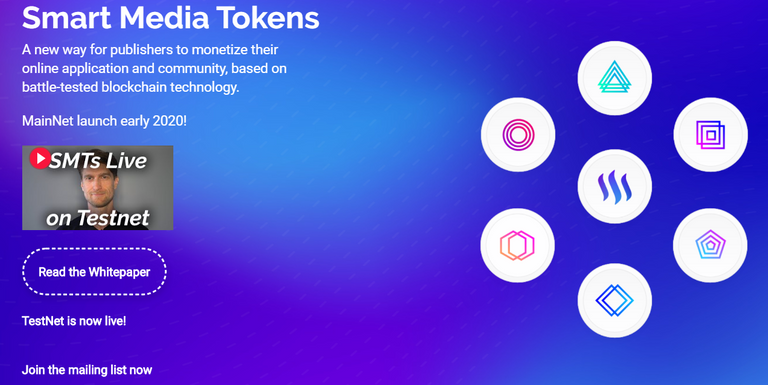 Although the date for the launch has not yet been published, it is expected that this year the HF will be carried out, which will start with this new generation of token that will have as a platform the STEEM Blockchain.
According to this recent publication of @arcange, SteemSQL - Database updated and ready for SMTs everything is getting ready for launch, so it is possible that very soon we will see the launch of this token system and here we want to refresh you a bit what SMTs are.
What are SMTs?
To find a definition of what SMT Token means we refer to the definition found in the whitepaper of the project that defines them as follows:
"Smart Media Tokens (SMTs) A Token Protocol for Content Websites, Applications, OnlineCommunities and Guilds Seeking Funding, Monetization andUser Growth."
A simple and very practical definition that may sound ambiguous, however, we can understand that it is a great opportunity for entrepreneurs and people who want to monetize the website of their business, creating a token to reward users who interact on your site through a likes and votes algorithm that will reward content and comments.
Easy and practical.
With SMT anyone can create and market their token, which will be distributed by a protocol called "Proof-of-Brain".
These tokens have a similar nature to the ERC-20, in that it allows the creation of tokens to be used on different websites, but according to whitepaper no other protocol offers you the advantages in terms of transaction speed that the STEEM blockchain offers, a platform where SMTs are based.
"none of these protocols could ever provide an acceptable user experience for content websites, such as Twitter, Reddit (even subreddits) or The New York Times."
In trial period.
The SMT tokens and are being successfully tested on STEEM interfaces like busy.org, DSound, DTube,
platforms where users have shared content, music and videos, receiving reward for the votes obtained and setting everything necessary for the launch of this system.
"SMTs are a breakthrough for bridging the world's content applications to tokens in a way that aligns incentives between the users of a network and the entrepreneurs building the applications."
Advantages of the STEEM blockchain.
It is said that the steem chain is the one that allows greater speed in transactions, this is measured by the number of transactions that the blockchain registers in 24 hours, according to the site Blocktivity, STEEM has registered up to 1.3 million transactions in 24 hours, positioning itself as one of the fastest blockchain, which is very beneficial for the implementation of SMT.
In conclusion, SMTs are the most anticipated piece of cake of the STEEM chain users, but they do not finish appearing, it is expected that this year the creation, use and commercialization of the token will be implemented to see the impact it will cause both in prices and in the implementation on different websites.
We cannot know for sure what the future holds for us, whether SMT will succeed or not, we must wait and ask because everything is a success.
---
For more information you can visit:
---
Let me know what opinion you have about SMT. What impact can they cause on STEEM? Are we facing an event that catapults Steem to the top?
---
PROJECT #HOPE An Initiative to give hope!
---
Partners supporting my work:
---
Visit our website

---