Second coin complete.
YAY! Second coin amount has been obtained. After three weeks of power down the power down has now been stopped.
Of the 44.555 powered down. 22.555 has been powered back up.

22 Hive has been sent to @thehive for the coin.

$25.356 from previous transfers.
22Hive from thehive to Bittrex.

lol Bittrex tells me I am not buying enough BTC using only 22 HIVE. The vaule that would have gained is $5.37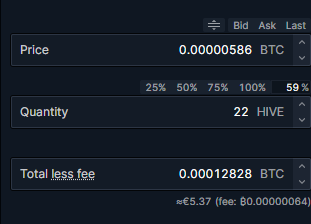 This work out at a total of $31.73, that's close enough to $32.