#showcase-sunday is an initiative started by @nonameslefttouse where we gather some long buried content to showcase (hopefully) to new sets of eyes. My Steem journey is only one and a half year old. The first year or so I happily posted my stuff for only a few readers. So, I like the change to post some of it again, my own personal favorites.
This post from 25th of june 2018 features an adaption of an instrumental Triosonata for organ. I made the transcription myself. The form of trio playing is my favorite form of organ playing. Just three lines to make music with and the trick is to try and make it sound as if really three musicians are playing the music instead of one organist. And with just three lines playing mistakes are easily spotted, so a trio composition takes a lot of practise to get it right.
The original of this Sonata is for violin, oboe and basso continuo. It consists of three movements: Largo, Allegro and Alla Breve. The first Largo takes almost three minutes, so if you don't feel like hearing a slow movement head over to the three minute mark in the video where the fast paced music starts.
My original post is here: https://steemit.com/classical-music/@partitura/johann-georg-linike-triosonate-g-moll. A recording of the music is at the end of this post.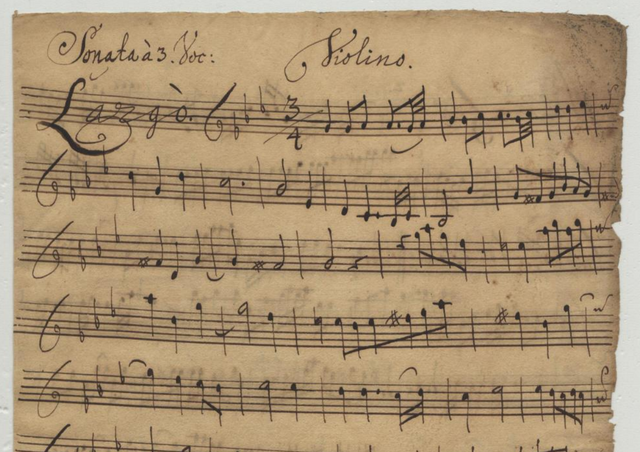 Johann Georg Linike (1680 - 1762) was a German composer and violinist, who worked a large part of his live as Capelmeister at the court of duke Adolf Frederik III of Mecklenburg-Strelitz . He wrote mainly works for orchestra and chamber music. Though he worked as harsichordist as well, I found no mention of him playing the organ. So it's not really in style to take one of his instrumental sonatas and play it on the organ. Nevertheless, it works very well I think. The music is Baroque in nature, yet already leans towards the newer galant period. This is mainly noticeable in the many repeated notes in the continuo part of this Sonata. It is a bit of an experiment to adapt this music for the organ, since that many repeated notes in the pedal part is not very idiomatic for organ music. Was the experiment succesful? I think it was. Everyone can make his own judgement though, based on the recording or by playing the piece.
Score available here: http://partitura.org/index.php/johann-georg-linike-triosonate-g-moll
The recording was done with the Hauptwerk software and the sample set of the Johann Cyriacus Werner organ Müller-organ in the Pfarrkirchin Strassburg, by Piotr Gabrowsky (http://www.piotrgrabowski.pl/strassburg.html)