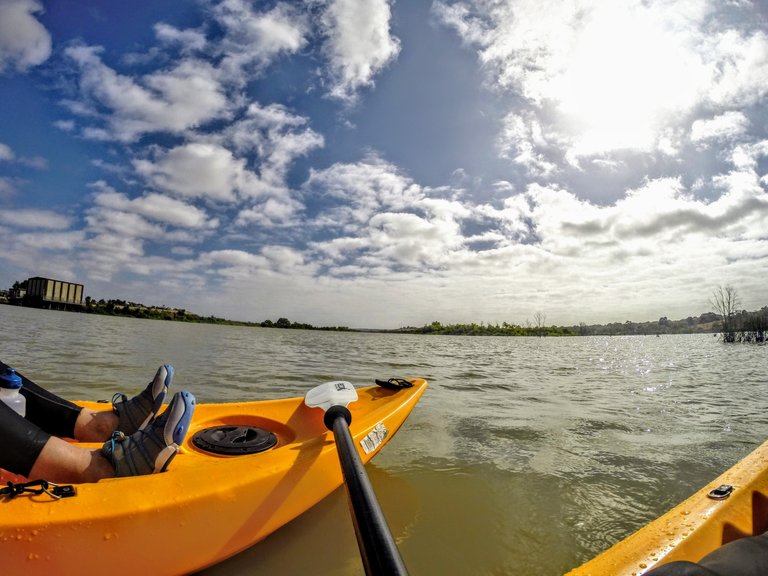 The air is crisp, clean and fresh; The day promises to be warm, and yet it's not right now. We have risen well before the sun has crested the horizon and get to getting things ready for the day - We know what to do, we've done this before.
The boats lay side by side, pulled up high on the small sandy bank, the river lapping at their hulls as if to say, come on already! The yaks look eager for the water and to be on their way. They're loaded with our gear: GPS, camera, water and food and we're ready to push in.
It's 6am Sunday morning on day two of our adventure-weekend.
We clip our floatation vests on, fasten our paddles to the boats and push into the cool cold water, jumping aboard the kayaks with a fluid and well-practised motion. We look like we were born to this, although back a while the push-in and board process wasn't as smooth [or without mishap]. Where is someone videoing on the shoreline when you need one. These days it's done with ease and style.
We had risen an hour earlier from the sleep of the dead, due to the strenuous day of hiking the day before, had some breakfast and made ready for our day of kayaking on the Murray River. I was a little slow to get moving to be honest; I'm not as young as I used to be and the previous days' long and difficult hike was bearing down on my old bones and ancient muscles. I knew right then how the dinosaurs felt.
We worked in silence whilst getting the boats and our lunch ready and throughout breakfast too; There seemed no need for words and why break the sounds of nature with our human babbling. Besides, I'm grumpy in the morning. Once I'd had a couple cups of coffee I was good to go though, grumpiness washed away by that warm coffee-goodness and excitement to get paddling replacing it.
We hadn't planned a route however knew there was a few estuaries about 1.5 kilometers up-river and decided that was a good place to start. We prefer to head upstream first as it makes coming back after a long day of paddling a whole lot easier. I'd already set our campsite as a waypoint on my GPS so after launching set to paddling upstream.
We always like to set out early as it's very calm and still on the water, the birds are singing and it's also cooler for the paddle upstream.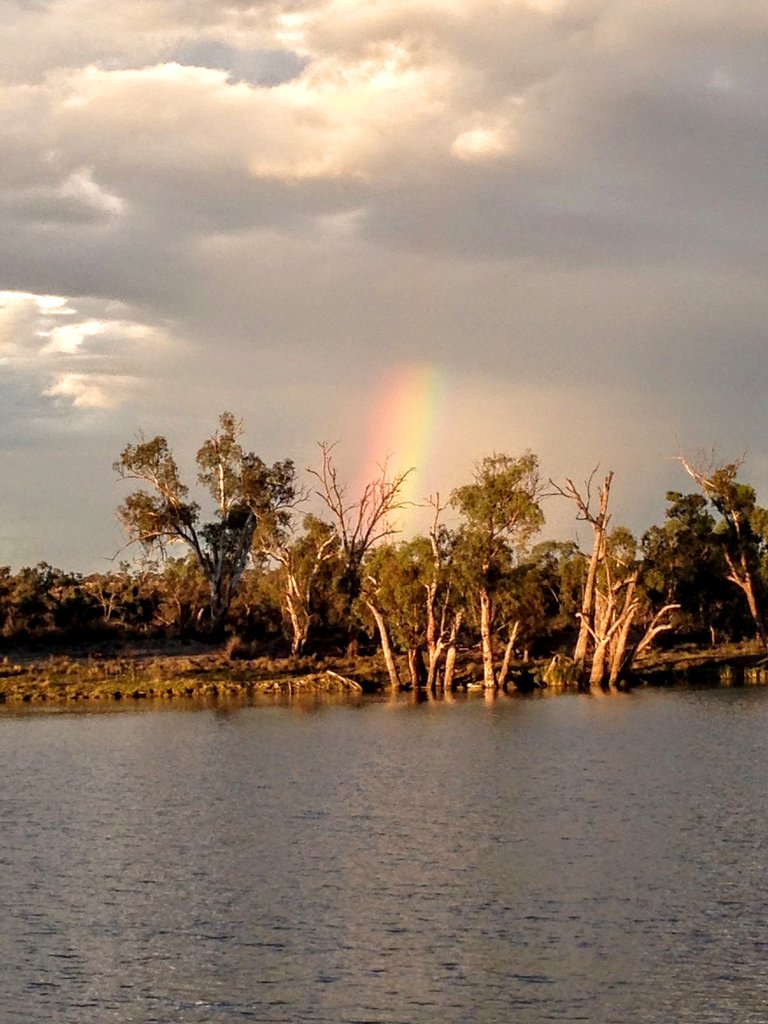 We paddled in silence enjoying the dawning day and the glassy surface of the water. The river flows reasonably quickly and a little effort was required, but nothing we couldn't handle.
The temperature was expected to reach around 28 degrees and there was supposed to be some rain later; Grey clouds threatened but it looked to be breaking up when we set out. A bit of precipitation never hurt anyone though, and we pushed on. After a short time the sun came over the horizon and lit the day with a shower of gold which contrasted nicely with the grey rain clouds. I took the photo above in that morning-light and managed to capture the rainbow also.
There's something special about the river on a still morning as the sun comes up; It's serene. All we could hear was the plop-splash plop-splash of the paddles and the sound of the water slapping the bow as we moved along. We made it upstream in short order and stopped at the inlet mouth to enter a GPS waypoint. The estuary section we were about to enter was quite complex and getting turned around (in other words lost) would be problematic. I'm very diligent when it comes to navigation.
For the next three hours we paddled around the inlet, and what looked like a lake, in relative silence stopping here and there to set a waypoint. We got caught in a rain shower but the day was warming up and it didn't trouble us. Around mid-late morning we stopped for a bite to eat; Rather than put into shore we lashed our kayaks together using bungee straps we take for just that purpose and simply floated around for a half-hour chatting and eating.
Rather than continuing our exploration after our break we decided to head back out to the river-proper. The day had started to clear and warm up and we knew we'd have at least three hours of paddling to make our campsite.
Getting back onto the river-proper meant speed boats at this time of day; Speedboats mean wake. It didn't bother us too much though as we kept reasonably close to the bank and away from the fast movers...
The scrunch of hull on sandy shore marked the end of our yakking adventure and after some stretching and bone-creaking on my part we set to the task of breaking camp for the three hour drive home. Packing up is the shit part of an adventure weekend although it has to be done - We knew there would be other adventures though.
And so our weekend has drawn to a close and Monday looms large on the horizon. This weekend has been full-on and very tiring with the hike yesterday and kayaking today however life is far too short to let it slip by without being lived to it's maximum. We were on the attack this weekend, attacking life I mean, and had a really great time. I hope you have all done something memorable with your weekend and have a great week ahead.
---
Design and create your ideal life, don't live it by default
Discord: @galenkp#9209 🇦🇺
You can see part one here if you're interested in what day one of my adventure weekend was all about..
---
---
This is a #showcase-sunday post
The original post was written and posted by me in Feb 2018 and has been reworked and reposted for the @nonameslefttouse #showcase-sunday concept.