This is my entry for the Secrets of Organ Playing Contest, Week 95. Afer several weeks of playing Romantic organ music, I felt it was time to return to some solid Baroque playing. And as it is nearly Advent, what better than to play something from the exact opposite of the liturgical year? Well, not really, of course. It's just that I felt like playing like something trio like, and Sorge is one of the (sub) masters of wrting choale trios.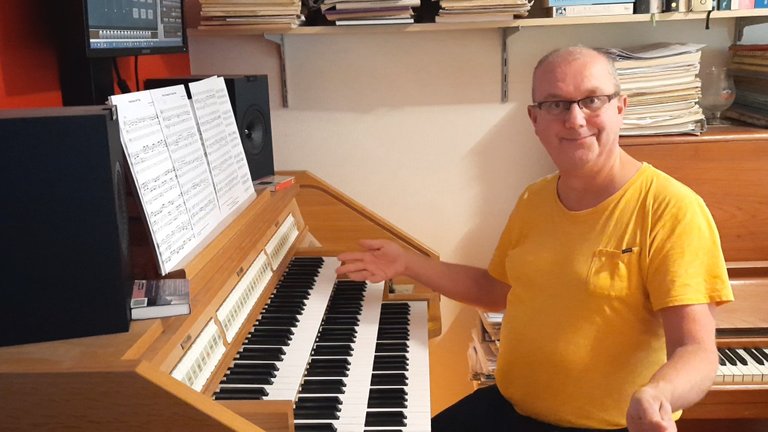 Georg Andreas Sorge (1703 – 1778) was a German organist, composer, and, most notably, theorist. Sorge's first professional appointment was at the age of 19 as court and town organist at Lobenstein, a position that he maintained until his death. Though Sorge is mostly remembered as theorist, he was also a prolific composer.
His most played works are probably the 12 trios that were meant as educational material in preparation of playing the Bach triosonatas. And that is a bit of a shame, because most of his other compositions are worth the trouble of learning and playing.
A nice example is this trio in a minor, on the melody of "Erstanden ist der heilig Christ". Written in a minot, it features a lengthy three part introduction, before the chorale melody enters. The accompaniment during the phrases of the chorale melody is two part, so Sorge keeps the composition in strictly three part writing.
The recording was done with the Hauptwerk software and the sampleset, made by Sonus Paradisi, of the Schittger organ in the St. Martini-kerk, Groningen (http://www.sonusparadisi.cz/en/organs/netherlands/groningen-st-martini.html).
Score available here: http://partitura.org/index.php/georg-andreas-sorge-erstanden-ist-der-heilig-christ/