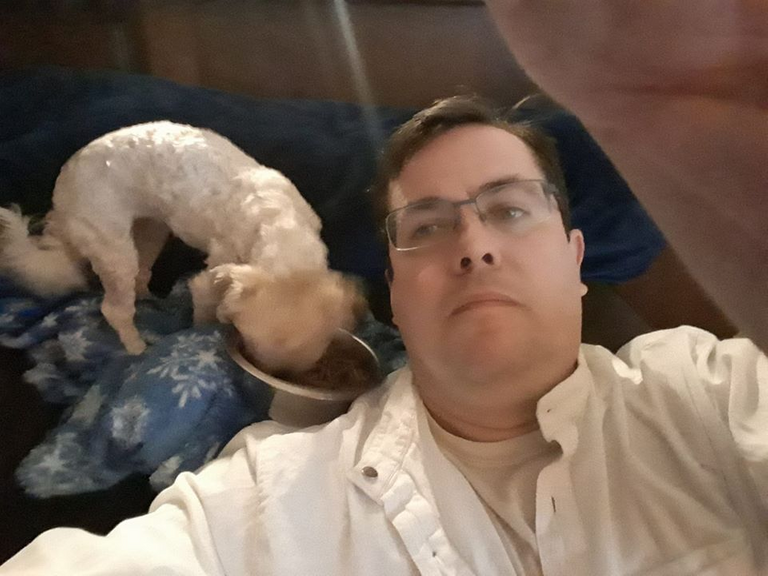 I decided this evening that my youngest dog needed more attention. She seems to enjoy eating off of my shoulder and then sniffing my hair. I then pet her for a moment or two, and then we repeat the process.
It was a good day. I gave an exam at 10 am, so I arrived at my office at 9 am to deal with emails, print out the exam, and proof read through it. Both students were there for the test (Music History). It was not a cumulative exam (Antiquity through the Baroque was the scope of the course) but dealt with instrumental music of the Baroque. They didn't do badly. One student was able to identify all thirteen pieces correctly. Both came down with about a 70 percent grade on the exam. It didn't hurt their overall grades too badly in the long run. I then graded the exams and went to a Christmas Party before driving across town to accompany two choirs at a high school. I appreciate receiving the music with a couple weeks notice as I really enjoyed accompanying the group today. We could make musical decisions rather than just hold on for dear life and hope we ended together. I returned to my office to collect my organ music and then practiced for an hour and a half before coming home. At home I practiced piano for an hour before dinner. This evening, I had a lodge meeting and then came home to enjoy some Green Acres with my dog. Planning on going to bed shortly after finishing this up.
On the organ, I worked primarily on the music for Sunday and my recital in the afternoon. I quickly played through Brahms' Es ist ein Rose. I think I can make it playable for a prelude for Sunday. I have played it before, but it has been a couple years and I have complete revamped my organ technique in the last year. So it felt a little awkward, but most of the notes are there. For the recital, I worked on David Wilcock's Postlude on Mendelssohn (got it up and beyond the tempo marking in the score), In Dulci Jubilo BWV 729 (worked on making it feel "freer" and more improvisational), Wold's Wachet Auf Suite (Third movement up to tempo, first and second movements are in preservation mode), and Cooman's Variations on a Basque Noel (Sped up third variation to about qn=120. I am liking this variation more and more at a faster speed....). I also was able to spend time working on Boehm's Prelude and Fugue in D minor--the opening pedal section is kind of hard, so I was trying to speed it up.
On the piano, I mostly worked on accompaniments for a concert on Thursday. Again, the music isn't that hard--there's just a lot of it. Two pieces are giving me issues. The first is the Agnus Dei from Faure's Messe Basse. I realized in the first rehearsal that I had only really read through the first and third pages (the director sent these in the first batch of scores. She later sent the other two pages). So, the first read-through was kind of sight reading. I enjoyed the second read-through and started to distribute sounds accordingly. The other piece is called "I will lift my voice and sing". At the rehearsal today, the director took it much faster than the tempo marking in the score (in the score it was qn=120. She took it around qn=160.) We got through it, but I did need to spend some time speeding it up. I ended my practice with a run-through of Op. 10 No. 4 of Chopin before I was called away to dinner and evening activities (Lodge stuff).