SEAPHOTOGRAPHY CONTEST -

WEEK #69


SEA and ANIMALS !!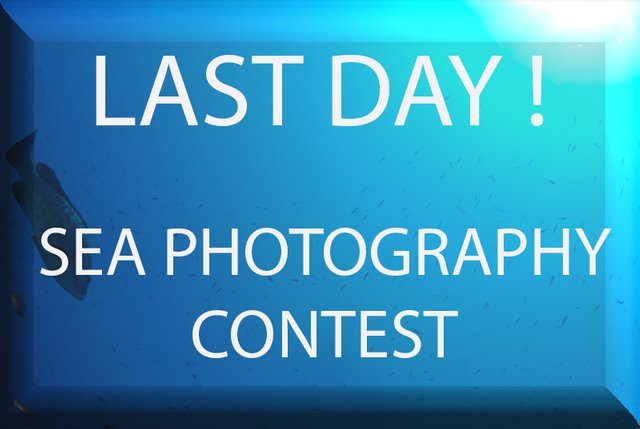 Saturday, Last day for posting
This week is the 64th of the photography contest. They illuminate our children's eyes, make us dream adults, they are big, small, wooden or modern, sail or motor, and are the only tools we have to go out there, in the middle of last places of freedom. Seaphotography Contest pays tribute to boats this week It's your turn to show us how you catch the colors of the sea. We look forward to your photos!
Cette semaine est la 64e du #seaphotography contest. Ils illuminent nos yeux d'enfants, nous font rêver adultes, il sont grands, petits, en bois ou modernes, à voile ou à ... moteur, et sont les seuls outils dont nous disposons pour aller là-bas, au milieu des derniers lieux de liberté. Seaphotography Contest rend hommage cette semaine aux bateaux. On attend vos photos avec impatience !
---
---
SUBMISSION POST IS HERE:
This link is the post submission. Post your photo only on this link !!! You have between monday to friday for publishing and voting !
---
---
WINNER AND HONORABLE MENTION
The winner will be announced this weekend and will earn
*** 1 Steem + your %upvote * 1 Steem + 20 PHOTO***
Honorable mentions will be also announced this weekend and will earn
*** 0,5 Steem + your %upvote * 0,5 Steem + 10 PHOTO***
So now, THE PERCENTAGE OF OUR UPVOTE HAS VALUE !!
---
---
RULES
1- Post your photography on the monday submission post announcing the contest of the week (Below this post!)
2- Upvote this post if you want to increase your prize (% of upvote will be noted to calculate prize).
3- The photographer must be the author of the photography presented to the contest. Any attempt at plagiarism will be denounced and its author blacklisted of the contest. NO PLAGIARISM!
4- Write a few words about your photography indicating the place, the exif, or any others informations that the photographer will judge useful. English, French, Spanish, Turkish, Arabic, Marsian, all languages ​​are accepted. However, an English translation in a parallel column could be usefull for everyone ...
5- The photography can be submitted from Monday to Saturday midnight. Only one photography per contest and per author.
***THAT'S ALL !!!***
---
---
On the other hand, if you publish on your blog photography highlighting the sea whatever the theme choiced, and using the tag
#seaphotography
as first tag, you can have a chance to see your work upvoted and presented on my blog.
---
---
---
---
I will annonce the winner of WEEK69, and will present my favorite
#seaphotography
, this week end...! I can not wait to enjoy your photographs. Thank you for participating and resteem this post !
VOTE FOR YOUR FAVORITE !
---
---
@axeman,@afroray,@fotostef,@moniroy,@itchyfeetdonica,@photoquest,@emotionalsea,@lightcaptured,@scottdphoto,@norwegiansteem,@intrepidphotos,@bluebottlefilms,@richee,@guchtere,@caveman,@harveyword,@harkar,@davedavis91,@johannpiber,@barbarabezina,@bluemoon,@pradeepdee6,@bigsambucca,@fotogruppemunich,@chrisaiki,@artofwisdom,@boddhisattva,@himalayanwomb,@davewuk,@fivealive55,@bear8photo,@melinda010100,@hangin,@keithboone,@sawyn,@bdmillergallery,@redheadpei,@mikitaly,@cetb2008,@ajanphoto,@gabeboy,@vcclothing,@muffoni,@grizzabella,@pardinus,@chiminguito,@vcclothing,@slowwalker,@ackhoo,@oldmans,@cinderz,@barbarabezina,@yujomar,@bigsambucca,@steemlandia,@phortun,@jayclar,@sawyn,@fotogruppemunich,@ikrahch,@dkkarolien,@javiersebastian,@afarina46,@stevejhuggett,@mariusfebruar,@dmytrokorol,@chrismadcboy2016,@steemflow,@angelro,@cam.mcfarlane,@mariusfebruary,@vannour,@sazerac,@javiersebastian,@creativecrypto,@craigfrank,@ansharphoto,@mirla33,@dzoji,@manoldonchev,@gingbabida,@maxili63,@orjantomarcelo,@lighteye,@zanetaviz,@patschwork,@guchtere,@keithboone,@greddyforce,@charnie,@philpotg,@davidgermano,@lighteye,@tixinhacapitinha,@ninahaskin,@onze,@jan.kretschmer,@nelinoeva,@davidgermano,@evagavilan
---
---
YOU WANT TO SPONSOR THIS CONTEST ?
Contact me on discord #4302 or in this comment section
---
---
HOW TO FOLLOW ME ?
---
---