SDCD (Steem Dollar Conversion Day) #1 - SPUD Compatible
Hi Everyone,
I have 1000 STEEM that I am saving for the upcoming #SPUD, but I just realised I can do something else within the 3 days leading up to #SPUD, I can convert it to SBD and put in a convert request to help reduce the debt ratio (by a little bit), most of the time I don't have this amount of money liquid on me, so it's an awesome way to keep it safe (like savings) whilst doing something good. No-one can cancel the request, and so that SBD is safe from anybody touching it, and once it finishes, it'll only be a few hours before SPUD. This makes me feel safer about holding such an amount of STEEM.
The fact that if you do it today, it will be ready for SPUD as STEEM is why I am calling this #SPUD compatible.
Lets Fix that Peg, Gamers!


Many people believe that a $1 SBD brings a positive sentiment for STEEM and makes STEEM a lot more attractive, and certainly a $0.60 "Dollar" isn't that great. We can each do our own little thing. If you want, join in using the tag #SDCD (Steem Dollar Conversion Day) today, and I might drive by and curate some of you.
How to buy SBD, and then use the CONVERT function:
Note: Converting May Not be Efficient, and you may lose money by converting. See this comment for the approximate maths of the operation, but I won't truly be able to say until 3 days have passed
1. To Buy SBD, send STEEM to @bank.sbd with the memo swap (or use the market)
Bank.SBD is managed by @cardboard and has a free to use swap function that can convert between STEEM and SBD, this is the easiest way, as using the market can be a little complex, and there is no fee to use this service.
2. Go to SteemPeak Wallet, and Click Convert To STEEM

3. Enter amount and submit
Enter amount to convert and submit. This will take 3 days to process, and you won't see the STEEM nor SBD in either wallet (on SteemPeak you can view the Process)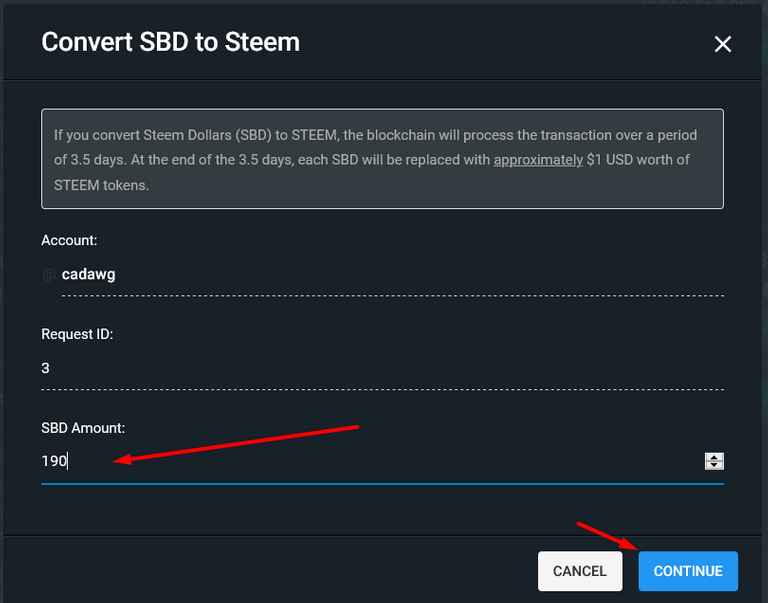 Monitor the Process:

Thanks,
~ Le Dollar Pegger (@cadawg)
---
---