Wangsong lake is special because it has a rail bike going all the way around it. Thankfully that is the case because it is also one of, if not, the largest lake in Suwon, Korea. This is the 2nd last of the 7 lakes in my city that I want to explore.
Although the name of this lake is Wangsong Lake (왕송호수), I just call it Uiwang (wee-wang) Lake because only the southern shore is in Suwon and the rest of the lake is in the neighbouring city.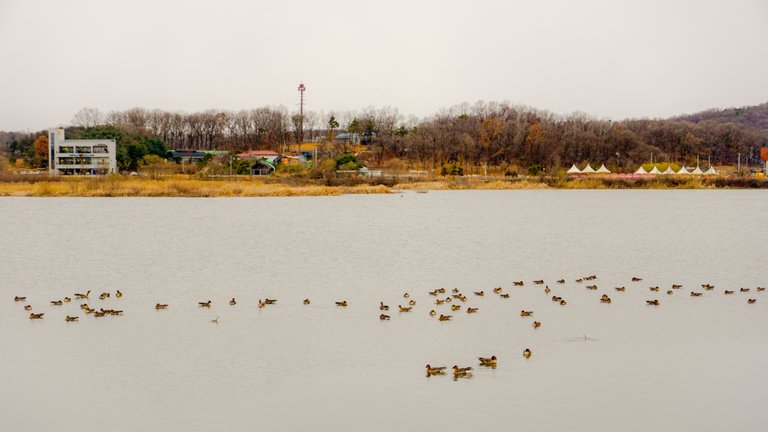 This lake is quite close to my house and it is one of a couple I can easily walk to. I like going here to look at ducks and I've shared photos of this lake in the past as I like walking here and there are a lot of good restaurants nearby. The most recent ones were when I ate at a mushroom restaurant. But I also ate at a boribap restaurant and a tofu restaurant.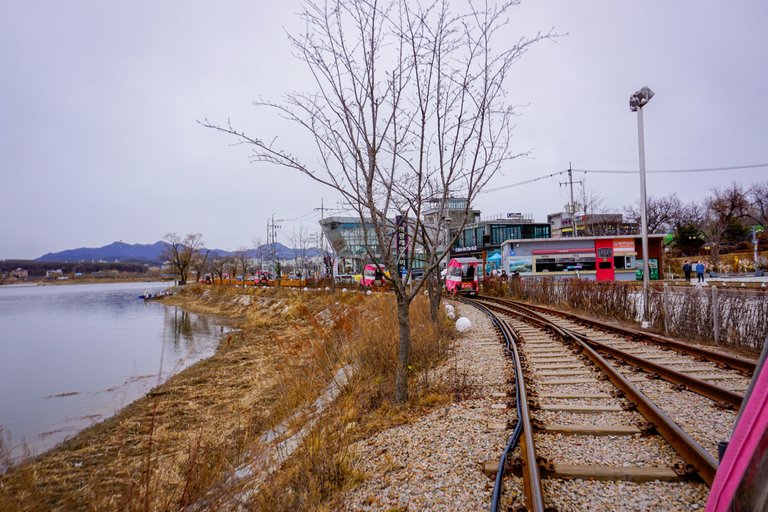 Although I've lived in the neighborhood for nearly 2 years and often thought about riding the railbike, I never got around to doing it because it seems like an activity to do on a cheesy date, with children or as a tourist. It's also quite expensive at around $ 28 for 2 people or $ 35 for a family of 4 people. In any case, it was cold and windy and a little foggy and rainy late January, so I decided why not.
Also, I was with my wife and figured it would be romantic.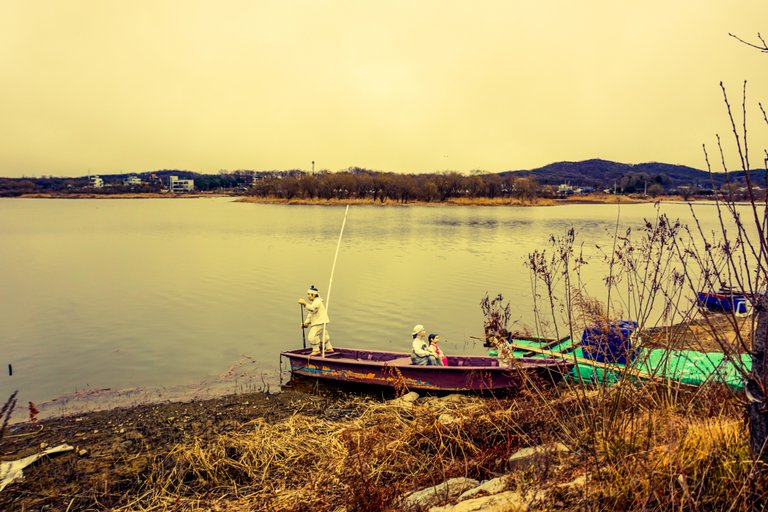 Most of the ride is very scenic, although there are a few tacky artworks. This is a depiction of a traditional style boat. The were also some story characters and anime like things, but i mostly ignored those as I was on the wrong side of the quad bike.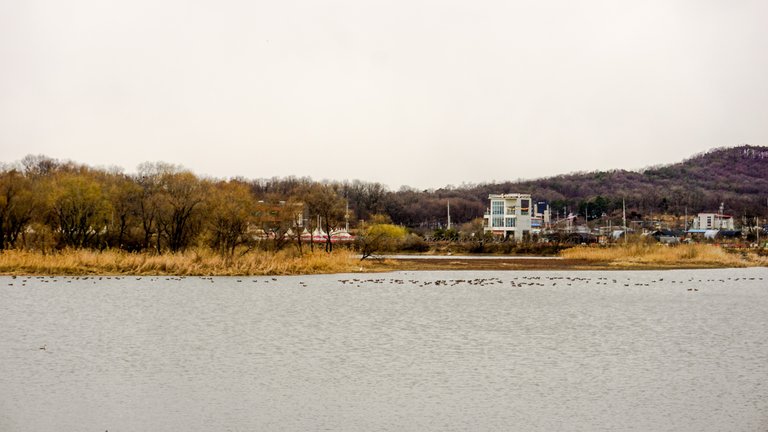 Most of the views were scenic landscapes of the lake and the opposite shoreline or small island in the middle. The gray sky made for a rather bleak view, but not every day can be cheerful and bright.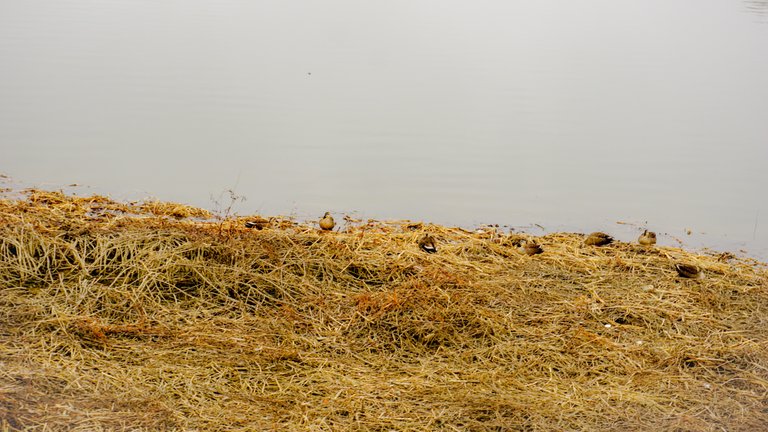 There are an awful lot of ducks on this lake. Most of them are plain old ducks that live here year round. But, sometimes winter visitors arrive from Russia.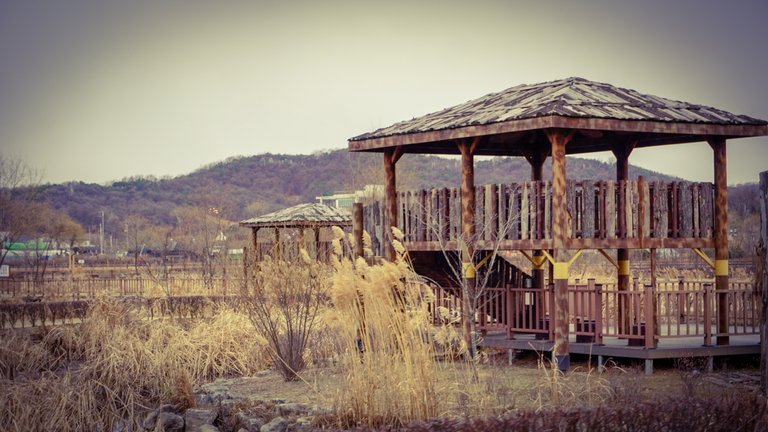 There are some nice traditional style farm buoldings at the northern side of the lake.
There are also a lot of turns in the track here which makes it hard to pedal. Fortunately, it's nice and flat for the most part.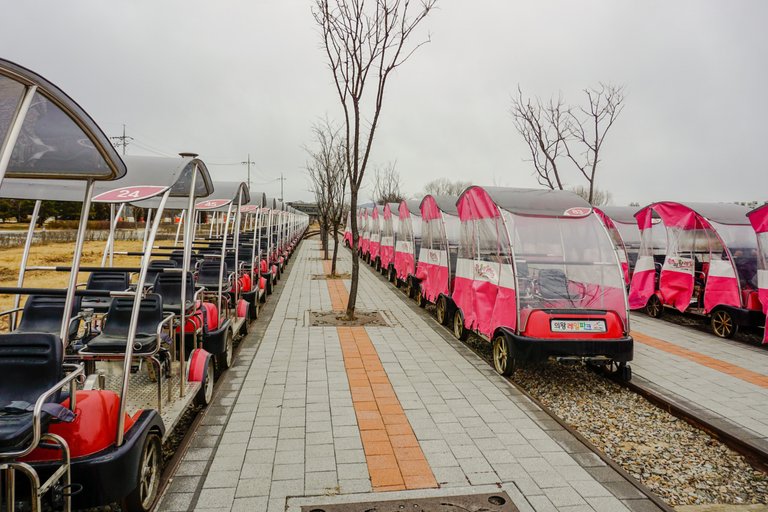 This is the half way point.as you can see there are a lot of rail bikes. But it is low season so most of them are just parked.
I like the pink covers. It was quite windy.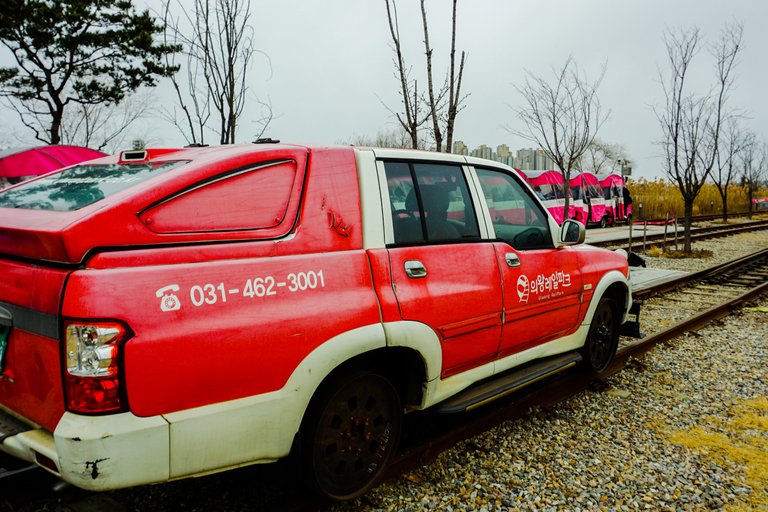 There is also an old car that has its rubber tires changes to rail wheels. This car drives around at night to make sure people are doing anything they aren't supposed to or to clear the rails.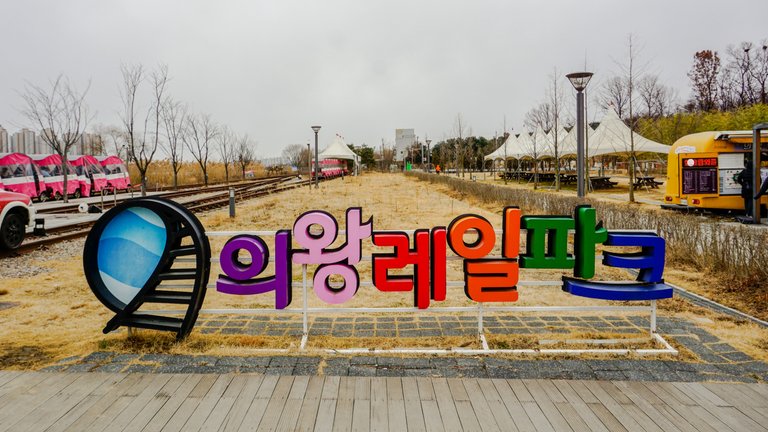 This sign just says Uiwang rail park. It's a great place for a cheesy photo.
We took a 10 minute break here. You can buy coffee, waffles or icecream. I decided to just go back to the rail bike emplty handed.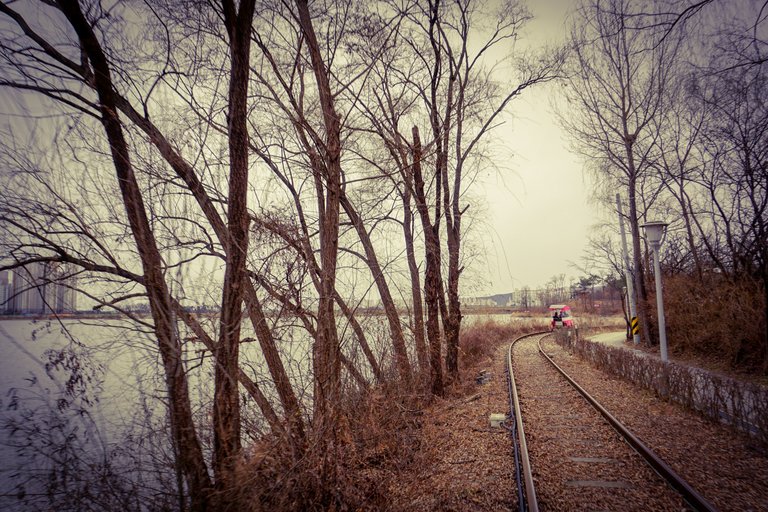 The key to rail biking is to take it easy. You can't over take anyone and for safety and oeace it is better to keep your distance.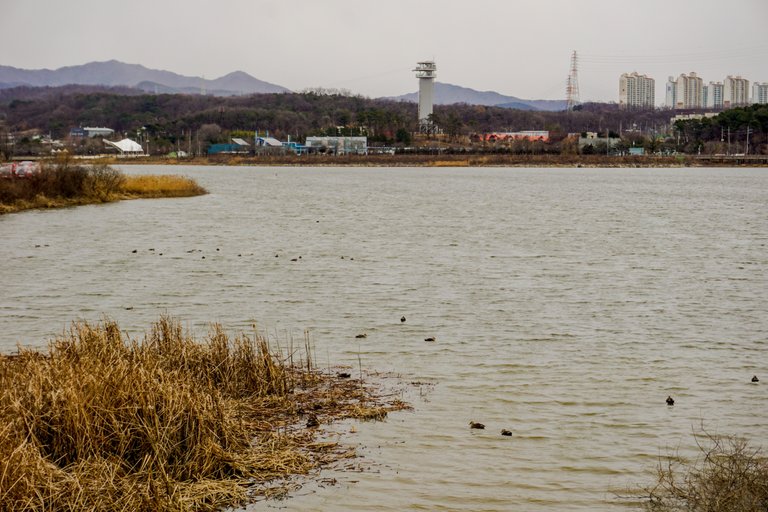 Across the lake is where the larger park is and the start of the course.
If you are feeling lazy, there is also a train that goes around the course.which you don't need to pedal.
That side of the lake is closer to the subway station and is just an easier place to get to.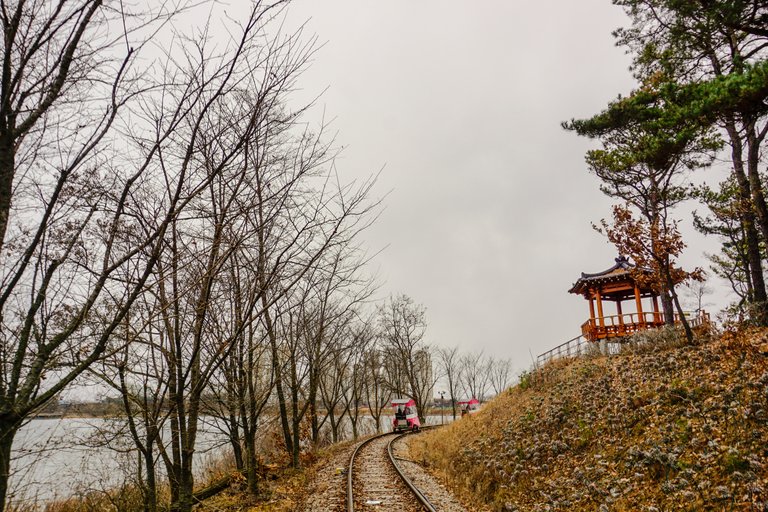 Going around curves is tough, even worse some of them have slight inclines. It may not look steep, but even a 3% ~ 4% gradient is a difficult climb on the rail bike. At one place there is even a worker helping people.
Fortuately this is the last of the difficult parts. I wish I could take a break in that nice pavilion.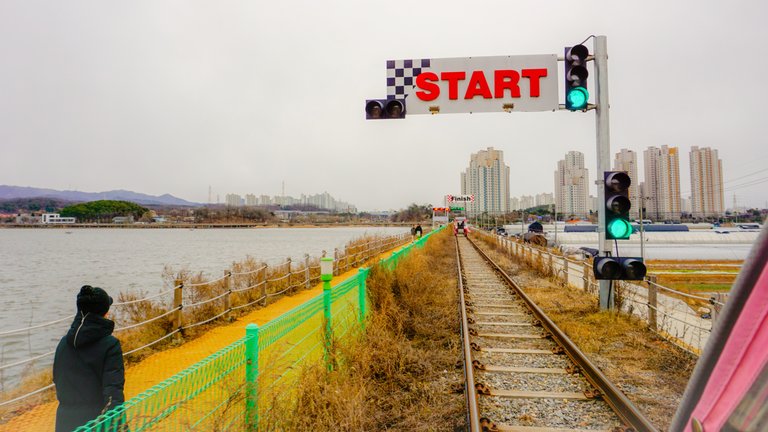 Here we are on the flat part of the dyke (like most lakes in Korea this is actually a reservoir). It is also one of the few places where people walk om the lake side and the rails are on the opposite side.
This place encourages speed and measures it. We got up to a blistering fast 18km/h which I'm fairly certain was a huge exaggeration. I think in actuality the speed is between 6~12km/h. These are heavy and slow bikes.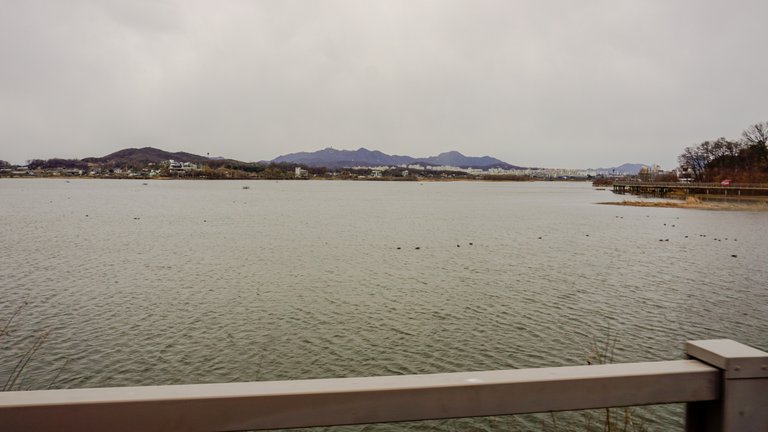 Here is a place where I often try and take a picture when I'm just walking. The southeast corner is the closest part to my house and I often walk here to gaze over the lake or look at ducks.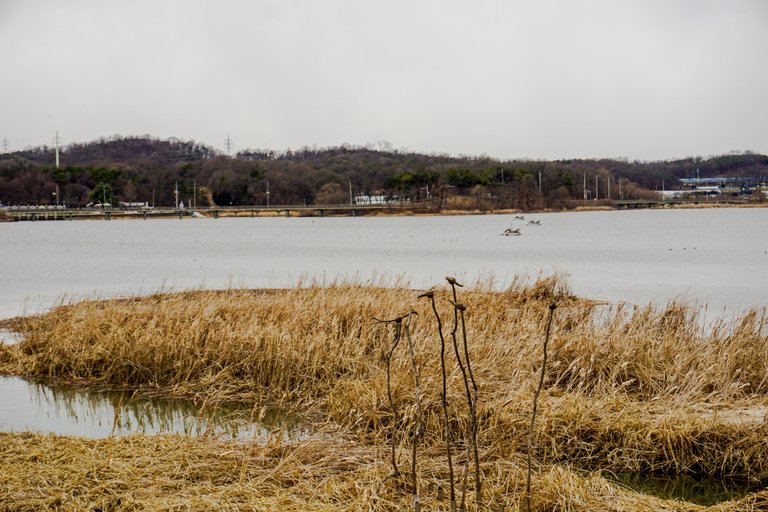 This part of the course is actually over the lake and is a wetland. There is water on both sides of the tracks. There are a lot of ducks and even sticks with wooden ducks.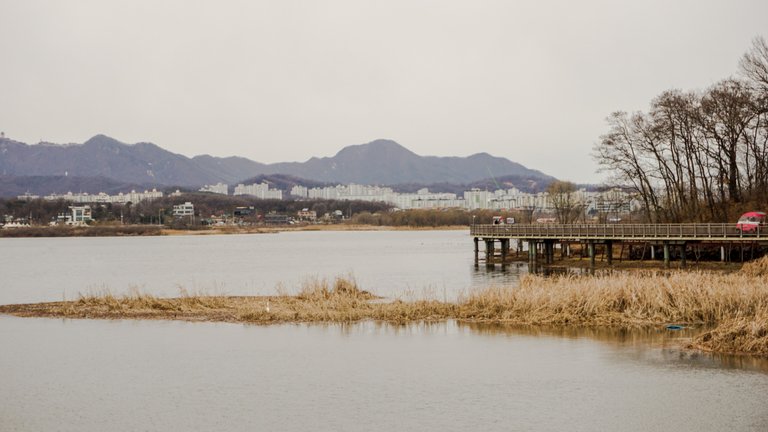 Here I can see the track in front of me. It's forested on both sides here and nice. Actually, I would say about 90% of the track is nice and at least 50% is very nice.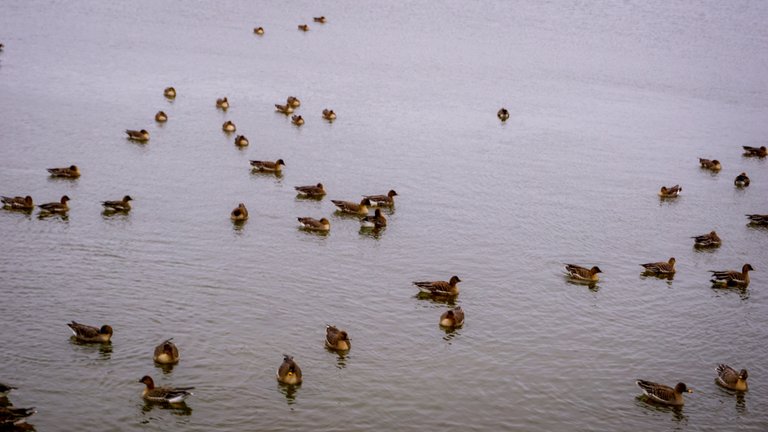 For some reason the ducks really liked to hang out in this spot of the lake.
Even though it was lake January, there was no ice on the lake. I don't think the entire lake froze over once this winter.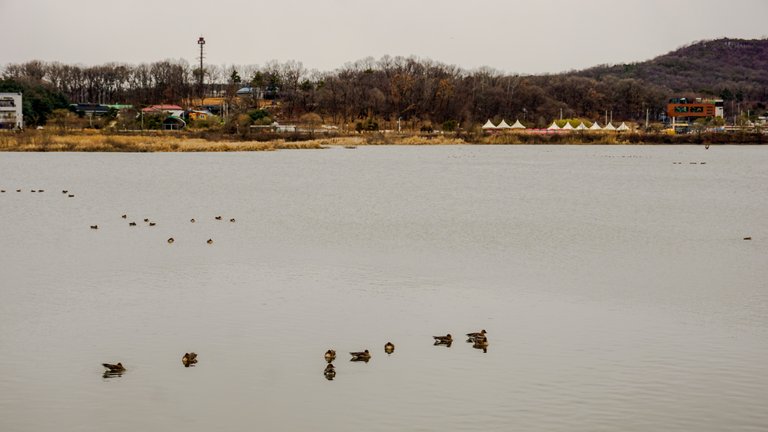 This was my last scenic shot iver the lake. On my way out, they tried to take my photo and sell it to me. However side it was winter and the plastic was on, it didn't look like it was worth $ 12. I passed and left.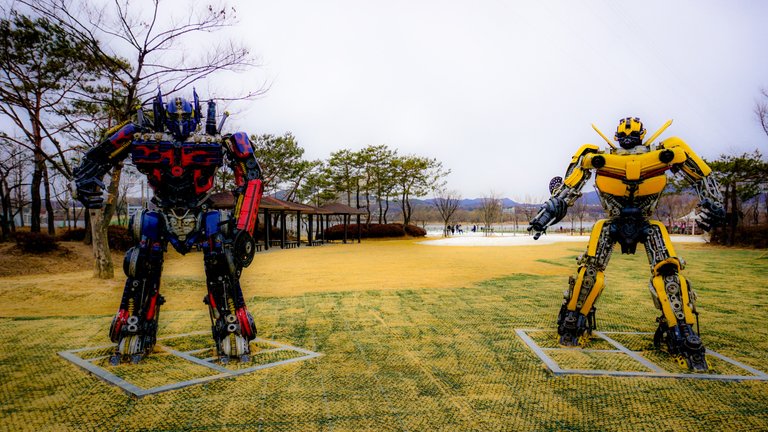 These transformers look quite neat. I wonder if they have a license or just though meh, what is paramount (or whoever owns that franchise) gonna do about it.
There is more to do here asides from the rail bike. There is a large family friendly park, playgrounds, a zip line and a small campground.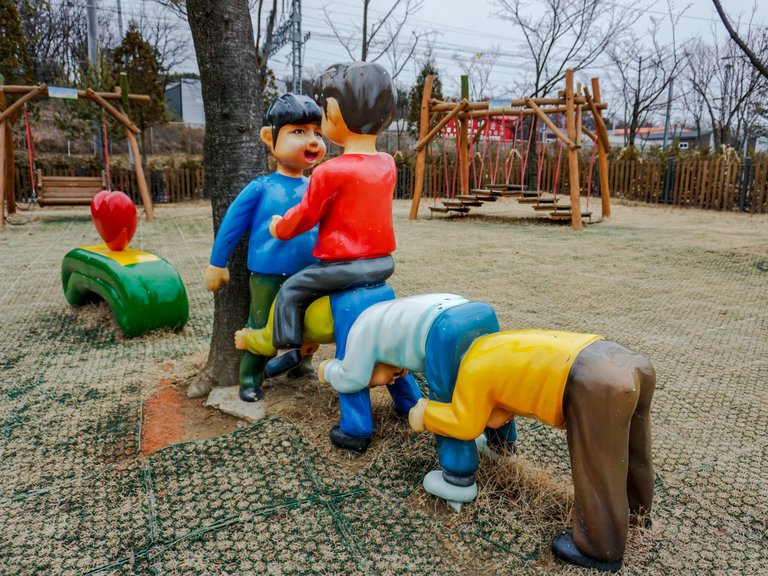 Here is a statue of some boys playing a traditional game. It looks strange and apparently it was quite dangerous. There are some odd playground swings and ropes here. it's like an obstacle course.
I don't think I would ever camp here because it's a little too subirba for that and only a couple kilometers from my house.
Fortunately I drove to the rail park today because I was damn tired.