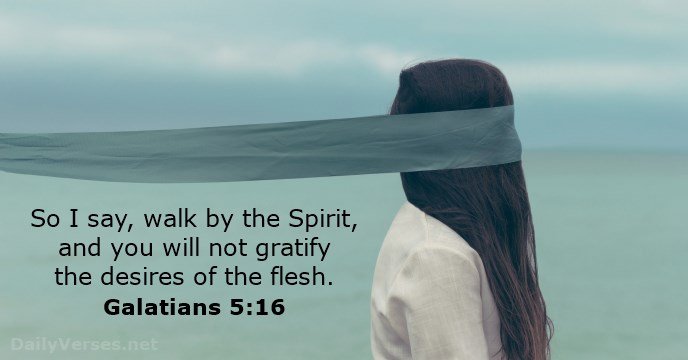 Image source: DailyVerses.net
One of the most misjudged ideas in the Christian life is that of "the flesh." So, what's going on here? In the present section, flesh alludes not just to the physical body but rather likewise to the inward being, which is as yet subject to sin despite the fact that devotees have another nature given to them by God's Spirit. In this way, flesh alludes to our dug in propensities for evil contemplations, wants, and dispositions—which regularly lead to indecent practices.
Paul presents, in a horrendously genuine manner, the aftereffects of living as indicated by the flesh: deeds including unethical behavior, pollution, excessive admiration, outrage, struggle, disputes, and other ruinous frames of mind and activities. Conversely, a real existence driven by the Holy Spirit delivers the rich otherworldly product of adoration, euphoria, harmony, tolerance, generosity, goodness, dependability, tenderness, and discretion (Gal. 5:22-23).
For what reason do as such numerous individuals who want a faithful, self-controlled life more than once tumble to carnal sin? Paul says the deciding component is whether they are being driven by the Spirit. In the event that Christians attempt to defeat sin individually without submitting to the Spirit's direction, they will come up short.
The "flesh" can't be taught, restored, or improved. Rather, it must be executed (Rom. 6:11). At that point, through the intensity of the Spirit, we don't need to respect wicked driving forces yet can rather introduce ourselves to God for acquiescence to His wants (Rom. 6:12-14).
Strolling by the Spirit means submitting to the Lord when you feel enticed to pursue your substance. With His assistance, you can see your wants offer approach to compliance that satisfies your great Father.