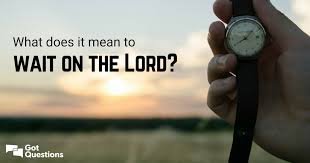 Image source : gotquestions.org
Looking out for the Lord sounds simple—we essentially supplicate and watch for His answer, isn't that so? Truly adherents who frantically need to see a need met frequently discover the procedure agonizing. Whenever God says "wait", recall these prerequisites for keeping an unfaltering vigil until He answers:
Looking out for God requires confidence in Him. Strolling by confidence means confiding in God even without knowing when or how He will settle the circumstance. Also, confidence can't work without quietude. Rather than requesting that God intercede as we want, we should trust in His manner and timing.
We should submit to the Lord, knowing there is nothing we can do aside from rest in Him. We are far more secure in tolerating our defenseless condition than in making sense of our own answer. Attempting to control our conditions is an exhibit of prideful independence, not modest accommodation.
We need tolerance. This isn't an innate quality; rather, it's product of the Holy Spirit. He is the person who can give us tranquility amidst a troublesome circumstance. Tolerance is established on a framework of trust in God's character, reason, and ways.
Holding up takes boldness. Companions and partners will uninhibitedly offer guidance about our circumstance, however we should dauntlessly hold up when others state the time has come to move. Dread of analysis is regularly the impetus for bringing matters into our very own hands as opposed to confiding in God's planning.
Supplicating when we'd preferably make a move is troublesome, however holding up reliably, tamely, calmly, and bravely brings favors that show the dependability and decency of God.