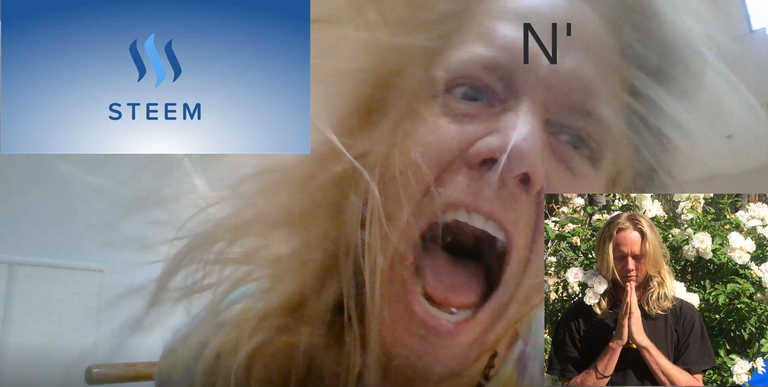 Introduction
This video - this one here - is meant to be played along with "Guns and Roses - Get in the Ring." (Instead of the names in the songs being who is spoken about and/or to, insert your own choice names when those names come up 8-)
You must open another window and set the GnR track at 17 seconds in. Turn off the sound to my video. Then press play in both windows as close as you can get to pressing the start buttons at the same time. Watch my video as the GnR track plays in the background.
Please, forgive me. I don't know how to edit the song in (it also might violate copy-right laws if I did).
Enjoy.
And, in this corner, weighing in at 5,000,000 pounds, Steem N' Roses!
This performance is dedicated to all the steem peeps who continue to deal with this platforms bullshit and still come back, bringing your hard work and creative ideas to fruition.
And, to all those that oppose ... haha, well ...
---
---
If you are brand new to this conversation, as I won't be getting into those particular threads in this post, please read:
here: https://steempeak.com/polish/@mmmmkkkk311/the-reason
here: https://steempeak.com/downvotes/@mmmmkkkk311/use-sbi-skip
here: https://steempeak.com/downvotes/@mmmmkkkk311/you-know-sbi-but-do-you-remember-bernie-madoff-ponzi-scheme
and here: https://steempeak.com/downvotes/@mmmmkkkk311/vote-buying-is-wrong
Because this dude likes to RUN and keep people confused.
If you are all caught up or even if you are not, enjoy the rest of the presentation or not, whatever. 8-)
---
---
"I must not fear. Fear is the mind-killer. Fear is the little-death that brings total obliteration. I will face my fear. I will permit it to pass over me and through me. And when it has gone past I will turn the inner eye to see its path. Where the fear has gone there will be nothing. Only I will remain." ― Frank Herbert, Dune
Dear @mmmmkkkk311,
I'm sitting here thinking about what we can do about this abuse. I'm not in favor of letting anyone downvote me just because they feel like it, even if they have the "right" to do so. I liken it to a dog pissing and/or shitting on my floor. Yes, the dog has a right to shit and piss. That is its right. However, this does NOT mean that dog can shit and piss wherever the fuck it feels like, except in extreme circumstances like it is sick, or dying, or bleeding out on the floor and can't help itself, or I've locked it in a tiny room for days on end because I'm sick in the head, or etc. No, sir, the dog has to learn where it is proper to piss and shit and where it is not proper to piss and shit.
Now, here is the thinking that we know about your types. They talk. They think we, the little people at the bottom who suffer under the weight of their foot, the little people at the bottom who do most of the hard labor, the little people at the bottom who are considered worthless to them because we're not at the top of the food chain, don't know what they're up to.
Our research and intelligence says otherwise, as you have seen from the -They talk- video directly above this paragraph. My, oh my, oh my, oh my ... What are we to do against someone so ________(insert word that fits) as you?
Then it struck me!
You see, @mmmmkkkk311, us little people down here at the bottom usually are more generous with what we have. Maybe that is because we understand what it is like to struggle day in and day out while you guys there at the top live your extravagant lives and punish and blame us for not being afforded the privileges you were born into.
So, what I did was, and this is from a homeless person, bought 200 people @sbi shares, names found below. If only 5% of them join me on this mission and then the 5% of those 5% join us on this mission and then those 5% get another 5% to join us on this mission, then your mindless, inconsiderate, aggressive, absolutely rediculous downvotes will almost mean absolutely freaking nothing.
May I get a "HELL YEAH!" from the crowd, please?
I must thank you, @mmmmkkkk311. Without this little kick in the ass, I would have never come up with the idea to do this. Honestly. Look at my comments feed. I'm fairly quiet and don't say a lot. But, when some _______ (insert another word that fits) comes along and starts fucking with me without being in the right, I lose my fucking mind and go off like a barn full of fireworks being lit on fire!
Furthermore, all of the liquid steem earned from this post will go toward more @sbi shares to help out more people.
May you, @mmmmkkkk311, have, and I don't say this very often anymore, a merry fucking Christmas and may your heart grow a couple of sizes larger this season, you little devil.
Peace. Drops mic - walks off stage
p.s. @josephsavage, please, if I happened to hit an account that is blacklisted, give the @sbi share to a person who could benefit from it and enjoy the extra workload. This may only happen once - if it happens at all that is. bwahaha
Here is something to get your blood pumping because you are going to need it as it took me almost eight hours to create this post.
To everyone else, please post below in the comments the names of the people you sponsored and be sure to only tag @mmmmkkkk311 (he is blacklisted therefore should not get @SBI) in the comments to let him know that our "circle jerking" spreads far and wide and has many hands helping each other grow toward the light.
"Do not be proud and arrogant with your knowledge. Consult and converse with the ignorant and the wise for the limits of art are not reached. No artist ever possess that perfection to which he should aspire. Good speech is more hidden than a green stone (emeralds) yet it may be found among maids at the grind stones." - Ptahhotep
---
---
The 200 people I just now bought @sbi shares for - thanks for the hard work you put in and thanks for bringing the best that you have to offer day in and day out to this platform. You are the people that will make this platform succeed. Keep on STEEMING ON!!!
@a1-shroom-spores, @abitcoinskeptic, @agmoore, @agmoore2, @amr008, @arcange, @andrepol, @arabisouri, @atego,
@bananafish, @balte, @barmbo, @bdog, @bernieflenders, @bestboost, @bitandi, @bluengel, @brisby, @byn,
@calluna, @catapult, @carohelion, @cezary-io, @cezary-io, @chireerocks, @chimaere, @condeas, @contestkings, @crmilazz, @cruisin, @crypto.piotr, @curie, @curx, @cwow2, @cyberspacegod, @cyemela,
@darrenfj, @davidesimoncini, @ddrfr33k, @deirdyweirdy, @degrimmis, @dera123, @derangedvisions, @dirge, @d0zer, @doer-minnows, @dotwin1981, @drotto, @d-zero,
@ecoinstant, @ericburgoyne, @evagavilan,
@f3nix, @felipejoys, @felixgarciap, @Felt.Buzz, @feuerelfe, @fitinfun, @flag-queen,
@Gaby-CRB, @gamer00, @giddyupngo, @glastar, @gmdatacenter, @gracielaacevedo, @guruvaj, @gwilberiol,
@haccolong, @hidden84, @hlezama, @honeydue,
@iamraincrystal, @ianballantine, @improv, @info-brocker, @issymarie
@jalentakesphotos, @joanstewart, @jocieprosza, @joebrochin, @johndoer123, @johnspalding, @jokersword, @jongolson, @josemalavem, @josephsavage, @joshman,
@kaelci, @kanrat, @kharma.scribbles, @kimberlylane,
@letalis-laetitia, @libuska, @liltammy, @logiclemon, @looool, @lotto-austria,
@maahes, @makemoneygaming, @marcoriccardi, @marcus0alameda, @marcybetancourt, @mariannewest, @marie-jay, @markymark, @mayvileros, @mespanta, @Michaias, @michealb, @miketr, @mllg, @misan, @mgaft1, @musinka,
@niallon11, @novogel, @nutman, @nutritree, @ntowl,
@oacevedo, @ocbd, @odeis, @oldandintheway, @osm0sis, @osso, @owasco,
@peekbit, @peter2017, @phil-glaz, @phoenixwren, @phortun, @pibyk, @pifc, @posthero, @presse, @popcornexpress, @posthero, @pundaymonday, @pundito, @public-money, @pushpedal,
@r2cornell, @raj808, @rambutan.art, @randomwanderings, @reaperfox115, @reazuliqbal, @retinox, @rob-alphanostrum, @roleerob,
@s77assistant, @sacra97, @sakhmet, @salvao, @sarez, @scrawly, @scilwa, @seo-boss, @serum, @silvergoldbotty, @simonjay, @smileyboy, @snook, @socalsteemit, @sparkesy43, @steem-ua, @steemfeed, @steemfiction, @steemehq, @steemillu, @steemtaker, @stever82, @stimp1024, @streetstyle,
@takowi, @tangofever, @teamcn-shop, @tentakel, @thaishps, @thedarkhorse, @tibonauitics, @tipu, @thales7, @tibfox, @trincowski,
@vasilstefanov, @viniciotricolor, @viraldrome,
@wales, @wandrnrose7, @wesphilbin, @wissenskrieger, @WonderWop, @wzp, @wnfdiary,
---
---
Steemit sites I support and/or delegate to.
Other sites I support