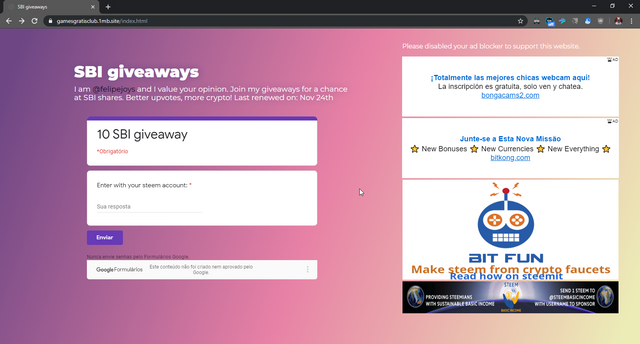 SBI GIBS
Easily winning Steem Basic Income shares are still one of the best ways to guarantee you'll get some upvotes to posts or comments you make, boosting your payments and visibility.
So here's a way you can get some. Go to https://gamesgratisclub.1mb.site which is my website. I didn't buy a domain for it so I just used what I had registered.
Register for a 10 sbi giveaway using google forms. Register on the next one too which will be up after every two days. Disable adblock to support this idea so I can pump some money into steem.
Latest winners will have their steem usernames displayed on the website. Whenever I renew the giveaway, this information will be included in my regular posts. That means I won't make new posts JUST to announce new giveaways.