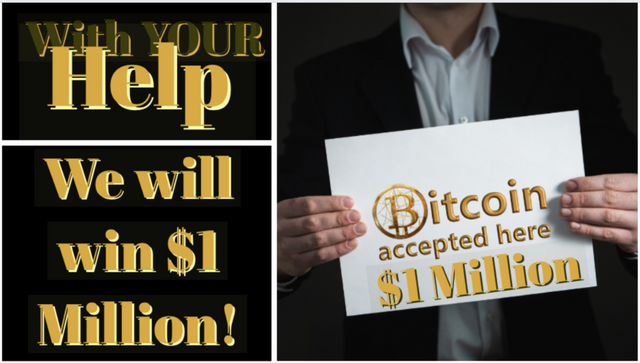 Source
---
Satoshi's Treasure with a prize of $ 1 million worth of BTC
In case you have missed this treasure hunt, have a look at the Satoshi's Treasure website. I found out about this hunt once it was announced, and while my boyfriend encouraged me to join this hunt, I didn't even think of the fact that we have the power of the community in our hands here on Steemit. So my answer was basically: "How? I don't have the skills to solve complex puzzles, I'm sure many people with skills will solve this, and an average person like me will never even have a shot of getting near the prize." And then I forgot about the hunt, until I bumped into a post (I think it was) from @blanchy somewhere on Steemit, talking about the Steemclan working on this puzzle as a group. Every steemit member is welcome to join us! Here's the invite link to our discord, when you arrive you will not see anything, please wait until someone asks you for your Steemit account, so they can verify you. If one of our members already knows you, we can vouch for you and it will be a quick process.
---
Let's get to business, we are in urgent need for help tomorrow in Denmark
I will now focus on this key we're trying to obtain tomorrow, as this is the most urgent reason that I'm writing this post today. Last week we've managed to find someone in India to obtain the key we needed to get, so that was a big success thanks to @littlescribe! We actually thought finding someone in Denmark would be easier, as many of us are located in Europe, but boy we were wrong! So far we haven't been able to find anyone near the location where there will be a key tomorrow, and that's why I'm reaching out to the community here. Tomorrow at 11 am local time in Freetown Christiania Copenhagen, there will be a hidden key for the hunt, and it can only be obtained when someone finds it there physically. It will probably not take longer than one hour.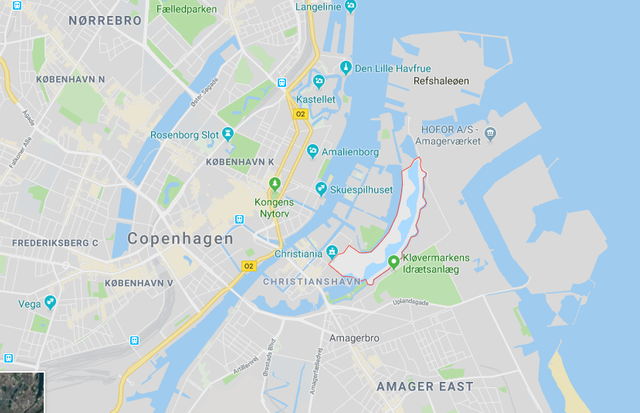 Somewhere in the red marked area we need to have someone to obtain the key tomorrow morning at 11 am. So this may be a long shot, but maybe someone happens to be in the area tomorrow, and is willing to help. Your efforts will not be unrewarded, as the person actually getting the key for the group will get $500 worth of SST (Satoshis Treasure Token) in your steem-engine wallet.
---
If you're there or able to travel there tomorrow, or maybe know someone over there, please reach out to us
If you're willing to travel a bit for it, we can talk about some extra compensation for that, so don't just say no yet if you think I'm too far whenever you have the time and willing to make the effort tomorrow to go there. We are very grateful for all the help we can get, and we know if the key isn't obtained at the location, it will get lost or even may get found by another group of hunters. Let's show everyone how great our community is!
---
As I was writing this post, another key got obtained by the @steemclan
While I was finishing up this post, @blanchy mentioned he obtained the dissonance key as well, so kudos for everyone helping with that key, and for him to obtaining it. That's how fast it can go, sometimes we puzzle for a long time per key, and suddenly you may have several keys in a few days if you're lucky. You can't imagine the rush whenever you know you got a bit closer to getting the 400 needed keys! I'm telling you, if you like a challenge and have some spare time, you really want to be part of this, it will not only be good when we win the prize, but also it will be a huge promotion for Steemit as a whole whenever a Steemian speaks about the hunt, and our group with members of the community doing a hell of a job!
---
---
One last request for every Steemian
A few days ago this post on our Steemclan account was published asking the community to help with the philanthropic key. This key actually contains 4 keys (1 every week) that can be obtained, we need to raise money for charity to get 1 (or more lol), and asking everyone for help. It may be an upvote, a resteem or donation, whatever you like. Please read the post for more info, as it's explained over there.
---
Every member of Steemit is welcome, and your help can be as little as connecting us with the right person whenever a key will need to be obtained in person to someone with great coding skills to obtain one of the harder to find keys. And there's no obligation to do anything, you can read along, and just hop in whenever you read something that may interest you. That's what I did as well, it took me a while to start the actual hunt, but now I'm really enjoying being part of this so much, that I hope to convince more like minded people to join! I will try to write at least one weekly update about our hunt from now on, and keep following the @steemclan account for updates as well.
---
Satoshi's Treasure Hunt: FAQ's
Steemclan hunters please sign up here
More info about Satoshi's Treasure and the keys can be found here