Steemclan is on fire in the Satoshi's Treasure hunt for $ 1 million worth of BTC !
We retrieved 3 keys last week! So we did really well, and I'm proud to be part of the @steemclan! We seem to be able to have expertise in the clan for many kinds of puzzles, and the key is working together to finally obtain the key. The power of community is really our strength.
The Freedom Key in Freetown Christiania (Copenhagen)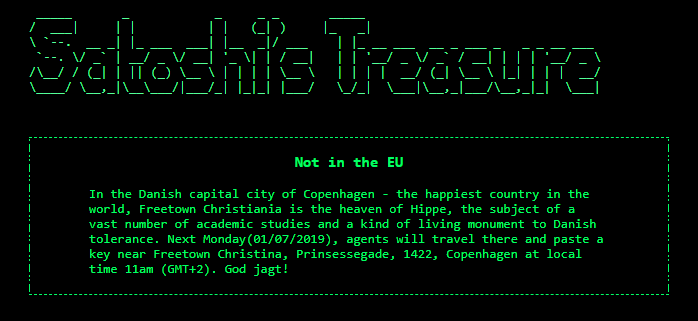 Once this key was released we knew we were going to nail this one after the success with the Nirvana a few days earlier. If we could manage to find someone in India retrieving the key for us, we would defo not have a problem finding someone in Copenhagen, right? It took a bit before we got to business making arrangements with this key, as we assumed soon someone would step up with the right person in the neighbourhood. At a certain point I thought I should just try calling out everywhere, even though it wouldn't seem logical. For example I called out for help in a Budapest group, hoping someone came from Copenhagen. It didn't seem like a coincidence when one of the ladies responded that she happened to be in Copenhagen that day! Unfortunately, this was a dead end without any internet access during that day.
We didn't give up though
As we kept the faith, we gave it our all to find someone to go to the location in Freetown to retrieve the key, with success! That moment that you see that picture appear with the QR code, and you can finally scan it to fill in the passphrase is amazing. For me it was the first time that I was able to unlock the key by scanning the code and filling in the passphrase myself. So far I had only seen others unlocking the keys and helping out during the hunt towards unlocking the key. I have to say that when I saw the key being unlocked and reading: "Congratulations Hunter" I jumped up and down on my chair, internally screaming from excitement!
The first key I unlocked was The Freedom key, marked in my memory forever
This was the first key that I obtained for the clan, and with that a nice amount of tokens in my steem-engine wallet as reward. Don't think you only get tokens for unlocking a key, because tokens are also spread among those that are actively helping to get to the point of unlocking the key! I have no technical skills myself, and I want to emphasize that that's not needed to unlock a key, so don't stay away because you think you won't be able to help, remember the power lies within our community on Steemit! Some keys are easier to unlock than others, and you can hop in whenever you want. A little warning: I got told by someone in the clan (you know who you are hehe) that it's addictive once you have obtained a key, and that I should probably make sure my boyfriend can watch the toddler for the next year so I can hunt.
:-)
Join our Discord to participate in Satoshi's Treasure Hunt with the Steemclan