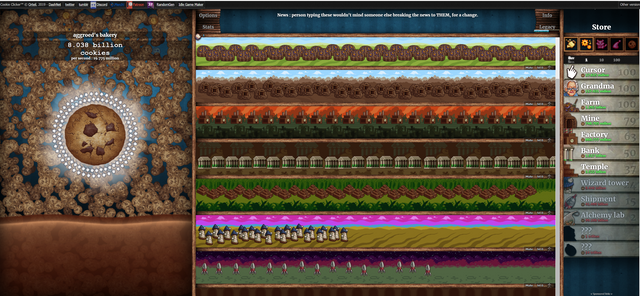 I'd like someone to create a cookie clicker clone and add a few key things.
Here's the website for cookie clicker: http://orteil.dashnet.org/cookieclicker/ They even have an idle clicker maker program. So, you can code your own clicker game.
Economics
45% Steem Burn
45% rewards pool
10% designer
You generate cookies on a private server. There's a button that allows you to burn steem to transfer those cookies to Steem Engine. Once there you can stake them, but it costs steem to send them there. Some is burned and some is staked and the game maker gets some too.
Now the money that comes in is used as a mining pool for the people staking tokens. So, anyone that has played and staked gets a chance to earn from anyone else doing the same thing.
Benefits
Steem gets a burn.
You make money.
There's a reward pool for players and they make money playing your game.
Idle Game Maker
http://orteil.dashnet.org/igm/
If you make something let me know in discord via minnowpond.org