I am posting this to the #Steem Running community. This is still a beta feature, but I hope it will be released soon as I see it as key to making Steem more attractive. People want to follow topics and not just individuals.
Communities are part of being social. #Running can be a solitary activity, but there are also lots of clubs and events such as parkrun that bring us together. We could be exploiting that aspect to bring more people to Steem. We have dapps such as @Actifit and @Exhaust where people can post their activities to earn extra rewards and @sportstalksocial where they can also earn tokens by using the appropriate tag. There is also @runningproject that shares and rewards posts.
I was thinking that if you turned up at events with a shirt like this it might trigger some conversations like when I got talking to people in Vegan Runner shirts. Of course I suck at design, but I am sure someone could come up with something much better that we could get printed on shirts via one of the on-line services that can distribute around the world. If they make the design creative commons then anyone could make use of it.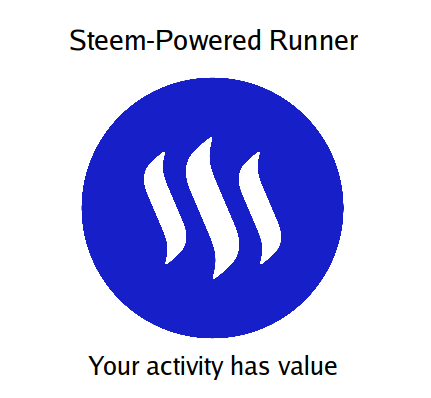 I see obscurity as one of Steem's failings right now. We need to get more people talking about it.
I have been considering changing the app I use to log my runs. I have used Endomondo for years, but it is a bit lacking in social features. I see a lot of people use Strava and there is already a Steem club on there. It would be great to get more existing Steemians in there if they use Strava. I am going to look into the integration with @exhaust.
I am wondering if we can get a Steem Running Club added to parkrun too. I need to look into how to make that happen. The name would show up in the results lists.
What else could we do to promote Steem to runners?
Signing up to Strava has made me think again I could do with a running watch so I can monitor my progress as well as logging heart rate. I have just used my phone so far. I am not going for the top of the range models, but the Garmin Forerunner 45 and Forerunner 235 seem to have similar specifications for a reasonable price. I had a cheap Xiaomi watch, but it did not really do what I wanted. I did have a Pebble that could show my pace, but that was just taking it from the phone and did not do heart rate. I welcome any recommendations.
Run free!
The geeky guitarist and facilitator of the 10K Minnows Project.