Over the weekend, my wife and I went down to Viroqua, Wisconsin and stayed with friends. I'd been there once before, to attend our friends' wedding last summer, and had fallen in love with the town. In theory, it's about a three and a half hour ride if you push it, but we ended up taking about five. Neither of us has seen our twenties for quite a while, so rest areas and other stops along the way beckon.
We drove down from the Twin Cities on Friday and got there in time for dinner at the Driftless Café (my scallops with sunflower seed dukkah in piquillo pepper broth was quite good) before going to the Temple Theatre to see Ladysmith Black Mambazo. A damn fine time was had by all. One of group's members, Albert Mazibuko, has been singing with them since 1969. He's second from the left in this picture I took: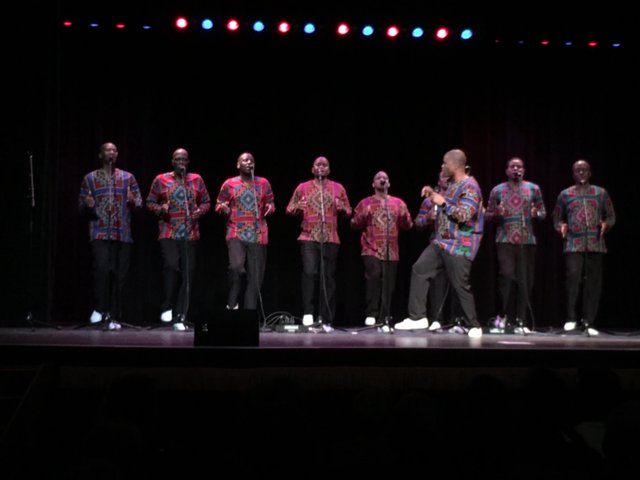 Lots of businesses there use Driftless in their names. It's on T-shirts and bumper stickers. All because Viroqua is in the middle of The Driftless Area.
The Driftless Area is a region in southwestern Wisconsin, southeastern Minnesota, northeastern Iowa, and the extreme northwestern corner of Illinois, of the American Midwest. The region escaped the flattening effects of glaciation during the last ice age and is consequently characterized by steep, forested ridges, deeply carved river valleys, and karst geology characterized by spring-fed waterfalls and cold-water trout streams. Ecologically, the Driftless Area's flora and fauna are more closely related to those of the Great Lakes region and New England than those of the broader Midwest and central Plains regions.
On Saturday, I had wanted to revisit a great bookstore I'd been to last summer but, the hours of operation shown on their website notwithstanding, it's only open in the warmer months. The building it's in is an old tobacco warehouse with no central heating. We took a trip (with a stop along the way at an Amish farm to buy pastries) to the town of Hillsboro to visit the brewpub there. I had the MORE Cowbell burger (yummy but messy), a flight and two pints. Really liked their JORT (no idea what the name means, capitalized in the menu as if it's an acronym), a guava-infused wheat beer.
Viroqua is in an area with a strong co-op tradition (Organic Valley is headquartered in nearby La Farge) and has many people from the Waldorf Schools community. Politically, you're much more likely to run into someone canvassing for Bernie than someone wearing a MAGA hat.
Saturday evening, three friends of theirs (two writers and a theater guy) stopped by and the seven of us (in the time of the Roman Republic, thought to be the ideal number for lively conversation) played parlor games (Botticelli, Ink Pink, and Vowel). Way more fun than group-staring at Netflix.

Post beneficiaries:
5% - @bubke
5% - @steemchiller