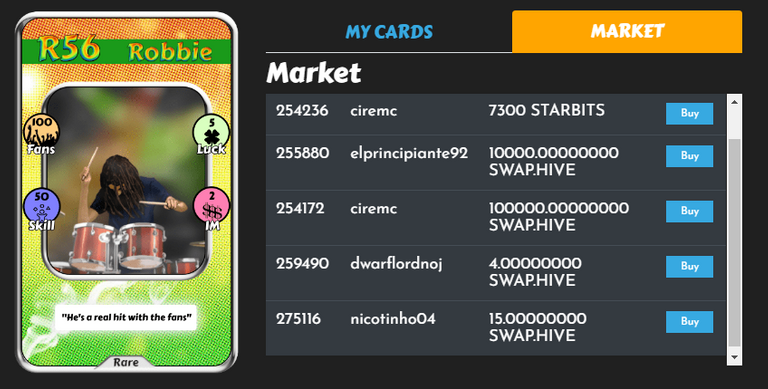 Sometimes (not more then 3 times a day) I look at the market of cards in Risingstar. Sometimes I see extremly difference in price of a card. Look at this above
You can buy it for
7300 Starbits - About 0,8 USD
BUT - no you can anymore because I bought it.!
Then it is only prices in hive. The lowest one is 4 hive. One hive is about 0,50 USD. So the price is 2 USD. More then the double in Starbits...
Well - Most often the price is lower in Starbits but so much? But not 2,5 higher in Hive.
Just have to look up the price in more cards.
The Songwriter - Difference in just 10-15 %
Jessie - Difference in about 15 %
Male Rapper - Almost same price in Starbits and Hive
Brad - Almost the same
So I will keep on looking for cards that have a big difference (with Starbits at lower price). I think the market will stabilize and with this big difference I think I buy "in the dip".
Lets see...
What happen if I put my Robbie to the market directly? At a price of 13 000 Starbits. It is still much lower then buying in Hive. I just need to try and see....If you want him - he is up at the market for 13 000 Starbits. Tell me if you bought him.